Former Texas governor Rick Perry is President-elect Donald Trump's pick to lead the U.S. Department of Energy, the Washington Post and others reported Tuesday.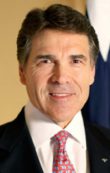 Perry famously gaffed in a 2011 debate during his run for president while trying to say he wanted to eliminate the department, forgetting the name. He would later call the incident his "oops" moment.
As Texas governor from 2000 to 2015, Perry supported the oil industry and questioned the science behind climate change.
The Department of Energy is charged with "advancing the national, economic and energy security of the United States; promoting scientific and technological innovation in support of that mission," according to the White House
While the department does work in energy conservation and energy-related research, much of its resources go towards nuclear energy. The Department of Energy spends 60 percent of its budget managing nuclear weapons and stockpiles through the National Nuclear Security Administration.
Perry holds a bachelor's degree in animal science. The agency's current director, Ernest Moniz, is a physics and engineering professor at the Massachusetts Institute of Technology. Before him was Steven Chu, a winner of the Nobel Prize in Physics who ended his appointment by warning of the dangers of relying on fossil fuels.
Earlier in Trump's run for presidency, Perry denounced the nominee, calling the candidate a "barking carnival act."
Learn More