Second in a multi-part series
As Hurricane Matthew quickly turned away from the North Carolina coast on Oct. 9, it was clear that most of the storm's damage was yet to come.
The storm had scoured beaches, raked the coast with winds, rain and high water, but farther inland areas already saturated by almost two weeks of wet weather saw heavy, sometimes, record rainfall. Flash flood warnings blanketed eastern North Carolina from the immediate rainfall as a massive surge of water began making its way downriver from the Piedmont.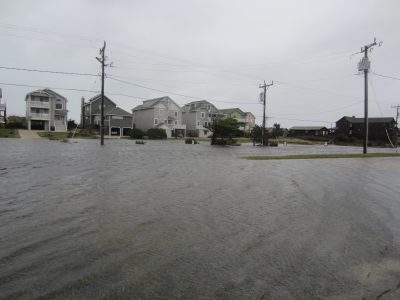 The storm was quickly compared to the heavy rains and flooding during 1999's Hurricane Floyd and, like that disaster, the prospect of widespread environmental damage rose along with the rivers.
As the floodwaters pushed through cities and towns along the river systems they inundated, stormwater and sanitary sewer systems and waste treatment plants gathered more debris and contaminants along the way. In some places, the floodwaters turned into a toxic stew that local and state public health officials warned residents to avoid.
In the farmlands of eastern North Carolina, the floods killed livestock and swept away feed, fuel, animal waste and fertilizer. Transportation was especially difficult in rural areas and made it difficult to get feed to stranded herds.
As bad as the floods were the sheer volume of water may prove to be their saving grace.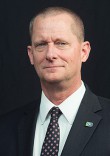 Department of Environmental Quality Assistant Secretary Tom Reeder, said DEQ's Intensive Survey Unit has been collecting data throughout the region to determine the extent of lasting environmental issues.
"They began conducting (the survey) immediately after the hurricane subsided and they really haven't found anything to speak of," Reeder said. "Of course, you would expect that, the dilution was just so incredible from the storm event that any kind of SSOs (sanitary sewer overflows) or anything we would have had would be purely temporal in nature and quickly washed out into the ocean."
During the period of Oct. 8-17, there were 270 sewer overflows associated with Matthew, a total of 183.94 million gallons spilled, according to DEQ data. Of the total spilled, 144.03 million gallons reached surface waters.
A full report of the survey of the region should be wrapped up within the month, Reeder said. "The preliminary data says that there's nothing to be alarmed about in terms of water quality issues, post-Hurricane Matthew."
Upper Neuse Riverkeeper Matthew Starr said he agrees about the intensity of the floodwaters, but he's critical of the idea that things will be fine because of the contaminants were diluted.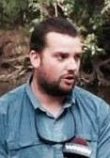 "To me the dilution is not the important aspect of this. The important aspect of this is that we had a large amount of different types of pollution being spilled into public waterways," he said. "We had coal ash spills. We had hog waste spills. We had inundated poultry facilities. We had municipal wastewater spills."
Those spills will continue, Starr said, as long as the state continues policies that allow sources of pollution to be sited in floodplains and floodways.
Reeder said that, going forward, the department is trying to improve the resiliency of the state's water and sewer infrastructure. In addition to requests for money for plant improvements and repairs in a proposed federal aid package, DEQ officials are also seeking funding for more generators and emergency equipment.
Power failures and the loss of pumping capacity led to many of the 270 reported wastewater spills during Matthew. After prompting by the federal Environmental Protection Agency, Reeder said the state recently sent in a request for federal funding for more emergency generators and infrastructure improvements for public water systems.
Agriculture: Successes and Challenges
Although there are many similarities, one of the major differences between hurricanes Floyd and Matthew was in what happened when floodwaters moved through North Carolina's "hog country," the belt of southeastern counties that are home to massive swine operations.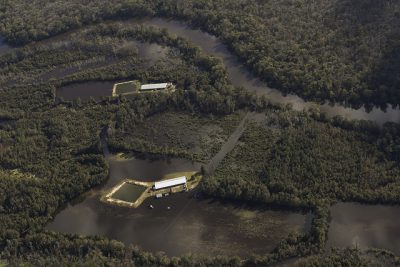 Six hog lagoons had major breaches during Floyd and 55 were flooded. About 30,000 hogs drowned. The devastation from the breaches and concerns about the safe disposal of massive numbers of animals led to a change in state policy, including a $19 million buyout program under the Clean Water Management Trust Fund to move as many hog operations as possible out of the 100-year floodplain.
The numbers for Matthew, which drove floods in Lenoir, Duplin and Wayne counties of equal or greater magnitude as Floyd, showed a fraction of the damage reported in 1999. There were breaches at two hog waste ponds and another 14 were flooded. Fewer than 3,000 hogs were lost, and those were mostly at one location.
Brian Long, spokesman for the North Carolina Department of Agriculture and Consumer Services, said the buyout, which took about 40 farms and 100 lagoons out of operation, was the main reason for the difference. Better forecasting also played a role, he said, giving farmers time to move hogs to other areas or to market.
"We heard about numerous instances of swine or birds that were near market age that were moved to market ahead of the storm, so that if the houses were later endangered from the flooding there were no animals in them."
Feed and fuel supplies were also pre-positioned, Long said.
"Those were some of the big things that helped this time around," he said. "I think there were a lot of lessons learned after Floyd across industry, government and a lot of organizations as well."
The numbers on the poultry side, which did not see the same sort of regulations after Floyd, were closer to the 1999 numbers. About 1.8 million chickens and roughly 100,000 turkeys drowned. In 1999, the estimate was close to 3 million birds lost.
Long said most of the chickens will be composted on site rather than transported to landfills. During the storm, DEQ lifted some of the state restrictions on landfills, allowing transport of dead animals to lined landfills, but most, Long said, would stay on the farms.
The composting operations, windrows of sawdust piled over the chicken carcasses, are another offshoot of lessons learned after Floyd, Long said.
"I think Floyd was a signal that in these types of situations, burial of an animal is not an option because of the location and water levels," he said. "This way gives you a much better option."
DEQ's Reeder said that in dealing with the poultry deaths, the state was able to use elements of a plan drawn up last year when there was potential of an even greater number of poultry deaths from avian flu.
"We had those plans on the books, so Ag was able to go ahead and execute what they'd planned for," Reeder said.
Legislative Steps
Reeder said the policy steps taken after Floyd clearly helped when another massive storm came along, particularly moving the hog operations away from the floodplain.
"That really paid dividends during Hurricane Matthew, even though we had precipitation levels and flood levels that exceeded Floyd in some cases, we had less pork incidents because they moved those operations out of the floodplain," he said. "That's the lesson to me: Don't build in the floodplain."
But Reeder said he is uncertain what the legislature might do in the way of policy in response to what was seen during Matthew, including extending the floodplain strategy to the state's growing poultry industry.
"There's always talk about regulating poultry more akin to the way we regulate pork," he said. But for now, he said, it's not clear where the General Assembly is on the idea.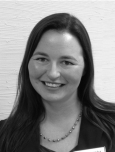 Cassie Gavin, Director of Government Relations with the North Carolina Sierra Club, said she's also uncertain if there's an interest on the part of legislators to take up further regulations.
But Gavin agrees that there's a need for more information.
One important step, she said, would be to at least know the location and size of the growing number of poultry operations.
There's been good progress on the hog issues since the steps taken during Floyd, she said.
"The poultry farms in the floodplains haven't even been mapped," she said. "Those need to be mapped and addressed as well."
Read Part 1: Matthew Relief Funding Remains in Limbo
Read Part 3: Living Shorelines Withstand Matthew's Force