DOWN EAST, CARTERET COUNTY — When final selections for the new Kinston minor league baseball team's name were announced on Sept. 15, folks here were quick to react to the phrase "Down East" included in all five choices.
The reaction wasn't one of support, and despite a petition opposing what's seen here as community identity theft, a petition signed by more than 1,300 Down East residents, team officials announced their decision Wednesday: The team set to start its first season in 2017 at Grainger Stadium in Kinston will be known as the Down East Wood Ducks. An official logo is to be unveiled later this month.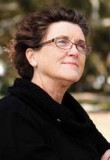 Harkers Island native Karen Willis Amspacher called the decision disappointing for the people of Kinston who love their town, as well as heartbreaking for the "true Down East people" who hold sacred their place in the world. Amspacher was active in starting the petition against naming the team after Down East.
"It is an absolute shame that an ill-conceived marketing strategy would outweigh the cries of the people and their deep commitment to their own communities," Amspacher said Wednesday.
The other four finalists in the fan-voted decision to name the Texas Rangers' Kinston farm team were the Down East Eagles, Down East HamHawks, Down East Hogzillas and Down East Shaggers. Rangers Kinston LLC President Joe Januszewski said Wednesday the chosen name garnered the most votes of any of the options that could be trademarked. The wood duck, or Carolina duck, has a broad distribution across North America, and ducks in general are the stuff of museums Down East, but ducks aren't the issue for Down East residents.
The Texas Rangers said in September the Down East name for the Class-A Advanced Carolina League team was meant to reflect the broader, regional market.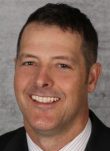 "While the new team will call the great city of Kinston home, there are so many people from neighboring areas that will be part of the new family of fans," the team's general manager Wade Howell explained. "To honor the geographic diversity of the fans, and to give a nod to the many vibrant areas the team will serve, we'll precede the new team nickname with the phrase Down East."
"Kinston is not Down East," notes the Down East petition drive posted at change.org. The proposed names also caused "a public outcry among Kinston residents," petition organizers claim, but especially Down East, where community residents don't want "their name associated with a ball team that is located some 80 miles west."
Where is Down East?
For the unfamiliar, Down East is 13 distinct, tight-knit and unincorporated communities tucked away in a corner of Carteret County, most of which is surrounded by water. Bettie; Otway; Smyrna; Williston; Davis; Stacy; Sea Level; Atlantic; Cedar Island; Straits; Gloucester; Marshallberg; and Harkers Island are all tied together by bridges and meandering roads.
The roads here pass by stretches of marsh, family graveyards, quaint churches, new construction and homes built a century or more ago, small garden plots and the occasional fish house.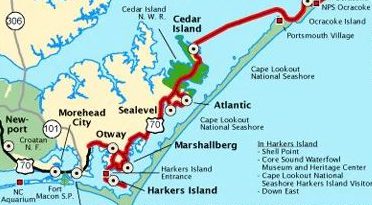 This network of roadways was also recently named a part of the Outer Banks National Scenic Byway, which extends from Whalebone Junction in Dare County to where Down East and Beaufort meet.
"People who don't understand the history of the term say everything east of Raleigh is Down East and that is woefully incorrect," said Rodney Kemp, a former high school teacher and baseball coach, longtime storyteller and Carteret County historian.
Down East begins at the North River Bridge in eastern Carteret County and extends to Cedar Island, Kemp explained.
"Down East is a nautical term indigenous to Carteret County.  In the late 1800s and up until the 1950s, the mail was brought to Morehead City by train. The Mailboat, a sailing vessel, took it to Beaufort and then sailed to the communities to the (east) to deliver," he continued. "The prevailing sailing wind in Carteret County is from the southwest. On most days, the Mailboat was sailing 'downwind to the eastern' thus the name Down East is born. The state of Maine has a Down East for the same reason."
Kemp is among those with strong feelings about the team's naming.
"Obviously, I feel it would be historically in error for Kinston to use the term," Mr. Kemp said.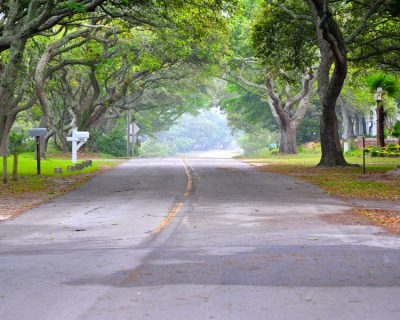 "A lot of us in Carteret County are baseball fans. We would still attend games in Kinston, but would not honor the name. I would wish Kinston would honor our heritage and refrain from stealing the term," Kemp continued. "They could easily be named the Coastal Indians, the Eastern Indians, the Tuscarora Indians, the Kinston Pam Pack and many other historically correct names to honor Eastern Carolina's heritage."
Down East is more than just a place name; it's been home to many generations.
Down East is "a place where we help each other – come together when our neighbors, family and friends need help. Down East is a lifestyle, which is generally a slower pace than any other place," said Lillie Chadwick Miller, a Straits native.
Miller said the term is "part of who we are and where we find our home. We're grounded by our area because of family, friends, and neighbors … It's where many folks were and are reliant on the water. It's where many people have grown into adulthood as teachers, doctors, lawyers, business owners, policemen – you name it."
Along with Amspacher, Miller has also been active in the effort to have Down East dropped from the title.
"Everyone agrees," Miller said. "Kinston is not Down East.  It truly makes no sense at all that Kinston, or anywhere else actually, could take the Down East name and try to market it as their own."
Kinston's Baseball Heritage
Kinston has its own heritage, including a long history of being home to minor league baseball, with professional teams dating back to 1908.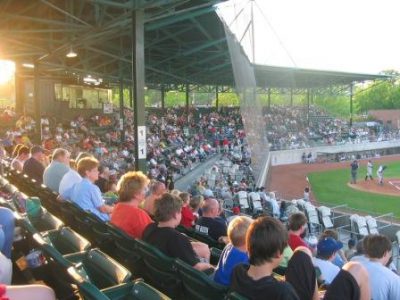 Before the Texas Rangers announced plans to bring professional baseball back to Kinston, the city's Grainger Stadium, built in 1949, was most recently home to the Kinston Indians, an affiliate of the Cleveland Indians. The team left in 2011 for Zebulon, becoming the Carolina League's Carolina Mudcats.
Bringing back baseball will be a game changer for the town, explained Tony Sears, city manager for Kinston. He said the people of Kinston have genuinely missed baseball being there and have longed for its return.
"First off, the city is grateful to have found an organization like the Texas Rangers with whom to partner. We believe partnering with a major league ball team will make a tremendous difference in the gameday experience," Sears said. "Secondly, as a community, Kinston is economically in a better place than we were five years ago when the Indians moved to Zebulon.  We feel having a team will only enhance our continued economic efforts."
Regarding the inclusion of the name Down East, he said that the city is very supportive of the Rangers and their efforts to be innovative and creative in finding a unique identity for the team.
"We understand that there has been a shift in minor league baseball with naming and re-branding of other minor league baseball teams around the country."
Sears explained that teams in both New York and Louisiana are currently re-branding, and have solicited community input regarding equally unique names for their ball clubs.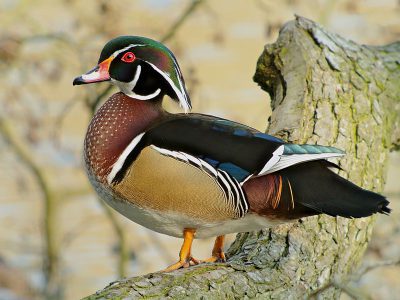 "As far as Down East, we have to remember that other geographical identifiers are being used by other organizations. I think the Rangers are referring to Down East not as a geographical identifier but rather as a 'state of mind.' It really is an attempt to be as inclusive as possible of every community in the region," Sears said. "We are confident that at the end of the day, people are not as worried about the name of the team as they are with watching a quality product on the field."
Sears said the Rangers are "a first-class team whose farm system is second to none and the Carolina League is considered one of the best leagues in all of Minor League Baseball. In April of 2017, the crack of the bat and the roar of the crowd will once again return to historic Grainger Stadium in Kinston."
No matter what they call the team, Amspacher said, "Down East is still Down East, east of North River bridge, a people proud of who they are and the beautiful, powerful place where they have lived and worked for generations. No one will take that away from us, ever."
Learn More