From a Tideland News report
SWANSBORO — If the crowd at an "open house" meeting last week on the Hammocks Beach State Park master plan for 290-acres of new property is any indication, folks around here care deeply about what happens to the land along Queens Creek.
Dozens of people – a steady stream from 4 p.m. to after 6 p.m. on Sept. 29 – filed into the park's visitor center to look at maps of the property, fill out a survey and place dots on photos of potential uses they'd like to see on the land, ranging from hiking and biking trails to educational facilities, from volleyball and bocce courts to boat ramps.
The meeting was organized by Sage Design, the Wilmington company the state hired to create the plan for the property.
Views were mixed on a proposed boat ramp at the park.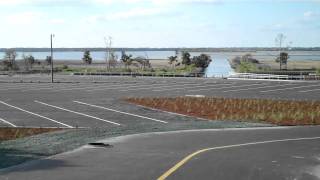 One who was for the boat ramp was Swansboro resident John Schmitt. He said what he loves most about the park is that it is quiet, peaceful and secluded, with great fishing and beautiful marshes, but added that the North Carolina Wildlife Resources Commission ramp at Cedar Point is inadequate and sometimes dangerous, and a boat launch at Hammocks Beach State Park would be a good drawing card for the park.
Schmitt said many people support the ramp.
Marillyn Cullison, also from Swansboro, came to the meeting specifically to voice opposition to the boat ramp concept.
"I adamantly oppose it," she said, in large part because she believes it would damage the same things Schmitt said he loves about the park. In addition, she just doesn't think the new property is right for a boat ramp, because it would require extensive dredging to create an adequate channel in an area that is generally accessible only by kayaks and very shallow-draft powerboats.
Annette Corkey of Swansboro said she was concerned about how much space a boat-launching facility might take up; proposals have ranged to as many as five ramps and a parking lot for up to 100 vehicles. But she said she wanted to get more information.
Nicole Triplett, waterkeeper for the White Oak-New Riverkeeper Alliance, said she was at the meeting in part to learn about what kind of environmental studies would be done, and by whom, before any new development would take place on the property. Whatever happens, she said, needs to be well thought out and carefully planned so that the environment in and around the park isn't damaged.
Another public meeting will be held in January or February, and a third will be in March or April and is intended for the presentation of the final recommendations. State parks and recreation division officials have said the effort is likely to take eight or nine months.
The public has until Oct. 28 to complete the survey. Officials have said no decision has been made on the boat ramp, and public input during the planning process will help guide that decision.
To Learn More
This story is provided courtesy of the Tideland News, a weekly newspaper in Swansboro. Coastal Review Online is partnering with the Tideland to provide readers with more environmental and lifestyle stories of interest about our coast. You can read other stories about the Swansboro area here.