Reprinted from the Outer Banks Voice
CURRITUCK COUNTY — Assessors from the Federal Emergency Management Agency have visited Currituck, as the county and others in northeastern North Carolina still await being added to the disaster declaration that will allow individuals to get assistance in recovering from Hurricane Matthew.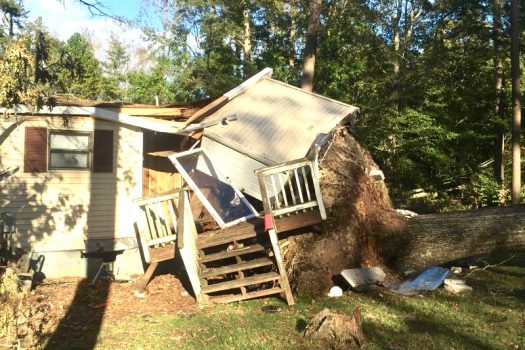 Currituck Emergency Management deputy coordinator Rebecca Gay said Monday assessors were in the county on Friday. Information has been submitted to FEMA for review, but there is still no word on when a decision will be announced.
Updated totals for Currituck show seven structures were destroyed, mostly by fallen trees, while six suffered major damage and 78 had damage listed as minor.
Five of the homes destroyed were in the Wedgewood Lakes neighborhood, one in Carolina Village and one in Poplar Branch, Gay said.
The approximate value of all damage caused by Matthew in Currituck County remains around $2.5 million.
Flooding remains a problem in the four-wheel-drive area of the Currituck Outer Banks, and mobile pumps are still being deployed to clear those areas, Gay said.
Gov. Pat McCrory announced Monday the addition of three counties in central North Carolina to the disaster declaration, bringing the total to 31 approved for federal individual and public assistance.
The only counties approved for individual assistance locally so far are Dare, Hyde, Tyrrell, Washington, Beaufort, Bertie, Martin and Gates.
Nine counties, including all in the northeast, have been approved for public assistance to help pay for storm cleanup and repairs to infrastructure.
Officials have said the biggest holdup in getting the individual assistance declaration finalized for many counties has been the size and scope of Hurricane Matthew's flooding and damage in the eastern third of the state.
Residents across the region have access to some form of help from the federal and state governments, even if their county has not been included in the individual declaration.
Anyone who suffered any type of damage from the storm should begin the application process at DisasterAssistance.gov.
Currituck residents who have still not reported their damage are encouraged to call the emergency management office at 252-232-2115.
This story is provided courtesy of the Outer Banks Voice, a digital newspaper covering the Outer Banks. Coastal Review Online is partnering with the Voice to provide readers with more environmental and lifestyle stories of interest about our coast. You can read other stories about the Outer Banks here.