Last of two parts
NORTHEASTERN NORTH CAROLINA — Not so long ago, in the swampy forests of this part of the state, rare red wolves made their home in dens hidden among wax myrtle bushes and pine trees. Females had pups. When people would come by, the mother would hide, waiting. When the people left, she would return, and there would be a few more babies to feed.  Remarkably, that's what she did.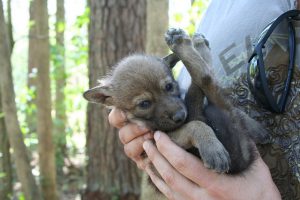 Biologists with the experimental U.S. Fish and Wildlife Service's Red Wolf Recovery Program had achieved wildlife management magic by enticing a wild wolf – with a sprinkling of her offspring's urine – to accept pups that were not her own. It was a fortunate result for the pups, since one alternative to adoption was being eaten.
By "cross-fostering", the zoo-born pups added their genes to the once-extinct wild population that the recovery team was working to re-establish in northeastern North Carolina.
Back then, in the 1990s and 2000s, photographs of adorable newborn wolf pups that were being introduced to their new, wild mothers filled pages of newspapers and magazines, along with glowing articles about red wolf management successes.
That was before complaints about wolves attacking livestock, family pets and game animals or just lurking around private property became frequent at public meetings, and before some scientific studies stirred doubts about whether red wolves were more coyote than wolf. It was before mailboxes of politicians and bureaucrats were inundated with constituents' impassioned objections to the wolves.
Reliance on Good Will
DeLene Beeland, author of "The Secret World of Red Wolves: The Fight to Save America's Other Wolf," still remembers how sweet it was to hold a warm wolf pup before it was placed in the wild den, and how stunning the landscape was where the wolf family settled in for a time.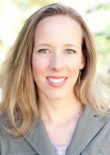 "One of the zoo-born pups wanders from the puppy pile and crawls on jerky legs to the front den wall,"Beeland wrote. "We watch as he tries to haul his feeble limbs up the soil embankment … Having stretched himself as far as he can, he loses his balance and careens to one side, then crawls back to the swarming puppy pile."
Beeland, who did her field visits for her book in 2009-11, said that at that time, management was going well, and most of the landowners Beeland spoke with seemed to be tolerant of the wolves.
In retrospect, she said in recent interview, it may have helped if biologists had done more outreach to landowners to counter what she believes has been "an aggressive campaign of misinformation" about the wolf project from a vocal group of opponents.
"I just think it's incredibly sad what's happened," she said, "because the red wolf program over the years has relied on the good will of landowners."
Red wolves have been promoted as an iconic symbol of the wealth of natural resources in northeastern North Carolina, serving as a lure for eco-tourism. Polls showed public support for the wolf recovery program.
But as early as the mid-1990s, landowners in Washington and Hyde counties rejected expansion of the wolf program into Pocosin Lakes National Wildlife Refuge, resulting in both counties passing resolutions in opposition.
Jett Ferebee, a Greenville developer and a Tyrrell County landowner, has been a relentless critic of the wildlife service's management of the wolves, especially when they encroach on his property. He argues that the proliferation of coyotes in the region has resulted in a huge population of hybrid "coywolves" that don't warrant protection as an endangered species. He also contends that the program is a "$30 million tax-funded violation of the Administrative Procedures Act," and that the federal agency has broken the law by not permanently removing trespassing wolves.
"I resent that my friends and family no longer want to go to our farm and spend time hunting and enjoying the outdoors," Ferebee wrote to a Fish and Wildlife official in 2013, a correspondence posted on the nchuntandfish.com forum. "I resent that not only our deer population, but also our rabbit population has been decimated. The turkeys are likely next."
Ferebee did not respond to attempts to reach him for comment for this story.
In the years since Ferebee bought 2,000 acres in Tyrrell in 1996, he has led the charge in opposition to the wolf program, demanding action from politicians and agency officials to remove the animals. In early 2014, for the first time, Fish and Wildlife issued a "take" permit to Ferebee that authorized him to catch or kill red wolves on his property.
A Federal-State Agreement
In 2013, Fish and Wildlife and the North Carolina Wildlife Resources Commission agreed to work together on red wolf issues. Around that time, Leo Miranda, assistant regional director for ecological services in Fish and Wildlife's Atlanta office, assured Ferebee that the agency would work with him to find solutions that would meet private landowners' and conservationists' goals.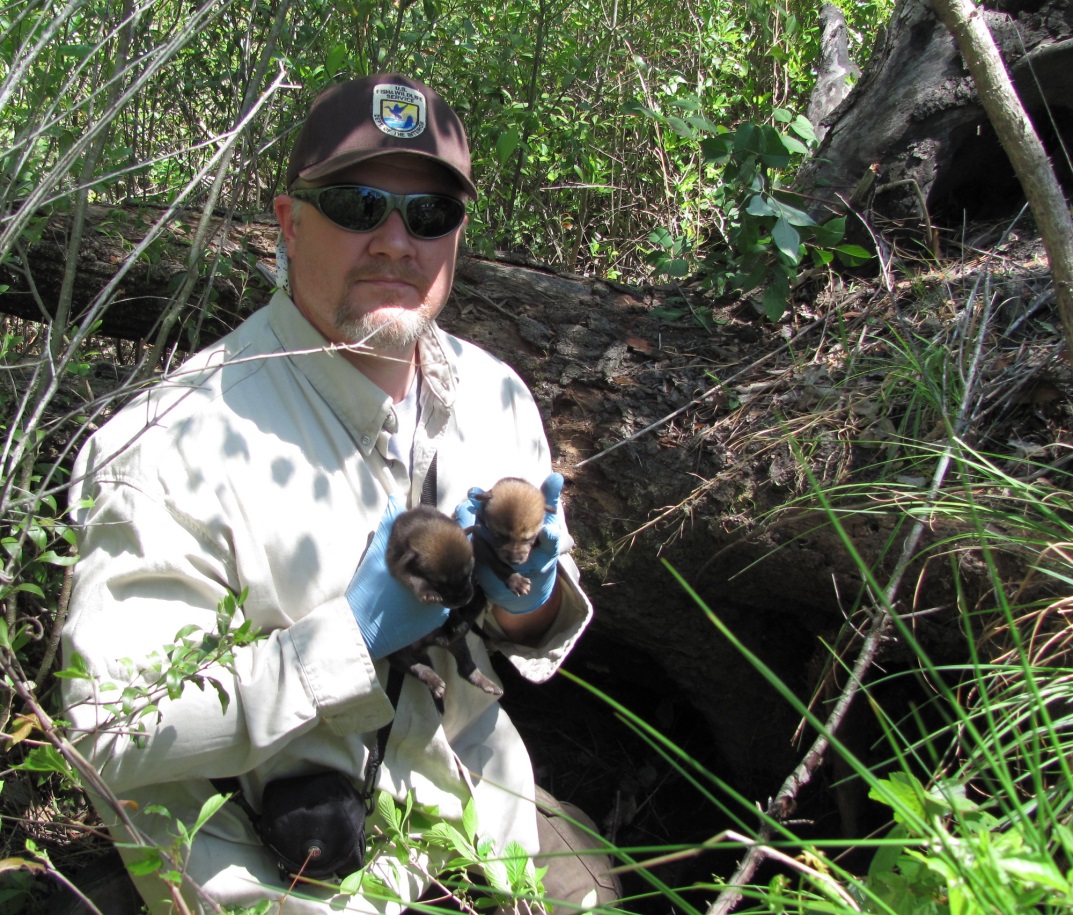 It wasn't long after then that David Rabon, coordinator of the recovery program in Alligator River, was informed that he would be transferred. Instead, Rabon, who had the position since 2009, left the agency.
Rabon, now a scientific adviser for the Endangered Wolf Center in Missouri, said in an interview that Miranda appeared to be making promises to landowners without coordinating with staff on the ground. Ultimately, Rabon said, he was seen as an obstacle.
"That emboldened a few of those people," he said of the opposition, "and it kind of snowballed from there."
Before he left, Rabon said he was working on new regulations for managing the species that would reinforce the successful placeholder and cross-fostering strategies, and the team was looking for other suitable locations. But updated management would also have to address human-caused mortality, primarily gunshots, which he sees as the biggest threat to the red wolves survival in the wild.  Strategies would involve analysis of the season, location, time of day, and ages of wolves killed.
"Then you can start exploring solutions," he said.
As the wolf population increased in the recovery area, Rabon said that the wolves themselves were exerting their own master predator controls on the coyotes. But as more wolves were killed, that balance was altered, and the coyotes gained momentum. And when there aren't wolves to mate with, a coyote will do.
Rabon said he believes that the current proposal to restrict wolf territory would be no different than holding the animals in a large enclosure. And criticism of the red wolf recovery being dependent on conservation management ignores the reality that even robust populations of bear and deer require management.
"There are few species that are not conservation reliant," he said.
Cross-fostering and release of wild wolves were suspended in 2015 while the agency re-evaluated the program. The Wildlife Management Institute had issued its report and recommendations in 2014.
'Responding to the Public'
In September, Fish and Wildlife announced that the wolves would be managed only in the Alligator River refuge area. Other wolves would be removed from the rest of the recovery area to the captive population.
"We're committed to the red wolf recovery and that's what we're trying to do," said Pete Benjamin, field supervisor in Fish and Wildlife's Raleigh office. "We're responding to the public – all that has to be part of red wolf conservation."
According to agency rules, Benjamin said, if landowners don't want wolves on their property, the wildlife service is responsible for removing them. If that is not possible, the agency could issue a permit for the wolf to be killed.
There is currently a legal injunction against removal of the wolves.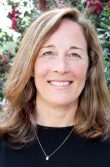 One of the central reasons cited for the agency's downsizing of the program that Cindy Dohner, director of the agency's Southeast Region, announced in September is that the population of 200 red wolves kept in 40 zoos across the country is "not secure" and that if the agency continued with the status quo the captive population would be lost.
But earlier this month, the authors of the population viability report that served as a basis for Dohner's statement wrote a letter informing Fish and Wildlife that their report had been misinterpreted. In the worst-case scenario, they wrote, the data showed that the captive population had less than a 1 percent chance of extinction in the next 125 years.
"Those things are complicated," Benjamin explained. "We very much appreciate what they pointed out."
The agency plans to analyze all available scientific information to determine future conservation planning, he said.
That assessment, he said, will include scrutiny of recent reports of genetic analysis that found red wolves were more than 75 percent coyote.
"Any canid can breed with any canid and produce viable offspring," Benjamin said. "So the question of 'what is a red wolf?' has been around as long as there have been red wolves."
Because the red wolves in the program are characterized as a "nonessential experimental" population, Benjamin said, there is more flexibility in developing tools to work with landowners and communities. The current rules written in 1986 have not been updated to reflect the current situation.
"We've got to work with the state – they manage coyotes – and eastern North Carolina is primarily private lands," he said. "It's going to take time and working with other people."
The state Wildlife Resources Commission is working cooperatively with U.S. Fish and Wildlife on the wolf issue, said Gordon Myers, the commission's executive director.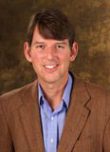 "We have a very solid working relationship," he said.
During a hearing in February of the House Select Committee on Wildlife Resources, Myers said that the red wolf program is unsustainable and incapable of being contained on federal land. On that basis, he requested that Fish and Wildlife discontinue the program and declare the red wolf extinct in the wild.
But in a telephone interview late Tuesday, Myers said the commission is not opposed to the wolf recovery program; it is opposed to what it considers to be the unauthorized release of wild wolves beyond the limit of 12 wolves the wildlife service was permitted to release when the experimental program was established. Since then, he said, there have been 165 wolves released into the recovery area – 130 from the captive-breeding program, and 64 of them on private land.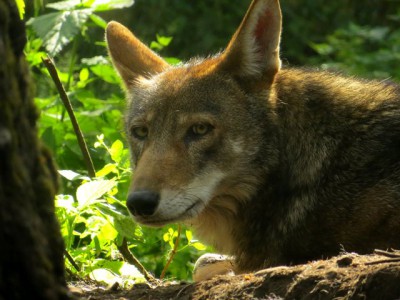 The agency has acknowledged the releases went beyond the scope of what it said it would do, Myers said, and it promised the commission that it would stop additional releases.
"One of the goals was that the animals would occupy federal lands," Myers said. But the wolves prefer the easy pickings of prey found around private farmland. That's one reason the commission believes the proper solution would be to entirely remove the wild population of wolves to captivity. Limiting the wolf population to public lands will not work, he said, and conflicts would inevitably continue.
In addition, he said, the exploding population of coyotes makes hybridization of the red wolves impossible to control.
Although he agreed that sterilizing placeholder coyotes has been effective to some degree, he characterized the strategy as an unrealistic management solution.
Between 2002 and 2012, Myers said, the numbers of coyotes trapped statewide increased 2,600 percent. Coyote harvest is not required to be reported, but he estimated it is about 25,000 to 35,000 animals a year.
Myers denied that there has been political pressure on the commission to work toward eliminating red wolves.
"I think a fairer assessment," he said, "is there has been feedback from multiple perspectives, both for and against the red wolf experiment in northeastern North Carolina."
To Learn More
Read Part One: Rolling Back the Red Wolf Recovery Effort