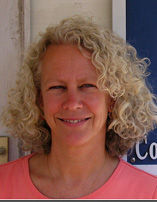 The University of North Carolina's Coastal Studies Institute's executive director, Nancy White, will be stepping down June 30, 2017, after 14 years.
The institute is a partnership with East Carolina University, UNC-Chapel Hill, North Carolina State University, UNC-Wilmington and Elizabeth City State University facilitating research and education relevant to water quality, fisheries, renewable energy, maritime heritage and coastal economies.  
In an interview with the Outer Banks Sentinel, White said she was stepping down because she feels strongly about having fresh leadership.
"This is my 14th year," she said, "It's not like I couldn't keep doing it, but at the end of the day I have to ask, am I really as passionate and obsessive about it as I have been? No. And is it good for somebody in this job to be that way?"
White said she will continue at the institute as a member of the faculty working to integrate art and science. She will also help raise funds for the institute.
ECU Chancellor Cecil Staton is expected to appoint a search committee to recruit White's successor.
To Learn More