Reprinted from the Island Free Press
BUXTON — A new business on Hatteras Island is adding a little extra flavor to the community and is making waves with residents and visitors who have an appreciation for locally harvested and completely unique fare.
The company is Hatteras Saltworks, and this Buxton-based business is creating authentic sea salt from the island's ocean waters through a lengthy but fascinating and environmentally-friendly process.
The minds behind the business are Shaena and Bryan McMahon – two longtime locals who had dabbled in homemade salt-making for years before embarking on this new venture.
Starting with a vacation to the Caribbean where Bryan created his own local salt with saltwater, a toaster tray, and a week of sunshine on the deck, the couple started making "local" salts with their son, Declan, during a number of vacations to Nicaragua, Mexico and other coastal destinations around the globe.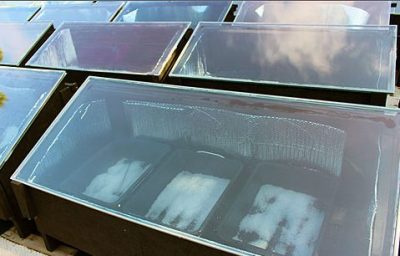 They were somewhat surprised to find that the salts from different regions and bodies of water – like the Pacific and the Caribbean – had a different consistency and flavor. And after moving back to Hatteras Island after a couple years of living in Maui and then New Jersey, they realized that the island's saltwater could be ideal for homegrown, sea salt production.
"We always like to make salt when we travel," says Bryan, "and when we moved back here, we decided to 'test the waters.'"
"The No. 1 factor for salt is clean water, and the waters here are perfect," adds Shaena. "Compared to the other salts we've made, it has such a robust flavor."
"Location is another reason the salt here is so good," says Bryan. "Two major currents – the Labrador and the Gulf Stream – collide here, so the waters are alive with good nutrients and minerals."
He said the salty waters off the coast of Hatteras Island are unlike any other waters on Earth, which makes the local Hatteras salt completely distinctive, nicely bold and surprisingly healthy.
"We don't add anything to it," explains Bryan. "A lot of companies use iodine and caking agents, but the water here is pure with a high salinity, so we don't add anything extra."
The end result is fat flakes that hold a wealth of flavor in each little bite, and which upon first taste, is sharp, zesty and surprisingly different than everyday or even other specialty salts.
And best of all, because the saltwater is slowly evaporated, the final salt is high quality and unrefined, and the McMahons say it retains up to 92 trace minerals, which they note are a crucial contributor to our immune, digestive and circulatory systems.
So how does the process of extracting pure salt from the neighboring ocean work? It's a lot more complex than you'd think.
The McMahons did a ton of trial-and-error testing before finding the perfect eco-friendly method for salt production, which didn't utilize fossil fuels, but which still reached the temperatures required during the evaporation process to be approved by the North Carolina Department of Agriculture and Consumer Services.
The end result is an ingenious collection of recycled materials and glass-lined wooden box containers — or "ovens" — that use solar energy to speed along the evaporation, as well as enable the "kill stage."
"We worked with a scientist from N.C. State," says Bryan. "You need to bring [salt] up to 145 degrees for 15 minutes to kill off organisms. Our ovens reach up to 180 degrees… and all we need is sun."
The McMahons' operation takes place on a private lot behind Fox Watersports in Buxton, and at first glance, the site looks like a line of solar panels that are bordered by small huts on pilings and laid-down recycled carpet.

It's a confusing set-up to be sure, but as the McMahons explain the operation, the individual elements start to make more sense as the process is outlined.
The McMahons collect the saltwater from the breaking waves in huge rectangular tanks that are tricky to transfer to and from the beach. From there, the saltwater goes through several filters that remove any sand or other sediments and is then transferred to the solar-designed ovens which each hold individual tubs.
Once in the tubs, it's a waiting game of a month or so for the water to heat, evaporate and leave nothing but pure salt behind. The McMahons then do one final "flash" to remove any excess moisture, break it down with a mortar and pestle or just their hands, depending on the batch, and then package it.
Virtually all of the materials and containers in the intricate design are completely recycled.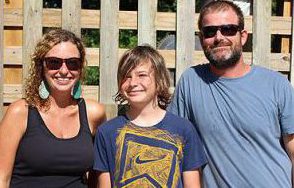 The boxes or "ovens" that dry the salt are made out of wood that Bryan found on the beach and are covered with repurposed glass windows. The packing room used to be a storage area, and the carpet that lines the area around the ovens was acquired as a secondhand item as well.
And while the materials used for production may be simple on the surface, finding the precise formulas, ratios, and procedures to achieve the final product was a lengthy endeavor.
It took months for the McMahons to go from planning stages to finished product – with the ovens first put into operation in November – but they've been amazed by all the community help and support they've received to get their project off the ground.
"So many people have helped us with this," says Shaena. "The community has been so embracing and supportive."
And once Hatteras Saltworks was approved by the state, the first wave of salt became available to the public at the Avon Farmer's Market and two local restaurants and was subsequently received with rave reviews.
"We've gotten a lot of positive responses," says Shaena. "People bought it at the farmer's market, and then came back for more. It's a great gift to take home, and you can use it for so many things."
Indeed, Hatteras Salt can actually be used a number of ways, outside the kitchen.
Granted, it's tempting to use all the fat salt flakes to liven up a grilled fish, a pile of fresh veggies, a soup or pasta dish, or everything in between, but the salt has unexpected skincare and health benefits as well.
"One of my favorite ways to use it is in a scrub," says Shaena. "There's a coconut-eucalyptus-sea salt recipe that I love, and we put it on our website."
The three ingredient recipe, which has been sampled at recent farmer's markets, can be found here.
And while the salt is currently available in relatively limited supply, the demand for this versatile homegrown product is growing fast. Hatteras Saltworks has already received inquiries from health companies around the world, and they are planning to make their salt available in additional shops and/or restaurants all along the island.
In the meantime, if you want to try the surprisingly vibrant and robust salt, you can pick it up at the weekly Avon farmer's markets on Tuesday mornings on the Hatteras Realty grounds, or can swing by Conner's Supermarket in Buxton, Pangea Tavern in Avon, or The Inn on Pamlico Sound in Buxton to pick up a batch.
To Learn More
This story is provided courtesy of the Island Free Press, a digital newspaper covering Hatteras and Ocracoke islands. Coastal Review Online is partnering with the Free Press to provide readers with more environmental and lifestyle stories of interest along our coast. You can read other stories about Hatteras and Ocracoke here.