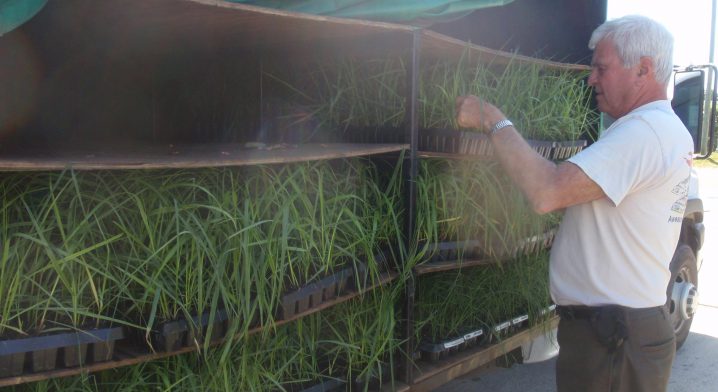 OCEAN – A man whose pioneering work has made restoring large tracts of wetlands possible is among the 44 people, groups and local governments that will be recognized Saturday by the North Carolina Coastal Federation for their outstanding contributions to the coastal environment.
Carlton Campbell of Cary, who successfully perfected growing marsh grass seedlings in large quantities, will receive the Lifetime Achievement Award, the federation's highest honor.
Thirty-two cities and counties in the state will also receive Pelican Awards for passing resolutions opposing offshore drilling. The federal government cited that opposition earlier this year when it removed the Atlantic from its proposed offshore leasing plan. Other winners include a biologist in Beaufort who has spent a lifetime saving marine mammals, an environmental activist in Sunset Beach and a university program that champions natural beaches and several people who volunteer to restore wetlands and oyster reefs.
All winners will be honored at a ceremony held at The Boathouse at Front Street Village in Beaufort.
Here's a quick look at some of them:
Carlton Campbell: Campbell's pioneering work in propagating marsh grasses allowed groups like the federation to restore large tracts of wetlands and build large living shoreline projects.
He began growing the grasses in the late 1970s, when he was working at North Carolina State University in a lab that was attempting to restore a marsh. When the lab began looking for a place to grow the grass, Campbell offered up a greenhouse that was on his property.
"I said 'Shoot, I'll just fix the greenhouse up, and I'll grow the plants,'" he said.
He started small, but his operation grew to produce up to 50,000 grass plugs a year. Campbell also went to France three times to work on restoration projects there. According to the federation, he became the first person in North Carolina to grow enough grasses for restoration projects, inspiring others to start similar businesses.
The Program for the Study of Developed Shorelines: The program's staff is receiving the award for their expert research and strategic advice to advance sound beach and shoreline management.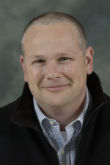 Rob Young, the director, and Andy Coburn, his assistant, began their work 10 years ago and have continued the momentum of its founder, renowned geologist Orrin Pilkey of Duke University. The program looks at coastal processes and geological hazards worldwide, and it helps analyze development policies in a time of rising sea levels. According to the federation, Young, Coburn and their team have become leaders in developing sustainable coastal management strategies.
Young said that the program has faced some criticism in the past. "The topics and issues we deal with, it can get political, no question about it," he said.
However, he said, the program is now bigger than it's ever been with more projects and people than it's ever had, thanks to support from the university.
Young said the award recognizes the hard work of his staff, who have provided technical assistance to the federation and other groups, including advice ranging from beach and inlet management to reviewing terminal groin and engineering proposals.
"It's really reaffirming to think that the work that we're doing really is making a meaningful difference in preserving the long-term sustainability of the North Carolina coast," he said of the award.
Jan Harris:  Harris said her awareness of environmental issues began during her time at Johns Manville Corp. working in employee relations. She was there when asbestos, which was produced by the company, was banned by the federal government. She said the incident opened her eyes to how environments in buildings and the natural world affect people. This realization led her on a more than 20-year quest to protect the environment.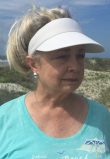 "Once your eyes are open," she said, "you just can't close them again."
In the early 1990s, she fought the construction of a hazardous waste incinerator in Butner, where she was living at the time. She is a proud member of the Butner 64, a group of activists who were arrested for their protests about the plant. After she moved to the Sunset Beach in 1995, she founded and ran the Brunswick Environmental Action Team until 2007. The group educated the public on stormwater issues and filed appeals on development permits.
Although is she is retired today, Harris continues to work as an advocate, researching and commenting on developments along the coast.
She said she's honored to receive a Pelican Award, saying the recognition is "just about the highest honor anybody can get."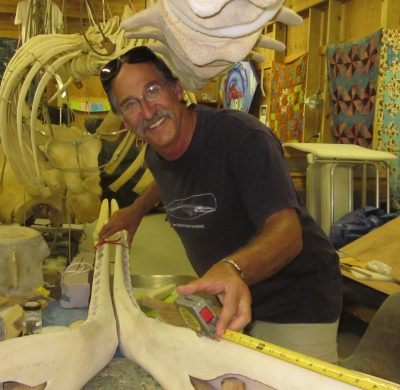 Keith Rittmaster: Rittmaster, a New Jersey native, said his interest in coastal issues began with his love of surfing and sailing, which exposed him to problems in the marine environments. He's now a natural science curator at the North Carolina Maritime Museum in Beaufort and in his free time protects and studies marine mammals, which he has been doing for over 30 years.
Rittmaster and his wife, Vicky, felt compelled to contribute to knowledge on whales, dolphins, sea turtles and seabirds after realizing not much was known about these animals. In the process, they discovered the detrimental effects of marine debris on the health of marine mammals. Together, they started North Carolina Monofilament Recovery and Recycling Program which has collected over 2,400 miles of fishing line through 42 receptacles along the coast.
The Rittmasters are also members of the North Carolina Marine Mammal Stranding Network and the Atlantic Large Whale Disentanglement Network, through which they respond to entanglement incidents.