Last of two parts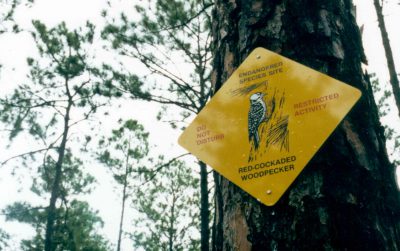 The story of the protected red-cockaded woodpecker could have played out very differently at Fort Bragg.
Training was brought to a halt in 1990 when the U.S. Fish and Wildlife Service issued an order to protect the bird on the sprawling Army base in Fayetteville. The population of the small woodpeckers had dwindled to fewer than 10,000.
Red-cockaded woodpeckers prefer mature, longleaf pine forests generally more than 80 years old. They are the only woodpeckers that excavate cavities solely in living pine trees, a process that takes the little birds years of pecking. Fort Bragg has lots of old pine trees and is prime woodpecker habitat.
The fish and wildlife service's protective order closed training ranges on the base, disbursing soldiers to other Army bases to hone their war-fighting skills.
"They could have fought the red-cockaded woodpecker designation, but they chose to work around that," said Ryke Longest, a professor at Duke University's School of Law and the Nicholas School of the Environment.
In June 2006, two years after Congress exempted the Department of Defense from critical habitat designations as long as DOD had a management plan for listed species, the fish and wildlife service announced the recovery of the Sandhills red-cockaded woodpecker population five years ahead of schedule.
The story of the how the Army came to not only coexist, but help the birds thrive has become a quintessential example of how protecting a listed species' habitat can pay off in a big way.
Overblown Fears?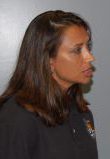 Still, it hasn't lifted a general fear of how critical habitat designations will negatively affect things like commerce, development and beach preservation.
"There's more myths about the Endangered Species Act than any other act," Longest said. "What happens is people will say that once you designate that as critical habitat you can't do anything in that area."
Ann Marie Lauritsen, the Fish and Wildlife Service's southeast sea turtle recovery coordinator, recalls how coastal developers, local government officials and residents expressed fears of what critical habitat designation for loggerheads would mean for North Carolina beaches.
"There were a lot of folks that were concerned about restrictions on the beach and how it would affect the economy," she said. "Critical habitat does not restrict access to the beach. For turtles there has never been a situation where critical habitat designation has stopped a project or even delayed it."
Since loggerheads were nesting on all of the beaches designated as critical habitat before the designations were made, federally implemented, funded or permitted activities required consultation with the Fish and Wildlife Service.
Chuck Underwood, an agency spokesman, said he does not know of a project in North Carolina or, for that matter, in the United States, that has ever been outright denied or extensively delayed because of critical habitat.
More Review of Plans
Critical habitat designations do, however, extend the review process, he said.
The additional time and mitigation measures usually equate to a rise in costs.
Greg "Rudi" Rudolph, the manager of Carteret County's Shore Protection Office, said critical habitat designations prolong the permitting process and shorten the window of when contractors can work for coastal projects like dredging and beach re-nourishment.
"I would say now the way critical habitat is done it intensifies the Section 7 consultation process," he said. "It's very hard to do a one-on-one correlation."
Rudolph is referring to the section in the federal Endangered Species Act that requires consulting with federal agencies on projects in critical habitats that require a federal permit or action.
Assurances from regulators that Atlantic sturgeon critical habitat designations in coastal rivers along the East Coast will not equate to more regulations have done little to quell local concerns.
More than 900 miles of North Carolina rivers are included in the National Marine Fisheries Service's proposed designated areas.
Atlantic sturgeon, which were listed endangered in 2012, are among the oldest fish species in the world. They spawn in rivers, where they spend their juvenile years before swimming downstream to saltwater.
Sturgeon and Dredging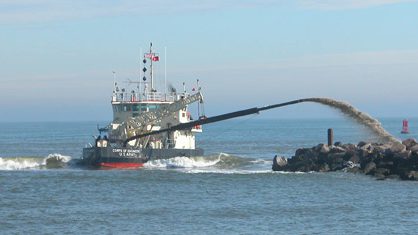 The National Oceanic and Atmospheric Administration has acknowledged that activities in designated areas may require consultation for coastal dredging projects and fishery management.
"The regulators said it is going to intensify the consultation process," Rudolph said. "That's why we get worried when there's critical habitat."
The Atlantic sturgeon is another example of "how frustrating this issue is," he said. When the species was listed its population was not on the decline, Rudolph said.
A February 2007 review of the species prepared for the fisheries service concluded that, since 1998, only a few sub-populations of Atlantic sturgeon seemed to be increasing or stabilizing. A majority of those sub-populations showed no signs of recovery.
The report attributed the lack of the species' recovery to years of habitat degradation and bycatch. Bycatch refers to the unintentional capture by fishermen of fish and other marine life.
To reduce the bycatch of listed species, commercial fishermen have been forced to adapt to more stringent rules.
Turtles and Fishermen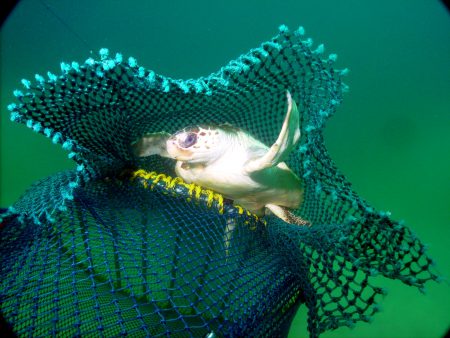 Sea turtles have particularly affected fishermen.
"The turtle issue is pretty important to fisheries management when a lot of the management decisions are based on interactions with turtle populations," said Willy Phillips, a fisherman and owner of Full Circle Crab Co. in Columbia. "The crux of the matter is that the rank-and-file fishermen have a very negative attitude toward turtles. Speaking broadly, fishermen have a belief that turtle populations are increasing greatly. There are hardships associated with having to work around turtles and the fishermen aren't compensated, of course."
Fishermen must keep up with net regulations, use turtle excluder devices, which allow a captured sea turtle to escape from a fisherman's net, and report "takes," which are defined as the harassment, capture, hunt, kill or attempts thereof, of listed species.
"My own personal belief is that this is not something we're going to be able to win," Phillips said. "The best thing for us to do is try to adapt and to move into areas where turtles are less prevalent. I'm in a very, very small minority. I've been in the business since the 1970s. I've seen trends and I know that the fishermen who are successful have to adapt. It's just perspective I guess."
But moving to fish in areas where turtles aren't is getting harder to do, he said, because turtles are more frequently traveling deeper into estuarine systems.
Jimmy Phillips, owner of Clyde Phillips Seafood Market in Swansboro, said the turtles' effect on his shrimping business is an additional expense of about $2,000 a year. That amount covers the cost of about half-a-dozen turtle excluders in the nets on his trawler.
"There's more turtles than there's ever been," he said. "Gill net flounder fishing, that's the worst problem right now. You're allowed so many turtles that get caught up and turned out. You're supposed to report if you catch one and that's considered turtles in the area and they'll shut that area down for flounder fishing."
It doesn't stop with sea turtles.
Plovers and Whales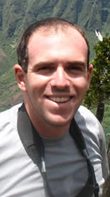 Critical habitat designations for listed species such as the piping plover, a small shorebird that nests and forages in inlet areas, have raised fears about delaying or prohibiting federal projects.
Brett Hartl, endangered species policy director for the Center of Biological Diversity, said myths about critical habitat designations are wide-ranging.
"People still walk their dogs on the beach after the piping plover designation," he said. "Piping plover was a huge fight in North Carolina. Did it mean that you couldn't drive your off-road vehicle everywhere on the beach? Yes. Did it completely end ORV use on every beach? No. It seems like they cried wolf on that one for years."
When the National Marine Fisheries Service designated critical habitat in 1994 for the North Atlantic right whale and expanded those areas in January, "people though it would curtail shipping," Hartl said.
"They said you wouldn't be able to take an ocean-going vessel out," he said. "None of that actually happened. None of the horror stories come to pass. There have been many large critical habitat designations. The spotted owl critical habitat designation is still contentious, yet [timber companies] still log in those forests."
Critical habitat designations for Atlantic sturgeon will not stop dredging projects, he said.
"They're still dredging off the Atlantic Coast in New England, but it does require a higher degree of mitigation and better planning," Hartl said.
That's not a bad thing, he said.
Look no further, he said, than the dredging of the Miami, Florida, port. The Army Corps of Engineers had a conservation plan to mitigate the impacts to staghorn coral while dredging the port.
"Very, very quickly it became apparent that they were killing way, way more coral than they thought they were," Hartl said.
Environmental groups and a Miami-Dade County resident filed a lawsuit in October 2014 alleging Endangered Species Act violations. They sought to stop dredging altogether, but later agreed to drop that request after the Corps said it would have its contractor mitigate sediment near the coral.
A Florida federal judge on July 5 granted a request to reopen the lawsuit seeking judgment on whether the Corps violated the law.
"If it had not been for the Endangered Species Act, the Army Corps would have dredged without thinking about it," Hartl said. "I think that, on some level, no matter what [the agencies] do there's going to always be a hyperbole side where they say it's going to affect something. The trick is, to me, it's sort of like growing pains. Over time you get a better answer on what activities have to be consulted on."
To Learn More