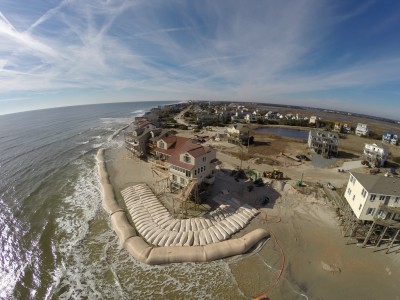 MANTEO  — With its temporary sandbag rules tossed aside over a technicality, the state Coastal Resources Commission this month set its sights on drafting the permanent rules it needed to do anyway.
The CRC has limited wiggle room within the legislative mandate passed last summer regulating the erosion control structures, but it will be able to roll much of the intended temporary rules into the proposed final state rules for sandbags on beaches.
Despite the commission's long-tortured relationship with sandbags – property owners flouting rules, requests for countless variances, demands for permit extensions, bags abandoned and numerous lawsuits filed– the coastal panel has stuck to its guns on their proper, and impermanent, role.
"Again, keep in mind the intent of the legislation: these are temporary structures," Mike Lopazanski, state Division of Coastal Management acting assistant director, reminded the commission at its here earlier this month. "Sandbags were allowed as a way to protect homes when the commission put in the hardening ban. We need to craft these rules with that in mind."
But commission Chairman Frank Gorham expressed concern that limits on sandbag permits to once-per-property would not account for property owners who were unaware of those bags unexpectedly exposed in a storm.
Braxton Davis, who is the director of the Division of Coastal Management, said that scenario would be rare, and could be addressed with a variance.  "The staff position is pretty firm," he said, "that there should be something temporary about this."
Gorham's motion to take out the one-time provision was approved 6-5, but withdrawn after discussions with division staff convinced him that devising rules in just a short period was impossible. The CRC will revisit the issue at their next meeting.
"To me, if you do that," responded David Moye, an audience member from Greenville, "you remove the incentive for communities to go after beach nourishment projects."
Legislative Mandate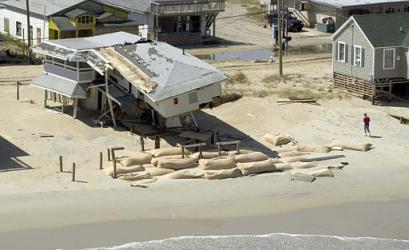 Last year, the N.C. General Assembly passed new sandbag rules that allowed the structures to protect vacant lots if sandbags were permitted in adjacent developed property, essentially allowing contiguous sandbag walls from one shoreline boundary to another. Requirements for removal of the huge bags were also loosened.
By year's end, the commission had hurriedly completed temporary amendments to the legislation, but the rules were not authorized because a statutory deadline was missed. Rather than challenging the decision, the CRC decided to continue on with the permanent sandbag rule-making process.
"The legislative directive did not write the rules for you," Lopazanski explained to the commission, "so we could write caveats."
Proposed amendments the CRC is considering include:
Eliminate the requirement that only imminently threatened structures can qualify for sandbag protection. The change addresses the concern that vacant lots adjacent to sandbagged lots could be excessively eroded.
Tie the expiration date for a permit to the placement of the last bag, rather than the date of the first bag installed.
Allow a property owner to keep sandbags in place while litigation is active. Damaged bags could be repaired or replaced.
Require only sandbags above grade at expiration of the permit to be removed. The structures need to be covered with sand, but no longer need to be vegetated.
Require sandbags to be removed at the completion of a beach re-nourishment or inlet stabilization project, not at the beginning as previously required. An exposed structure would be allowed to be covered during the project.
Allow permits to be for eight years, whatever the size of the structure. Each would be issued once per property unless a community beach-widening project is planned.
Although the provisions in the legislation are law, Gorham said that the legislature has indicated it is willing to adapt the rules with consideration of the discretion of the commission.
There will be a 60-day public comment period followed by a public hearing before the permanent rules are implemented.
Geo-Tubes and Inlets
After a presentation by Tancred Miller, the division's coastal and ocean policy manager, the commission rejected geo-tubes as alternate erosion control structure on the oceanfront, but kept the option open for inlet areas.
The division staff is in the process of updating the Inlet Hazardous Area designation.
In his presentation, Miller conveyed the unimpressive effectiveness of the tubes in some states that have used them.
The tubes are huge sand-filled sleeves of fabric that are installed in a trench parallel to shore and covered with sand.
Spencer Rogers, a coastal geologist who serves on the CRC's Science Panel, said the geo-tubes, which can be 300 feet long, have two-thirds less fabric than the 400 or so sandbags that would equal their heft, but they're easier to vandalize and are still not fail-proof in storms.
"All of these things are trade-offs," Rogers said.
Holding the Bag

And, like sandbags, the public can be left holding the bag when it comes to their removal.
"They're there almost for infinity, and they have to be removed at public expense," said Renee Cahoon, vice-chair of the CRC and a Nags Head town commissioner.  "Quite frankly, I can't see them working on our shoreline."
Cahoon asked if a homeowner could be bonded to protect public dollars from being used to clean up abandoned temporary erosion structures – whether sandbags or geo-tubes.
"A lot of these are LLCs, so they walk away," Cahoon said of property owners.
Elaborating in a later phone conversation, she said that people may not realize that sandbags can long outlast the property they were meant to protect. "We're still removing them 10 years after the houses are gone," she said. "Once the homeowner loses their house, they're not interested in that house anymore."
Lopanzanki said that the division does not have the authority to require bonding owners.  "That has to come from the legislature," he said.
Currently, the remedy for sandbag violations can be moot if the building is moved or destroyed.
Frank Jennings, division district manager in Elizabeth City, for example, said that a notice of violation had been issued years ago at a property off Seagull Drive in Nags Head, where substantial storm damage included ripped apart sandbags sprawled on the beachfront. "We were never able to enforce the violation," Jennings said.
Most 'Temporary' Bags Remain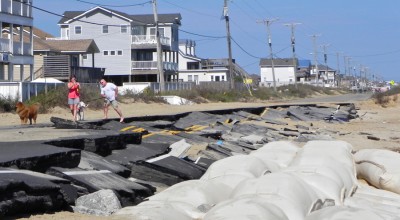 Between 1996 and 2015, 349 sandbag structures were permitted in North Carolina, said Ken Richardson, the division's shoreline management specialist, in an interview. Of them, 49 have been identified as covered, 56 have been removed and 10 have been washed out. That leaves 283 structures still installed on the coast.
Richardson said that 148 of the permits were issued in Dare County, which has the state's highest erosion rates.  Of them, 46 have been removed.
Most of the sandbags had been placed in South Nags Head and Buxton. Nags Head has since nourished its beaches and no longer allows sandbags, and the county is planning a shoreline widening project in Buxton for next year.
Numerous other sandbag structures are located in Pender, Brunswick and Onslow counties, mostly adjacent to inlets, Richardson said. Sandbags are also installed in Carteret and New Hanover counties.
Opponents to the new sandbag rules, including the N.C. Coastal Federation, have said that they potentially could allow sandbags to block public beach access and harm wildlife habitats. Members of the CRC have also expressed alarm at the prospect of sandbags stretching across the length of an island.
But Greg "Rudi" Rudolph, Carteret County shore protection manager, said in a later interview that he has been "impressed with the openness of the dialogue" on the issue, which has been evolving. Now sandbags are sought more at inlets, he said, rather than oceanfronts, many of which have been or plan to be nourished.
But policy on the structures remains difficult.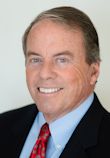 "Pulling the trigger and telling property owners they need to get the sandbags out has been tricky," Rudolph said. "It's a very complex issue."
Gorham also worried about the state's policies on the sand walls, although he acknowledged that "no one has been happy" with what it has been.
"It's an incredible balancing act," he said in a telephone interview. "I do not want to wake up and the legacy of the CRC is that we have sandbags along the coast from north to south. But I am also a property owner so I will fight like hell to protect our property. We just need to look long term."
Gorham said that he believes the state legislature had "good intent, but I'm not sure they had all the facts."
No matter what measures are taken, Mother Nature is a formidable foe.
"We don't want to keep adding and adding and adding," Gorham said. "I think I would prefer that sandbags are used for emergencies. That they're not used for sand stabilization."