HOLLY RIDGE – A young couple stop to take in the view of the lush, green marsh as they walk together along the wooden pier that branches off Morris Landing Road and extends out over Stump Sound.  A few minutes later, an older woman who has lived nearby for most of her life walks her small dog down to the shoreline, which is widely known for its relatively pristine and productive shellfish waters. After a few more minutes, a man on a bicycle pauses at the end of the road to gaze across the water at the back side of Topsail Island.
The N.C. Coastal Federation has owned and managed the more than 50-acre property since buying it from the Boy Scouts in 2004. The site is open to the public and has long been a popular place with area residents, who come to fish, launch kayaks and paddleboards or simply enjoy the view, as they did even before the site was cleaned up eight years ago. Back then, people would often drive trucks across the marsh, dump garbage and make a big mess of the place. Holly Ridge has since annexed the area and provides a police presence to protect the natural setting.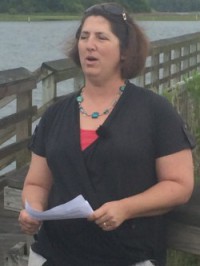 "Our Morris Landing has been here forever, but we have just come to appreciate it in the past few years," Holly Ridge Mayor Anita Dingler said to a group the federation recently invited to see the restoration work that continues at the site. "It's such a vital part of our community – it's one of those little hidden treasures. It's a beautiful, scenic area all of us can come enjoy."
The federation bought the property for conservation purposes, a buffer between encroaching development and the estuary, but it also serves as a kind of laboratory and a demonstration project for various natural techniques for stabilizing shorelines. The methods used here are generally called "living shorelines" and they include various ways of establishing and nurturing oyster reefs and grassy marshes to form a shock absorber for wave action.
The gathering on May 13 included a number of elected officials from Onslow County and nearby towns of Topsail Beach and North Topsail Beach. Also attending were officials from N.C. Reps. David Rouzer's and Walter Jones' offices and representatives from the Pew Charitable Trusts, a nonprofit group based in Washington.
Pew is working to reduce the effects of weather-related catastrophes, such as floods and hurricanes, on the U.S. economy, communities and environment. Laura Lightbody, who directs the project, said the group's main interest in visiting was part of Pew's effort to change policy to better protect coastlines.
"What that means is we need federal policy that really encourages things like living shorelines," Lightbody said. "Clearly, Holly Ridge and others have really recognized the value of living shorelines."
The Problem with Permits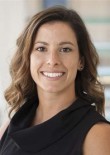 The problem, as many see it, is that there is no nationwide general permit available from the Army Corps of Engineers for living shorelines. It's quicker and easier, in terms of permitting, to install a bulkhead or seawall. General permits for a bulkhead on a residential property can be approved in a matter of days, but permits for living shorelines with marsh plantings can take months.
Pew and others support establishing a nationwide general permit to encourage the use of natural methods and level the playing field.
"We'd like to see the Army Corps come up with a permit for living shorelines, which would put bulkheads and seawalls at parity with living shorelines," Lightbody said.
Advocates say living shorelines help improve water quality and marine habitat, can be built at less expense than seawalls and provide better protection against erosion.
"And frankly, they're more aesthetically pleasing," said Tracy Skrabal, a scientist with the federation.
A Training Ground
Skrabal said the federation and its partner organizations use the site as a training and demonstration area for contractors, engineers, property owners and elected officials.
The different construction techniques used at the site come at various price points and offer different benefits. Concrete oyster domes, vertical wall oyster sills, bagged and loose oyster shells – the methods can vary depending on the needs.
"A lot of people can't afford a large structure, don't need a large structure, so you can use loose oyster shell, oyster bags or you can use a vertical wall sill," Skrabal explained.
But until the Corps' permitting process makes living shorelines equal or preferable to seawalls, property owners probably aren't going to opt for the more natural solution.
A Signature Property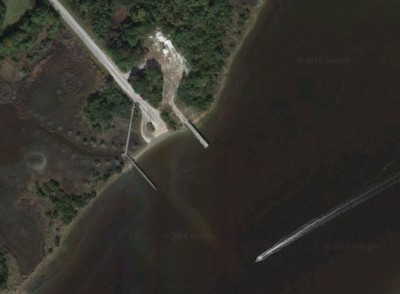 Skrabal said the site is valuable not only for the local community but also in terms of the federation's mission.
"It's one of our signature properties in the southeast region and they're getting harder and harder to come by because of development," she said. "It had been an open area for years and years, but unfortunately, without care and feeding it had sort of fallen into disrepair, if you will. What I mean by that is there was a lot of vehicle traffic up and down the shoreline and a lot of unabated erosion and just a lot of trash."
The federation worked in partnership with the town and various grant funders to purchase the land and to build the wooden pier for the public and a concrete pier, which is used to load barges for reef re-seeding in the area.
The concrete pier is in a fenced-in area that also includes space for stockpiling loose oyster shells, some of which is purchased by the state, for use in oyster reefs.
"Prior to this land being available, the state was really struggling to have enough stockpile areas between Wilmington and the other side of Camp Lejeune," Skrabal said.
Stump Sound is known for the oysters that grow here.
"These are fighting words in other parts, but this is the gem. This is the highest quality oyster waters in the state, if not the nation," Skrabal said.
The federation purchased the site to save it from development and to serve as a buffer for stormwater runoff, but oyster restoration was also part of the plan, Skrabal said.
Restoring the Reefs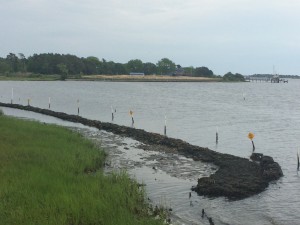 "We've lost, depending on who you ask, which scientists, between 50 and 80 percent of all our oyster reefs in North Carolina since 1900 from overfishing, from disease, from degradation of the habitat. So, we could all work all our lives to rebuild oyster reefs and never run out of things to do, especially in this area."
Skrabal said living shorelines preserve the marshes that are critical habitat for oysters and juvenile fish.
"Everything that happens in terms of fisheries and habitat and water quality happens in this narrow zone, and when you put a hard surface there that disconnects those two things. In a very short amount of time you end up with just water up against a hard wall," Skrabal said.
About 14 percent of U.S. coastline is armored, according to recent research. Experts are growing more concerned about the negative effects of hardened shorelines, particularly the destruction of marshes.
Such effects are visible near the site. The replanted marsh that wraps the shore and provides a nursery area for many kinds of fish and other marine life comes to an abrupt end at the bulkhead in front of a nearby home.
Lightbody said property owners should consider living shorelines as an option to reduce erosion risk and habitat loss.
"It really helps create that natural line between land and water, which we don't see when we see a bulkhead or a seawall," Lightbody said.