Strawberry shortcake means different things to different people. A tender, split biscuit layered with sugar-macerated berries and fluffy whipped cream is recognized as the traditional version. Growing up on the N.C. coast, I never once encountered such a shortcake at restaurants or homespun gatherings.
My father's shortcake was three, sponge-cake layers high. Fanciful swirls of fresh whipped cream frosted it in the regal style of rococo coffee shops in his native Hungary. Divine as it was, his creation in my childhood mind could never be true strawberry shortcake.
The real thing required a trip to the IGA or Piggly Wiggly for packages of little, yellow, bowl-shaped vanilla sponge cakes. All the moms, aunts and grandmas I knew spooned syrupy, sugar-soaked, fresh berries into the cakes' wells and then plopped on a big dollop of that glorious, white chemical amalgamation known as Cool Whip.
Supermarkets still sell those cakes and tubs of Cool Whip, but my strawberry shortcake preferences lately lean pound cake. I like two buttery, orange-scented, slices – at least an inch thick, please — practically hidden under fresh, sliced berries so sweet they need no sugar. Stratus clouds of cream whipped until just frothy should nearly cover the whole thing.
I don't believe a "proper" strawberry shortcake exists. The dessert seems more a matter of personal taste. Each version is authenticated by the nostalgia to which it is linked.
King Henry VIII's chef, Cardinal Thomas Wolsey, was the first to serve strawberries and cream. The combination appeared at a 1509 banquet. Food historians identify the original strawberry shortcake as being a sweet cake or biscuit leavened with baking soda or baking powder. The recipe's English predecessor, dating to the late 1500s, involved an unleavened base, meaning I may rearrange my personal tastes with pie crust rounds cut the size of sugar cookies if I'd like.
The classic biscuit-style recipe was widespread by the mid-1800s, spurring strawberry shortcake parties at berry harvest time. That's when Tar Heel cooks parade out their various strawberry shortcakes. When it comes to strawberry production, North Carolina ranks third in the United States. Nearly all of the 20-plus million pounds of fruit is sold fresh, directly to consumers at pick-your-own farms and local markets and grocery stores where, more often than not, those little yellow cakes, pound cakes or angle food cakes are stocked nearby.
That North Carolina lacks a single, identifiable, authentic strawberry shortcake makes it reasonable to assume strawberry farming is new to North Carolina. Conversely, farmers here have been cultivating strawberries on the coastal plain since at least the mid-19th century. Production did not spread across the state until much later. In the early 1900s, the Chadbourn area of Columbus County in the southern coastal plain, was a major strawberry-growing area. During a single day in 1907, the region sent forth 180 boxcars full of berries.
The Lady Thompson strawberry bred in North Carolina in the late 1800s caused a stir when it arrived on the scene. It was believed to be the largest strawberry in cultivation, with reports of one growing to 7 inches in circumference, reported the April 1895 issue of Meehan's Monthly: A Magazine of Horticulture, Botany and Kindred Subjects. The berry fetched 30 to 40 cents a quart, more than double the price of other varieties.
"The fortunate man who got it first grew 10,000 quarts an acre, and cleared $13,000 on it in one season," Meehan's Monthly quoted O.W. Black, a N.C. strawberry plant tester, as saying.
"Of 100 or more varieties on my place, it is the most independent of drought and the quickest and fastest grower of all."
Lady Thompson didn't hold court for long. As evidenced by Black's diverse test fields, strawberry plant development progressed rapidly from new variety to new variety, each descendent outdoing its parents in one way or another. Researchers today continue to create new breeds, providing so many strawberries for so many different strawberry shortcakes.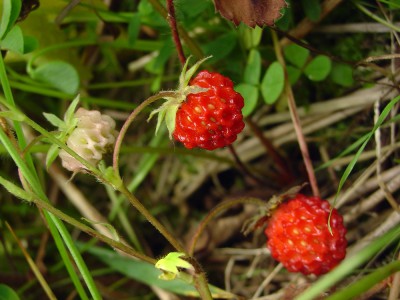 No matter the modern domesticated strawberry, its lineage traces to North America's native Fragaria virginiana. That wild berry's range touches nearly every U.S. state. A cross between Fragaria virginiana and Chile's native Fragaria chiloensis birthed the first garden strawberry in the 1750s in Brittany, France. Previously, Europe's own woodland strawberries were transferred to gardens.
Tiny but tasty, Fragaria virginiana was the strawberry Native Americans were gathering when colonists arrived in the New World. The June moon was known among Algonquin tribes, which inhabited eastern North Carolina, as the Strawberry Moon because the month was the time for gathering wild strawberries, according to the Old Farmer's Almanac.
Many different tribes used strawberries for food and medicine. They ate strawberries fresh in season. Sometimes, they blended crushed berries with cornmeal for baking into strawberry bread. Or would that more accurately be called "shortcake?"
Corn Muffin "Strawberry Shortcake"
3 quarts hulled and quartered strawberries
½ cup sugar
2 teaspoons lemon juice
1 3/4 cups unbleached all-purpose flour
1 cup yellow cornmeal
2 teaspoons baking powder
1/2 teaspoon baking soda
1/2 teaspoon salt
1 cup milk
1/4 cup honey
1 large egg
1/2 cup (8 tablespoons) unsalted butter, melted and cooled
1 cup heavy whipping cream
¼ cup confectioner's sugar
1 teaspoon vanilla extract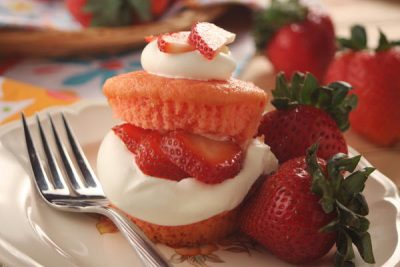 Prepare strawberries: In a medium bowl, blend together 2 quarts of the strawberries and sugar. Set aside. Reserve the remaining quart of berries in a separate bowl.
Prepare muffins: Preheat the oven to 400 degrees. Lightly grease the 12 wells of a standard muffin pan.
In a medium-sized bowl, whisk together the flour, cornmeal, baking powder, baking soda, and salt.
In another bowl or large measuring cup, whisk together the milk, honey and egg.
Pour the liquid all at once into the flour mixture, stirring quickly and gently until just combined. Once everything is barely combined, stir in the melted butter; there's no need to beat it, just stirring is fine.
Scoop the batter into the prepared pan, filling the muffin cups about 2/3 full.
Bake the muffins for 15 to 18 minutes, until one of the center muffins tests done: the top should spring back lightly, and a toothpick inserted into the center should come out clean, or with just a few moist crumbs clinging to it.
Remove the muffins from the oven, and as soon as you can safely handle them, transfer them to a rack. Serve warm, or at room temperature. Store tightly wrapped at room temperature for several days; freeze for longer storage.
Prepare whipped cream: Blend together whipped cream, sugar and vanilla. Whip by hand with a wire whisk or use an electric beater set at medium speed to whip cream until soft peaks form.
To serve: Spilt one muffin. Place bottom half on a dessert plate. Spoon about ¼ cup of berries and ¼ cup whipped cream over muffin. Balance top half of muffin over berries and cream. Spoon on more berries and their juices and more whipped cream. Garnish with the fresh berries that were not blended with sugar.
Continue with remaining muffins.
Makes 8-10 servings.
Source: Muffin recipe based on a recipe from King Arthur Flour