Those of us who live on the coast expect an influx of visitors during the beach-going summer months, but we also get our share this time of year, mainly family and friends visiting for the holidays. After the presents are unwrapped and the last the toasts of eggnog, what do you do with them?
Sure, there are the blockbuster movies and the malls. But where can you take winter-time visitors to experience the beauty of the coast?
We asked around. After consulting staff at the N.C. Coastal Federation, neighbors and our Coastal Review Online Facebook friends, we've come up with some suggestions. The state parks and aquariums that are scattered along the coast are always good bets. Most offer some type of winter programming, a lot of it geared for kids. Just call or check the websites for operating hours and program times.
Here are a few special places, starting along the northern coast and working south.
Northern Coast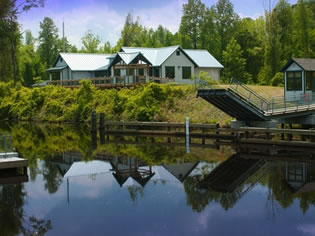 Dismal Swamp: Its name has an eerie appeal, harkening back to Colonial times when settlers found all the swampy, wet places along to the coast to be foreboding and scary. And this particular one was great indeed, once covering more than a million acres. What's left is both a state park and a national wildlife refuge that straddles the border between Virginia and North Carolina. The park, in South Mills has 20 miles of trails, a 2,000-foot boardwalk and a hydraulic arm bridge that spans the Dismal Swamp Canal. If you'd like to try mountain biking or kayaking, but don't have the equipment, you can rent both here.
They're closed Christmas Day, but kid-friendly programs to help make winter treats for birds takes place this weekend. The First Day Hike ushers participants by the remains of an old stone lock on the canal – and there's hot chocolate at the end. For those close to Virginia, an entrance to the refuge near Suffolk is the meeting site for a Winter Owl Prowl on Monday evening by the U.S. Fish and Wildlife Service.
Lake Mattamuskeet: The centerpiece of this national wildlife refuge in Hyde County is the 40,100-acre lake – the largest natural lake in the state. It's also a shallow one, with an average depth of about three feet. Because of its location on the Atlantic Flyway, it's well-known as a spot for wintering waterfowl. Birdwatchers can sometimes spot thousands of individual green-winged teal, pintails, snow geese and tundra swans through February. In addition to the 240 species of birds that are indigenous to the area, the refuge is also home to deer, otter, bobcats and black bear. Hunting permits are issued through a lottery system and fishing (with the proper license) is allowed year round. Anglers can catch largemouth bass, white perch, crappie, sunfish, catfish and blue crabs. Mattamuskeet's East Main Drive, a five-mile-long gravel road bordering the southern shore, is a good spot to see the park's mammals and birds. The visitor center on site will be closed Christmas Day and New Year's Day, but guests can still enjoy the refuge.
Pungo Lake: Just north of Mattamuskeet, this smaller lake in the Pocosin Lakes National Wildlife Refuge is one of Sam Bland's favorite Christmastime haunts. The federation naturalist says it's a great place to take visitors to see tundra swan and black bears. "There are always great things to see there," he says.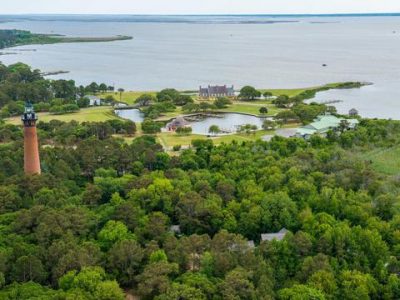 Corolla: The Outer Banks Wildlife Education Center is ideally situated, said Sharon Mead, who is the curator for the site. It's in the Currituck Heritage Park, which also includes the 1920s-era Whalehead Club and a picturesque, red-brick lighthouse. It's close to the village of Corolla, which is one of the spots around the state with a population of wild horses. The center is between the ocean and the sound, and you can sit in one of the gazebos and take in the sunset, Mead said. "There's no better place, in my opinion," she said.
Although you have to wait until March if you'd like to climb the lighthouse, the center is open (with the exception of state holidays) and visitors can check out the 8,000-gallon aquarium stocked with native fishes and a gallery with more than 250 antique waterfowl decoys. There's a full schedule of programs the week after Christmas if you need to entertain children. This includes a birding basics program for those 14 and older, and a lesson in calling wild turkeys for those 7 and up, and a program on ducks – teals, mallards and pintails can be found here during the winter – for ages 6-13. Some programs require pre-registration. The center is open Monday through Friday from 9 a.m. to 5 p.m., with the last entry at 4:30 p.m.
Cape Hatteras National Seashore: Winter may be best time to experience America's first national seashore, which stretches from the southern tip of Bodie Island on the Outer Banks all the way to Ocracoke. Traffic on the beach is light this time of year, limited to a few hardy fishermen. You don't need a four-wheel drive. Just park at one of the turn-offs along Hatteras or Ocracoke islands and walk. Pick a raw winter day. There's nothing like an angry sea to feel the power of nature without endangering yourself. Go at low tide and see what gifts the sea has left behind. What visitor doesn't like to go home with shopping bags full of seashells and skate egg sacs?
N.C. 12: If your visitors are more interested in policy than seashells, the 12-mile drive along this battered road from Oregon Inlet to Rodanthe is an eye-opener. Flooded numerous times by storms and now high tides, the section of road is an ongoing construction zone. Two-story-high sandbag walls line portions of it. Other sections have been moved and bridged. State bulldozers and front-end loaders stand ready to do battle with the sea. There's no better place in North Carolina, maybe on the East Coast, to see what rising seas mean on a shifting barrier island.
Central Coast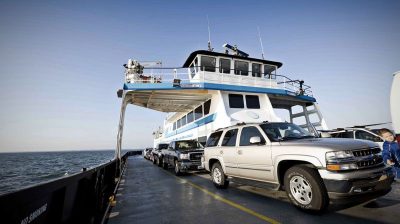 Take a ferry ride: The state offers six ferries that cross inlets, rivers and sounds. Some take just a few minutes, while the ferries to Ocracoke take a couple of hours to cross Pamlico Sound. There's no cheaper way to get out on the water without your own boat. Bring binoculars and search for native shorebirds and winter visitors. You may see fishermen working crab pots and pound nets.
Down East: This remote region of eastern Carteret County stretches for more than 50 miles along U.S. 70 and N.C. 12. Fishing is still a way of life in the small villages that dot the roads. Watch oystermen work the beds in North River or their nets in Back Sound. Any exploration of the region should start at the Core Sound Waterfowl Museum and Heritage Center on Harkers Island. From duck decoy to boat building, the museum celebrates the culture and heritage of Down East.
Beaufort waterfront: N.C. Coastal Federation staff who live in the area like to take visitors to stroll the waterfront to look at boats and catch glimpses of the horses on Carrot Island across Taylors Creek. There are plenty of shops and places along the way to get a warm drink or something of stronger fortification.
Hammocks Beach State Park:  During warmer months, visitors can come to this park near Swansboro, between Jacksonville and Morehead City, to access Bear Island, a three-mile-long, undeveloped barrier island accessible only by private boat and the park's passenger ferry. Visitor facilities are winterized this time of year though, and ferry service doesn't resume until April – except for a couple of special programs. "We'll be doing two hikes on Bear Island for the First Day Hikes," said Sarah Kendrick, park superintendent. They begin at 10 a.m. and 2 p.m. include a ferry ride to the island, where you can learn more about winter habitats and wildlife and have a chance to collect seashells. And at 10 a.m. on Monday, you can join a park ranger for a boat ride to Huggins Island in Swansboro to explore one of the Atlantic coast's better-preserved earthwork fortifications and learn its role in the Civil War. All events require pre-registration. If you have your own canoe or kayak, you can explore the park through its paddle trails. There's a six-mile trail around Huggins Island and a 2.6-mile water path to Bear Island. The park is closed Christmas Day.
Southern Coast
Surf City: If you're brave enough to take a wintery dip, come to this small beach community on Topsail Island for what is called America's biggest New Year's Day swim event. The Dolphin Dip is celebrating its 14th anniversary and organizers are expecting more than 4,000 people – some in costume – to take a quick swim in the ocean. According the Dolphin Dip Foundation, the purpose is to: "Cleanse the soul. Challenge yourself both mentally and physically. Overcome doubt, worry and fear." There's beach-side yoga at 10 a.m., too, before the event. Otherwise, you must be present at 11 a.m. at the Roland Ave. beach access for the noontime swim. Prizes will be awarded to the best costumes, but only those participants who complete the Dip. After the swim, and maybe a cup of coffee, check out the Surf City pier or walk the beach. This is the spot where a beachgoer found a fossilized Megalodon tooth earlier this year.
Masonboro Island: Although barrier islands dot the N.C. coast, one of the unique aspects of Masonboro Island (a 5,653-acre coastal reserve) is that it is located near Wilmington and Wrightsville Beach, one of the most populous parts of the coast. It's a popular site during summer and the occasional location for raucous boat parties. If you don't have your own boat (or kayak/canoe/paddleboard) to access the island, you can use a private service. One of these businesses, Wrightsville Beach Scenic Tours, operates a $25-per-person shuttle to the island about six times a day during the busy season.  "It's evolved into kind of a beach concierge service," said Joe Abbate, owner of the business and a biologist. They'll help with extras like beach chairs and other equipment you might need to explore Masonboro.  During colder weather, the boats are still there, but the trip can be less than pleasant. "While the weather's still nice, though, we'll keep doing it." (Call or check out their website for more information.) And there are advantages to wintertime on Masonboro. "You'll see more oddities," he said, and there's better shell collecting and more bird life. Some of his favorites this time of year are the red-throated loon and the horned grebe. Visitors are asked to take care while enjoying the 8.4-mile island, though. The marsh and tidal flats are important habitats. Walk along the beach, but avoid the dunes, marsh grasses and eelgrass beds.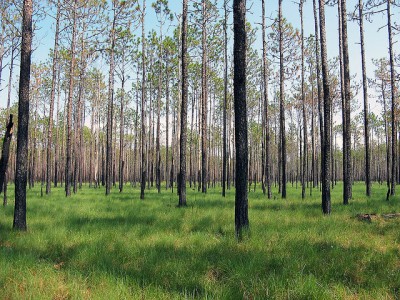 Green Swamp: One of the good things about areas such as the Green Swamp in Brunswick County is that it is open every day, from sun up to sun down.  Located between Winnabow and Shallotte, the preserve is well known as a place to see the 14 insectivorous plants that are found here, from pitcher plants and sundew to extensive Venus flytrap populations. Although about 13,000 acres of the area is pocosin wetlands, you can also find some excellent longleaf pine savanna environment – and the animals that go with it. Among the wildlife seen here are the fox squirrel, Bachman's sparrow and the American alligator. Even inexperienced hikers can enjoy the primitive trail (marked with red diamonds) in the area, which is flat and about a mile and a half long. You're advised to wear waterproof, close-toed shoes. The preserve is managed by The Nature Conservancy and part of the area is also a game lands managed by the N.C. Wildlife Resources Commission. These areas throughout the state are available for hunting, although you need proper permits and are asked to avoid the hiking areas. Hikers and other visitors should also keep in mind that hunting takes place here and be cautious. More information and hunting schedules are available through the commission.