From the Outer Banks Voice
NAGS HEAD — The replacement and extension of a 50-year-old stormwater drain pipe into the Atlantic Ocean for the Gallery Row section of Nags Head should be completed by the end of the month.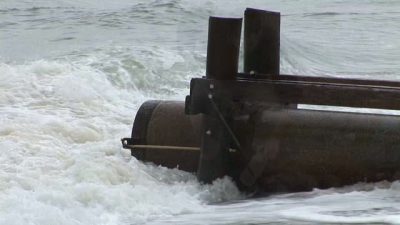 Carolina Marine Structures was awarded an approximately $400,000 contract last year by the N.C. Department of Transportation to remove and replace the original outfall near mile post 10.5 and extend it into the surf.
The work started in the spring but had to be stopped by May 1 due to the start of sea turtle nesting season, although a 15-day extension was granted, according to NCDOT spokesperson Jennifer Heiss.
 "By the time they had finished in May, they had removed the original 65 feet and replaced it with the new 65 feet," Heiss said, leaving the 65-foot extension to be installed.
"They were supposed to resume work at the end of September; however, Joaquin and the neighboring storm prevented them from starting at that time."
Work on the 'Red Drum outfall' resumed about two weeks ago, and should be finished by the end of December, Heiss said.
Four outfall pipes in Nags Head and three in Kill Devil Hills were constructed by NCDOT shortly after the 1962 Ash Wednesday storm to reduce flooding.
The Town of Nags Head paid out roughly $1.6 million in 2011 to extend three of the pipes by 50 feet during its beach nourishment project to ensure the pipes would continue to flow properly.
 The outfalls pipe at milepost 10.5 and at the town's southern border with Cape Hatteras National Seashore were not included, because the beach was not extended beyond the end of the pipes in those areas.
When the project was proposed in 2013, town officials said the pipe had lost some of its length and was so deep under ground that a back hoe had to be used to unclog it.
Flooding was common in the Memorial Avenue and Driftwood Drive areas of Nags Head due to the blockage, especially after heavy rainfall events.