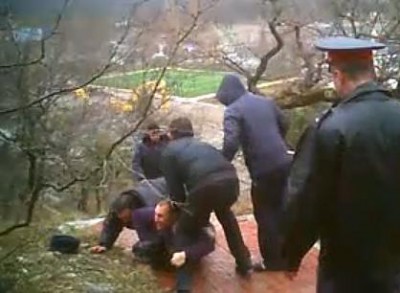 OCEAN — Environmental activism might sometimes seem like risky work in the United States. Ruffling the feathers of officialdom can bring lawsuits and torrents of criticism.
But for a group that visited coastal North Carolina recently, the dangers of activism extend well beyond words and legal documents.
Some in the Unites States know about Environmental Watch of the North Caucasus, or EWNC. The Russian group criticized the environmental and social effects of the construction of the Olympic Village for the Sochi Winter Olympics in 2014. Some of its members have been badly beaten and are routinely followed, at times daily, everywhere they go. Some have been jailed. Their homes have been searched, family members harassed.
The Russians were in Carteret County recently as guests of the N.C. Coastal Federation. Speaking through an interpreter, they said they were stunned by the level of cooperation the federation gets from local and state government agencies, scientists and the public.
In particular, EWNC deputy director Dmitri Shevchenko said, the group "could not even conceive" of any group in Russia getting the cooperation necessary to undertake something similar to the federation's North River Farms project, a multi-year, multi-million-dollar effort to restore thousands of acres of wetlands in eastern Carteret County. What you're much more likely to see, group member Aleksandr Biryvkof said, is what they saw at Sochi: the filling in, with cement, of a large wetlands area that was the last remaining stopover in the region for countless migratory birds.
"There is no (environmental) movement" in the country, Shevchenko said, no well-linked network of groups, no easily-shared information. While there are, he said, some pretty good laws on the books at the federal level, enforcement to protect wetlands is spotty at best, and in many cases, nonexistent.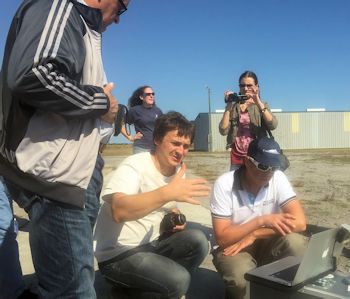 Shevchenko was accompanied on this trip by fellow EWNC members Biryvkof, Vladimir Kimaev and Tatyana Luova, and interpreter Kate Watters. She is the executive director of Crude Accountability, which is based in Alexandria, Va., and works with activists and citizen groups in the Caspian Sea basin to protect the region's natural environment and to ensure environmental justice for communities impacted by natural resource development.
They spoke at federation founder and executive director Todd Miller's house in Ocean, off N.C. 24, and they had N.C. Wildlife Resources Commission licenses in hand, ready to shove off for a little recreation the day after touring North River Farms and visiting the Duke University Marine Laboratory, where they saw a demonstration of how drones can be used in science research … and environmental investigations. They also toured Wanchese Seafood Co.; visited Wrightsville Beach to see living shorelines and other federation storm water management efforts; met with members of the Ocracoke Foundation, a grass-roots group dedicated to environmental stewardship and responsible economic development; talked to charter boat fishermen in Hatteras; and attended a board meeting of Restore Americas Estuaries in Manteo.
It was all part of an exchange organized through the U.S. Embassy; Miller and several other federation staff members visited Russia and the Caucasus region, right on the hotly contested Ukrainian border, in June.
There, Miller and the others had seen firsthand what their Russian cohorts go through.
"The police," he said, "follow and stop you repeatedly."
The highway department blocked a coastal road, for no apparent reason, Miller said. The marine patrol detained the party of travelers for a time in the Krasnodar Region, which borders the Black Sea, about a three-hour plane ride south of Moscow.
There, Miller said, the group from NCCF saw that farms, industry and urban land uses significantly alter the landscape, and estuaries are enriched with pollutants and invasive plant species. Pressure to drill for oil and gas is high and increasing, at the same time tourism, fishing and hunting remain important to the local economies.
It's that economic reality, not so much widespread environmental altruism, Biryvkof said, that fires activism, which bubbles up as locals try protect their livelihoods.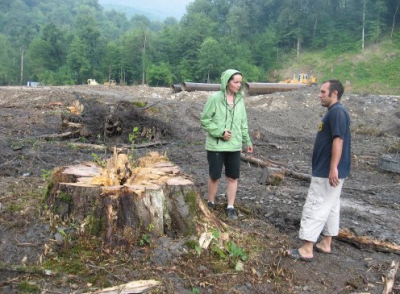 "Tourism is a big part of the economy in the region," he said. "If someone is proposing to do something that will affect fishing or hunting, that's when the people get concerned."
But, he added, there's little history of environmental activism, and some of the older people actually remember when draining and filling in wetlands was a good thing for them, if not for the ecosystems. Mosquitoes, of course, love wetlands, and malaria was a big problem. When the wetlands were destroyed in the 1920s and 1930s, the mosquito population was greatly lessened, and so was the malaria problem. That kind of thinking can be an obstacle to protection, to this day; wetlands are a good thing, "but a whole lot of people don't get that. The average person has a very low level of understanding," Biryvkof said.
The Russians also said many people have very little confidence they can do much to affect policy or to stop development that is pushed by government. And they also said corruption is a problem at almost all levels.
"There are actually some quite good laws (to protect wetlands) and they look good on paper," Schevchenko said, but enforcement is spotty at best, and there's very little government support for environmental protection efforts. Scientists are rarely independent, and the kind of cooperation necessary to do what the federation has done at North River Farms is "unthinkable" at present.
To Americans and probably the world, the most prominent example of the lack of regard for the environment in Russia was construction effort for the Sochi Olympics, which earned EWNC some degree of fame.
"There wasn't a single building built for the Olympics according to environmental standards," Biryvkof said.
Few people in the region benefitted from the Olympics, he noted, and fewer still can claim that their lives are better because of the games. Life, for the most part, Biryvkof said, has gotten significantly worse.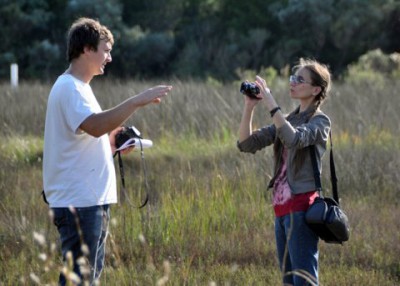 "On one hand, you have President Putin and his administration and the state-controlled media saying everything is perfect, everything is fine, no problem, when in truth, the exact opposite is the case," said Kimaev.
According to reports at the time that the Olympic village was built, many people living in the region had to move when the trucks and bulldozers moved in. For years, those who didn't endured constant noise, traffic jams and dust, electricity cuts and lack of tap water. A new road and a new high-speed railway were built in the river bed of the Mzymta River to connect Krasnaya Polyana with Sochi and the other Olympic locations. Forests were felled to make room for ski jumping hills and snow reserves.
Merely telling others about the situation could and did have dire consequences.
Shevchenko, who extensively reported on the environmental disaster in Sochi, was held at the airport in the regional capital of Krasnodar for four hours and was searched there, then taken to a police station, where he was held without being told why, even when he was released.
According to Human Rights, investigative teams arrived simultaneously one day in May 2013 at the apartment and at the dacha of Kimaev, who had documented and publicized environmental and other concerns related to preparations for the Olympic Games, including landslides, river pollution and deforestation. He wasn't home at the time, and investigators did not remove anything during the searches, but the Russians said those kinds of things are typical.
"We are followed all the time, sometimes every day, watched all the time," Kimaev said. And, Schevchenko said, there are frequent efforts to discredit them, and "Aleksandr was beaten."
It is, of course, frightening, but Shevchenko said EWNC persists in its efforts and works as much as possible through social media to get around the almost total absence of favorable media coverage for pro-environment activities. Cell phones with video camera capabilities are indispensable.
And, he said, there is – and must be – hope, or else they wouldn't keep going. There are, after all, some successes, at least on the local level, in efforts to fight back against those who pollute estuaries and seek to do projects in other fragile environmental areas.
For example, in one community, over 10,000 people signed a petition in just three days to protest plans by an oil company to drill in a highly prized estuary. That indefinitely delayed the wells, and led to a new 30-year investment by the oil company to help sturgeon recover .
While the Russians has their eyes opened while in America, Miller learned a few things over in Russia. At the very least, he said, they got a better understanding of how fortunate they are to be doing their work in eastern North Carolina and the United States, and also of how tenuous that privilege can be.
"In Russia, we learned that even without the advantages we have, the power of informed people can make a difference and have an impact," he said. "And we came back more worried about efforts by some state lawmakers to make it harder for ordinary citizens to contest environmental management decisions by state government" by weakening laws.
Learn More