Tracking a rescued bald eagle flying over our coast might even be more fun than following the travels of a great white shark off of our coast.
It would take a hard heart not to be touched by the adventures of Yangchen, a young rehabilitated bald eagle that has been soaring above the skies of northeastern North Carolina since her release in January.
Rescued from near death on a North Carolina beach two years ago, the revitalized raptor seems to have taken a liking to the coastal plain between Plymouth and the Outer Banks.
"She's for sure a success story," said Joni Gnyp, a veterinarian and founder of the Cape Fear Raptor Center. "She's an awesome bird."
Thanks to the magic of GPS, humans can see Yangchen's movement on a map researchers use to track her, similar to watching the wildly popular great white shark Mary Lee as she prowls off the East Coast.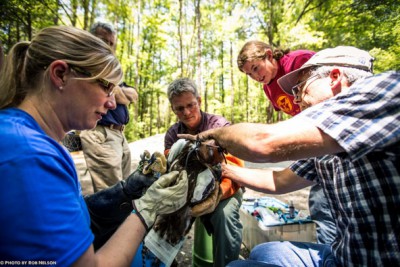 Women with anthropomorphic tendencies could appreciate the wanderings of the young female eagle as she searches for a suitable place to find a mate.
Yangchen, named after a character in Nickelodeon's animated television series, "Avatar: The Last Airbender," was found in 2014 on the ground, unable to fly, in the North Topsail Beach area.
After transporting her to Rocky Point Animal Hospital, about 15 miles northwest of Wilmington, Gnyp determined that the weak and emaciated bird was about two years old. Blood tests revealed that she was suffering from zinc and lead poisoning. Eagles and other large birds of prey will feed on carcasses of large animals that have been killed by lead shot.
The Raptor Center's mission is to rehabilitate injured raptors with the goal of releasing them back in the wild. The center also provides education and outreach to the public on the importance of preserving raptors in the environment, and encourages hunters and fishers to stop using lead shot and lead sinkers, respectively.
In North Carolina, it is illegal to shoot waterfowl with lead shot, but it is still permitted to hunt deer and other large prey with lead shot.
"It's so dangerous," Gnyp said, "not only for our wildlife, but for our ecosystem."
Yangchen – named by Gnyp's then 10-year-old – was nursed back to health by Gnyp for the next two years. Finally, in January, the bird was banded with a solar-powered GPS transmitter and released in Wilmington.
The 8-pound raptor made a beeline towards the Albemarle Sound near Aurora and Bath, where she has spent most of her time, apparently feasting on the catfish in the ponds near the reclaimed phosphate pits. But she has also taken a jaunt to Williamsburg, Va., flying over Chesapeake and Norfolk, before circling back to northeastern North Carolina.
Yanghchen's winding flight paths can be observed on Movebank, an animal-tracking database. The lightweight, 48-gram, GPS device updates her location frequently and transmits every eight hours, which is compiled and emailed once a week to researchers.
Recently, Movebank data showed, the eagle flew a total of about 65.5 miles in seven days.
"So the good news is, she's going great," Gnyp said. "Her movements are very normal. She puts on a lot of mileage for a juvenile."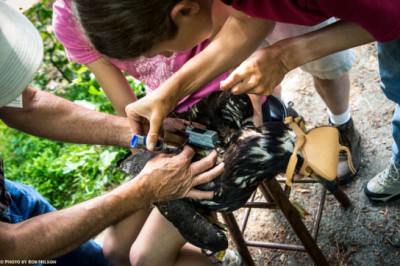 Rehabilitation of sick and injured eagles has been done for years, said Ted Simons, an ecology professor at N.C. State University who is part of the team testing the new GPS device. But the updated technology used to track Yangchen will help pinpoint why they're sick and injured, he said.
"It is a perilous existence," he said. "They quite frequently show up injured."
If the raptors aren't poisoned by toxins in the guts of their prey, they are often shocked on power lines, where they land, stretch their vast wings, and get zapped.
Simons, as a member of the U.S. Geological Survey's Cooperative Fish and Wildlife Research Unit, was involved years ago in the successful national effort to rebuild the eagle population, which had been on the brink of extinction. One of his roles was assisting in the release of hundreds of eagles along the northern Gulf Coast.
As a modern, high-tech version of bird-banding, GPS transmitter units have evolved over the last 10 years or so largely because of the widespread use of accelerometers in cell phones, which made the sophisticated technology more affordable.
Earlier satellite technology provided a huge leap for animal researchers, because it could record all kinds of data about the tagged animals' environment, travels and habits. But the downside was that the data would be contained in the tag, meaning that it had to be recovered to get the data.
About five years ago, tags similar to what Yangchen is wearing were developed that can provide high-resolution mapping as the animal travels, eliminating the need for possession of the device to access collected data.
"That has really revolutionized wildlife telemetry," Simons said. "So we get almost a real-time summary of a bird's location."
In the past, he said, wildlife ecologists would go out in the field and collect a set of "snapshots" of information and data. From that, they would build a model from the bits of data and test it.
"The situation we're in now, the animal can tell us," Simons explained. "We don't have to extrapolate. We don't have snapshots anymore. We have a movie. We have a continuous record of how these birds are spending their time and where they're roosting."
Simons and Gnyp have also been working with Roland Kays, director of the biodiversity lab in The Nature Research Center at the N.C. Museum of Natural Sciences. Kays had contacted Simons about testing the new transmitters, which cost about $3,000 to $5,000 each – in large birds of prey.
Yangchen was the third try for the device – the first was a captive eagle, the second died of an illness – and now the researchers have become vicarious tourists, from the eagle perspective.
But it wasn't all smooth going. Suddenly, in mid-summer, there were no more pings coming from Yangchen's band. The mystery lasted for a couple of weeks. Then she reappeared for about 10 days – and disappeared again. For weeks, the team kept checking. Nothing.
"We were quite concerned," Simons said. "It seemed like the likely explanation was that the bird had died."
---

Yangchen, a juvenile female bald eagle, was release earlier this year near Rocky Point.
---
They knew her last location, but there was no sign of her body. Then about six weeks ago, to everyone's relief, the pings started coming again.
Simons said that the team is guessing that the band was partly covered by feathers and unable to transmit, or the solar cell battery temporarily wasn't getting enough charge.
Following a young eagle like Yangchen, Simons said, with such cutting-edge technology will provide valuable new data for eagle researchers.
"You can zoom in on these locations," he said. "You can actually see the trees where the bird is roosting. It's kind of mind-boggling how much detail is available."
Gnyp said that young eagles act somewhat like gypsies in their meanderings, going from place to place looking for food.
Once they mate, the flying around and seeking will stop. Eagles, which live about 25 years, start pairing up at about age 5 or 6, but both male and females mate to a territory rather than a particular eagle.
So far, Yanchen's travels are that of a healthy young bird getting ready to settle down. "It's smart movement," Gnyp said. "She's not wandering aimlessly."
To Learn More