NAVASSA — How would you restore land and waterways damaged by years of contamination?
Officials in charge of cleaning up a former Navassa-based wood treatment plant that's now a federal Superfund site are seeking answers to that question from people and groups during a public meeting next week in the small Brunswick County town.
"We're in a scoping period so we really want to know any and every option," said Howard Schnabolk, a habitat restoration specialist with the National Oceanic and Atmospheric Administration, or NOAA. "To get ideas that are on the ground and hear from folks who live in the community is important to steer our efforts. We're really interested in hearing ideas from them."
That meeting is scheduled Aug. 18 at 6 p.m. at the Navassa Community Center, 388 Main St.
With a nearly $23 million budget, those in charge of the cleanup, including officials with NOAA, the U.S. Fish & Wildlife Service and N.C. Department of Environment and Natural Resources, are ready to begin mapping out how to best restore natural resources around the former plant site.
The money is part of a $5.51 billion court-ordered settlement – one of the largest environmental settlements in U.S. history – between the U.S. Department of Justice and the Anadarko Petroleum Corp. That amount was split between dozens of sites in more than 20 states. The settlement created four environmental trusts to manage the cleanup.
The Navassa site was once the location of a large plant that operated for nearly four decades treating wood with creosote, a common wood preservative made from a wide range of chemicals that, when combined, form a gummy substance applied to wood products such as railroad ties and telephone poles.
The plant opened in 1936 and was operated by numerous owners before being sold to the Kerr-McGee Chemical Corp., which closed the plant in 1974.
It wasn't until 2002, during a N.C. Department of Transportation bridge project in the area, that creosote contamination was discovered in the wetlands.
In 2010 the site was added to the Environmental Protection Agency's Superfund program's National Priorities List.
Efforts to clean up and restore the site are twofold. Most of the restoration, Schnabolk said, will likely occur in and around areas adjacent to the 250-acre site. The remainder of work will take place in riparian areas.
In a recently released restoration scoping document, NOAA lays out guidelines on preferable-type projects to be undertaken around the site. Some examples include coastal marsh restoration, land acquisition, riverbank habitat restoration and benthic habitat restoration. Benthic habitat supports bottom-dwelling species such as worms and mollusks.
Comments and project ideas will be accepted through Sept. 4. After the comment period the trustees will publish a draft plan, the release of which will be followed by a 30-day public comment period.
While restoration plans are being made, the EPA will be cleaning up the contaminated areas of the site
"We think we have about 10 or 15 acres of marsh that are heavily impacted," said Erik Spalvins, EPA remedial project engineer and the Navassa site manager. "I think we're going to have 60 to 80 acres of upland area that we're going to have to deal with. The areas where we have real severe impacts, we'll take care of it."
The EPA and Multistate Environmental Response Trust in 2011 collected samples of soil, Sturgeon Creek marsh sediments, surface water and groundwater at the Navassa site. The trust owns and manages more than 400 former Kerr-McGee sites in 24 states.
Samples turned up hazardous substances, including polycyclic aromatic hydrocarbons, a combination of chemicals that commonly enter the body through breathing contaminated air or by consuming contaminated water or food.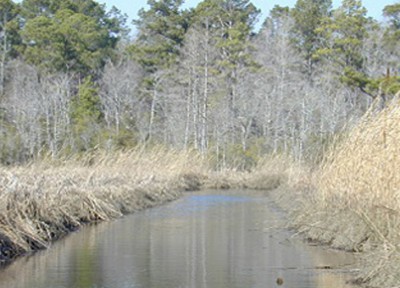 Environmental officials continue to investigate just how much contamination is on the site, land bound by the Brunswick River to the east and Sturgeon Creek to the south.
On-site remediation will be covered through the government's Superfund program.
Spalvins said he hopes to start contamination cleanup this fall.
"We're going to be building fences and doing some road maintenance hopefully starting in a couple of weeks," he said. "We have an investigation work plan that we're reviewing right now. Our focus for this fall is to do some additional sampling."
The goal, he said, is to have the site cleaned within five to 10 years, but he warned of "a lot of uncertainty at this point."
"I think that the marsh part of it will be done in five to 10 years," Spalvins said. "The town is really excited about the potential for re-use. We're hopeful that there's a lot of potential. It's a wonderful piece of property. The view is just beautiful."
Town leaders and residents have discussed using the site as a multi-use town center.
The EPA will be releasing notices for future public meetings, Spalvins said. He also plans to be on hand at the trustees' meeting.