Oh, take me where the sea oats grow
On hillocks of white sand
To happy hours in days of youth
In a place called "Promise Land."
MOREHEAD CITY — That snippet of poetry by Betty Adams Holt appears on page 78 of the Morehead City community cookbook, A Little Taste of Heaven Since 1857. Readers needn't know that Promise Land was the name refugees from storm-battered Shackleford Banks, what is now part of the Cape Lookout National Seashore, gave to a neighborhood in Morehead City. Holt's poem instantly touches something deep inside anyone, something that stirs a certain familiarity with what Holt is talking about. Her words are an example of why this community cookbook stands out from the hundreds of others released in America each year.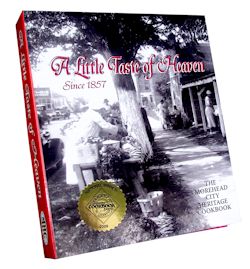 Holt's poem is among the writings, recollections, recipes and local history that Morehead City residents shared for a cookbook so genuine and engaging that Tabasco-maker the McIlhenny Co. in 2008 named it America's best community cookbook.
Morehead City natives cherish their "Promise Land," named as such because a small part of the place provided refuge from the harsh life fishermen and their families endured on nearby barrier islands. Storms convinced banks residents in the late 1800s to move to the mainland. Some floated their homes over on boats to an area historians believe is somewhere between present-day 10th and 15th streets in Morehead City.
The closeness of those tight-knit fishing families in a town that was founded a few decades before they arrived remains a Morehead City signature. Time has brought development, industry and out-of-towners. Yet, Morehead City retains a sense of heartfelt community and an enduring love and respect for history and previous generations that is evident throughout A Little Taste of Heaven Since 1857.
Each page is printed on a black-and-white photograph of Morehead City's farmers market, which is North Carolina's oldest curb market.
Chapters with the usual cookbook titles of Appetizers, Main Dishes, Seafood or Cakes and Pies open with black-and-white photographs of the town over time and accompanying historical tidbits. Most have to do with fishing. The railroad established the year of Morehead City's founding in 1857 was named the Mullet Line for its copious fish freights. Seafood remains a major influence on the Carteret County town's economy.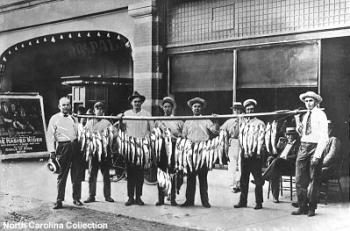 Fish and shellfish recipes cover 61 pages of the 360-page book. Some are contemporary, like Sonda's Pan-seared Sesame Tuna. Others hark back to days when folks had to eat what they caught, for example the Stewed Conch recipe that instructs "Use a tea towel to cover the cleaned conch and beat it to a pulp." That was how cooks years ago tenderized tough, chewy conch.
Readers can glean local food history from recipes and the memories that accompany some of them. Maude Willis' recipe titled Nana's Everyday Rolls comes with this anecdote: "Anyone who ever knew Maude Willis knew about her 'Everyday Rolls.' We got used to calling them 'Nana Rolls.' People who liked collards would always enjoy making a collard sandwich."
Even the cookbook's title is a tribute to the past. It comes from the town's Centennial Jubilee in 1957 when Rhea Goodwin suggested the centennial slogan be "A little bit of heaven since 1857."
"It seemed only fitting that our cookbook follow that tradition," the committee of authors wrote about the title.
A Little Taste of Heaven Since 1857 was published in recognition of Morehead City's sesquicentennial in 2007. Despite being in print for eight years, the tome is evergreen. The pages continue to evoke memories, curiosity and a desire to keep Morehead City's small-town feel even in the wake of Starbucks, Wal-Mart, Panera Bread and Best Buy landing just minutes from the Promise Land. It is as if by never forgetting, nothing important will change.
"I remember…sitting on the porch on a summer evening, visiting, singing and telling stories," Diane Davis Willis writes. "Flit guns and smoking oil-soaked rags to chase the mosquitoes away, kick the can under the street light, football on the corner lot, running home when Mother rang the cow bell."
Daddy's Stewed Conch
8-10 clean, small conchs, spilt
1 hunk of fatback
Water to cover
1 small bunch of green scallion tops
1 mallet
1 old tea towel
Use the tea towel to cover the cleaned conch and beat it to a pulp. Put it in pot with enough water to cover with the hunk of fatback, and then boil. Add water as it is boiled away until the conch is tender. Make dumplings (recipe follows) and after conch is tender, place dumplings in a ring around the pot on top of the conchs. Cook dumplings the last 10-12 minutes of cooking time. Scatter scallion tops on top just before done.
Dumplings
2 cups white corn meal
½ cup plain flour
1 teaspoon salt
Warm water
Use enough water to stick ingredients together.
Source: A Little Taste of Heaven Since 1857.