PLYMOUTH — When your region is thick with black bears that are the biggest in the world, and there's more of them than people, it might be time to give the animals their just due.
For Tom Harrison, the director of Washington County Travel & Tourism, this Saturday's celebration of all things bear was a formula for success waiting to happen: Beloved bears plus booming ecotourism equal the N.C Black Bear Festival.
With room to roam in and around Pocosin Lakes, Pungo Lake, Lake Mattamuskeet and Alligator River national wildlife refuges, as well as Pettigrew State Park, this undeveloped swath in North Carolina's northeastern corner boasts thousands of acres of prime bear habitat
The N.C. Black Bear Festival, the first of its kind in the state, will be held from 9 a.m. to 10 p.m., June 6 at Plymouth, rain or shine.  The event will feature everything from guided bear tours — where onlookers can see dozens of bears in their natural environment — to a "baby bear" costume contest and a "Miss N.C. Bear Fest" scholarship pageant to a helicopter trip over the Roanoke River delta to free pontoon boat rides, storytelling,  fishing, fireworks and music.
"It just seemed like a natural fit," said Harrison, the event coordinator.  "The purpose of this festival is to educate and celebrate this North Carolina native. Nobody in the world has what we have in density and size."
Black bears in the state have made a remarkable comeback from a few sparse pockets in the mid-20th century on the coast and in the mountains.  Today, the population is thriving, most notably in northeastern North Carolina. Harrison said. Indeed, the density of black bears between Washington and Dare counties, he said, is the highest in the world. Thanks to coastal North Carolina's mild climate and the abundance of high protein food in the region, he said, the animals also grow larger than bears that live elsewhere.
Harrison said that the region's black bears average 50 to 100 pounds heavier. An 880-pound bear caught in eastern North Carolina in 1998 still holds the world record as the largest, and there have also been dozens of 600- and 700-pound black bear hunted from the coastal region.
"In this part of the state, there's a lot of open habitat and there's a lot of food," said Elaine Barr, a contract biologist for Pocosin Lakes National Wildlife Refuge. "And they can hide in the woods and they can eat a lot of soy and corn. So they're just happy bears."
Barr said that in 2008 there was an estimated average of 1.6 bears per square kilometer in the refuge – that is, about one bear for every 200 acres – which would qualify the region as one of the highest density populations of black bear in the world.
Statewide, the bear population is stable, but growth is slowing as open territory is becoming developed.  The only bear species on the East Coast, black bears are found on about 60 percent of total land in North Carolina, according to the N.C. Wildlife Resources Commission website. There are currently about 15,000 bears in the state, with the majority in the northeast.
In 2013, the site said, a record number – 2,991– of bears were killed by hunters, with 60 percent taken on the coastal plain. Of those, 216 were in Hyde, 151 in Tyrrell and 79 in Washington counties. In comparison, there were 121 bears killed in 1976. Also in 2013, there were also 247 other bear deaths, 84 percent from vehicle strikes – the second highest on record. There were 731 complaints about bears, a 21 percent increase and the highest on record.
Most of the problems with bears are related to the animals looking for food and encountering a person or a vehicle in their search.
---

Black bears tend to avoid human contact except when there's food involved. This video shows an encounter where a snack was available.
---
Timid by nature, black bears rarely bother humans, Barr said.
"I always tell people, 'Be smart,'" she said. "Don't have a bunch of peanut butter and jelly sandwiches in your pockets when you're walking around the woods."
One of the unique attractions at the bear festival is the opportunity to see large numbers of wild bear in their natural surroundings during a bear tour offered on public or private land, ranging from $15 per adult in the Pungo refuge to $75 per adult for a group tour on a privately managed farm.
Rob Orr, who manages the tours for Dare to Hyde Adventures, an eco-tourism service, said that in the four years since the business started, bear tours have become increasing popular, attracting people from all over the state and some from overseas. During peak season – mid-May to mid-June, and September to mid-October – he said that as many as 100 bears have been seen during tours on their 30,000 acres of private land.
"What you need to get bears out of the woods is the crops (corn and wheat) have to be at the right stage – right before or after harvest," Orr said.
In a single 200-acre field, there are often more than 50 bear interacting.
As the vehicles, ranging from vans to swamp buggies, approach the bear, sometimes the animals will duck back into the woods for a little while, or sometimes they'll just ignore them and keep eating, Orr said. He said he has eased up as close as 10 yards to some bear.
"We can watch any and everything," he said. "It is most definitely a fascinating experience. We've seen them feeding, fighting, grooming, mating, sleeping, moms taking care of their cubs. It's just a beautiful sight."
People react with "excitement and awe," Orr said. "When they pull up and see that number of bears, their eyes are three times the size they normally are," he said. "There's disbelief."
If the animals are spooked – by, say, a shrieking child – they'll just run off.
"They're much more afraid of us," Orr said.
There has never been any instance of aggressive behavior during the tours, he said.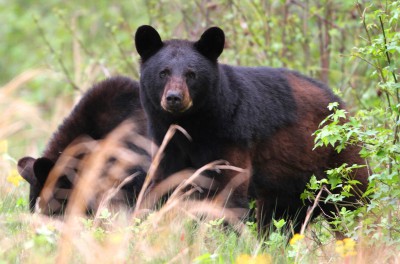 Doris Morris, with Friends of Pocosin Lakes, said that there has been a lot of interest in the festival, but the most inquiries have been for the bear tours. "The idea of seeing a live bear in its natural habitat is something that they don't get to do," she said.
Morris said that the refuge has been conducting bear tours for the past few years. On one tour, a mother bear and her three cubs put on a show by climbing trees and swimming in a canal. "That was so cool just seeing those little baby bears like that," she said.
Although the festival planning only began about three months ago, organizers have pulled out all stops on bear-related features. There will be people in Smoky Bear and Goldilocks and the Three Bears costumes roaming around and posing for photographs. There will be a demonstration of a chainsaw wooden bear carving, a Run with the Bears 5K, a workshop for children to make plaster casts of bear tracks, a painting contest of bear for children and "Close Encounters of the Bear Kind" storytelling.  Signage will include bear cub cutouts.
"I know that first impressions are important," Harrison said. "I wanted this to be the best it could be coming out of the gate and I wanted to firmly plant our flag as the home of the North Carolina Black Bear Festival."