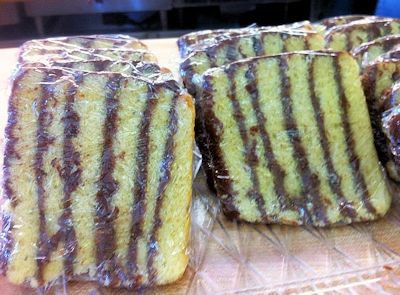 Living on the N.C. coast taught me to love layer cake.
Back in New Jersey, where I was born to an Italian mother and Hungarian father, cake meant fancy European coffee-house style slices. Neatly trimmed, slim layers alternated with barely there butter cream. Frosting was for design, a sophisticated curl of dark chocolate ganache, scallops of hardly sweetened whipped cream.
Down South, our neighbors brought us ultra-tall, jumbo wedges of carrot cake, red velvet cake and a mound of pudding-soft orange cake and Cool Whip frosting they called "pig pickin' cake."
The flavors varied. One thing was always the same. Lots of frosting. Lots and lots and lots of frosting. When writer Misti Lee of Jacksonville and I decided to pen a book about Southern layer cakes, Misti, who grew up in Duplin County, put it this way: "The cake is just a vehicle to get the frosting into your mouth."
Layer cake is my favorite dessert, and anytime I think about a slice, Linda Johnson comes to mind. "Miss Johnson," as her culinary students respectfully called her (although she talked about her husband often), for years headed Lenoir Community College's culinary program in Kinston, where I received much of my culinary training.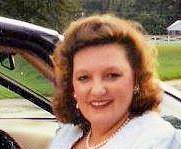 Miss Johnson was a born-and-bred Southern cook. She made biscuits every day and insisted eggs topped a true eastern North Carolina fish stew.
Her talk of layer cakes most mesmerized me. Once when I interviewed her for a story about Southern layer cakes, Miss Johnson sat at her kitchen table ticking off recipes and cake-baking tips as if she was reading them from a cookbook.
"Pans must not only be greased, but lined with wax paper, then greased again and dusted with flour," she preached that day, as she had done so many times in class. "Layers should cool in their pans for 10 minutes before being turned onto a rack. When it's time to frost, the first layer goes topside down on a plate and the next layer, topside up."
"If it's a pineapple cake," Miss Johnson said, "then it's got to have seven-minute frosting," named for the time it takes to whip warm sugar syrup into egg whites, thus creating a meringue frosting as soft as the insides of toasted marshmallows.
Miss Johnson was a blend of food science and Southern flair. The science came from the home economics degree she earned at Meredith College and the 30 years she worked as a dietician. The rest she knew by heart. Her mother, aunts and grandmothers taught her how to cook.
"That's where I acquired my skills in culinary arts," Miss Johnson said.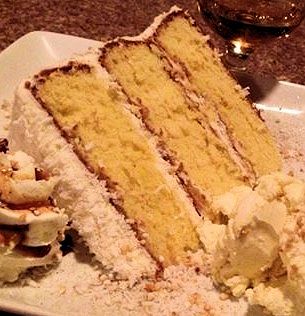 At Grandma Smith's house on the same nearly 300-year-old farmstead in Contentnea where Mrs. Johnson lived with her husband, daughter, two sons and grandson, a homemade sweet was served with every dinner. Aunt Mary Edna's signature was spiced layer cake with cooked caramel icing. The most enviable treat of them all was Aunt Sudie's Japanese fruitcake.
"Oh the fruit filling between the layers, between the light sponge layers, was absolutely heavenly," Mrs. Johnson recalled.
Miss Johnson baked her first cake when she was in third grade. The boxed mix came with its own pan. By the time she was a teenager, everyone knew Mrs. Johnson for her chocolate layer cake with plenty of chocolate frosting and pecans sprinkled on top.
When she landed at Lenoir Community College in 1984, Miss Johnson established baking classes, often drawing on the expertise of her family and telling stories about their kitchens, where fresh milk, churned butter and home-rendered lard were pantry staples.
"There was always dessert at my grandmother's house," Miss Johnson said, "She kept cake in the freezer. You'd be able to go in and get a hunk, then you'd keep fanning it, hoping it would soon thaw."
Grandmother Hart's crowning glory, in Miss Johnson's opinion, was angle cake with lemon filling. The white layers, Miss Johnson said, would "disintegrate on the tongue." The masterpiece was always slathered with seven-minute frosting.
Miss Johnson died in 2009, and I miss her terribly. She was my best teacher of all time. Always encouraging, always smiling, always happy to talk food. Her stories and recipes continue to inspire my articles on Southern dishes. Her layer cake recipes are my go-to formulas. Even when I devise my own recipes, I always keep her definition of a true Southern layer cake in mind.
"A layer cake with a filling and a luscious icing – that's a Southern layer cake," she told me. "And it has to be sweet. It has to be ultra-sweet."
Just like Miss Johnson.
Carrot Cake
2 cups sifted all-purpose flour
2 cups sugar
1½ teaspoons baking soda
1 teaspoon salt
1 teaspoon cinnamon
2 teaspoons baking powder
4 eggs, slightly beaten
3 cups finely grated carrots
1½ cups chopped pecans or walnuts
1½ cups oil
2 teaspoons vanilla
Cream Cheese Frosting (recipe follows)
Preheat oven to 350 degrees. Grease and flour two 9-inch round cake pans.
Combine flour, sugar, baking soda, salt, cinnamon and baking powder. Set aside.
In a large mixing bowl, combine eggs, carrots, nuts, oil and vanilla. Beat until well combined. Gradually add flour mixture and beat just until flour is incorporated.
Pour batter into prepared pans. Bake 40 minutes or until a toothpick inserted in center of cakes comes out clean. Let cakes cool in pans on wire racks for 5 minutes. Remove cakes from pans and cool on wire racks.
Arrange one cake layer on a serving platter. Frost top with Cream Cheese Frosting. Cover with second layer. Frost sides and top of cake. Keep cake covered and refrigerated. Serves 12 to 14.
Cream Cheese Frosting
1 8-ounce package cream cheese
1 stick of margarine
1 16-ounce box powdered sugar
1 tablespoon lemon juice
1 cup chopped walnuts or pecans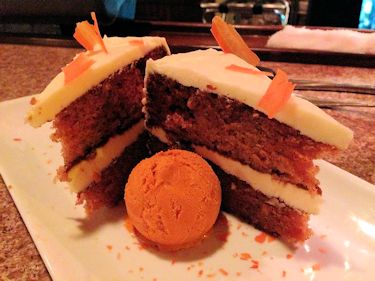 Bring cream cheese and margarine to room temperature. Place cream cheese and margarine in a mixing bowl. With electric mixer on medium speed, cream together cheese and margarine. Gradually add powdered sugar and lemon juice. Mix well. Stir in nuts. Spread frosting on cooled cake.
Cherished Christmas Cake
When Linda Johnson's son Louie celebrated his eighth birthday, he flipped through an old cookbook and selected a recipe for vanilla layer cake with fruit filling and white frosting. His mother convinced him the cake should be four layers instead of two and slathered with extra frosting. Louie is an adult now, and his selection has become one of the Johnson family's favorite holiday desserts.
For the cake:
1 cup butter
2 cups of sugar
1 tablespoon vanilla
1 cup milk
3½ cups self-rising flour, sifted (see cook's note)
8 egg whites
For the filling:
1½ cups golden raisins
1½ cup chopped red candied cherries
1½ cups chopped pecans or walnuts
1½ cup unsweetened, frozen shredded coconut
½ cup sherry
12 egg yolks, slightly beaten
1¾ cups sugar
¾ cup butter
½ teaspoon salt
For the frosting:
1½ cups sugar
1 teaspoon cream of tartar
½ cup water
4 egg whites
1 teaspoon vanilla
Cook's note: Mrs. Johnson liked to save a little time by using self-rising flour "whenever possible" for cakes, but she sifted the flour three times to achieve the light texture of cake flour.
Prepare the cake: Grease four 8-inch cake pans, line bottoms with wax paper, then grease and flour pans. Preheat oven to 350 degrees.
Place butter in mixing bowl and cream using mixer set at medium speed. Add sugar and continue beating until mixture is light and fluffy. Add vanilla to milk in measuring cup. Alternately add flour and milk mixture to creamed butter, beginning and ending with flour.
In a separate bowl, beat egg whites until stiff peaks form. Gently fold egg whites into batter.
Spoon batter into prepared pans. Bake at 350 degrees for 20 to 25 minutes. Cool cakes in pans for 10 minutes on wire racks. Remove cakes from pans onto racks. Remove wax paper from cakes and cool cakes completely.
Prepare filling: Combine raisins, cherries, nuts and coconut in large bowl and drizzle with sherry. Set aside.
Combine egg yolks, sugar, butter and salt in a heavy saucepan. Cook on medium heat, stirring constantly until mixture thickens to coat the back of a spoon. Pour over fruit and nut mixture. Stir well. Cool completely.
Prepare frosting: Combine sugar, cream of tartar and water in a heavy saucepan. Cook over medium-high heat until syrup reaches 240 degrees (soft-ball stage). Meanwhile, beat egg whites until soft peaks form.
When syrup reaches the correct temperature, add it in a slow, steady stream to beaten eggs whites with the mixer running. Continue beating until stiff peaks form and icing is thick enough to spread. Add vanilla toward the end of mixing.
Assemble cake: Place one layer, topside down, on cake plate. Spread one-third of filling over cake. Place next layer topside up. Spread one-third of filling over cake. Place third layer, topside down, over filling. Spread remaining filling over the layer. Place last layer topside up. Frost sides then top of cake with icing.
Makes 12 to 14 servings.
Source: All recipes by Linda Johnson