Editor's note: To stimulate discussion and debate, Coastal Review Online welcomes differing viewpoints on topical coastal issues. See our guidelines for submitting guest columns. The opinions expressed here are not those of Coastal Review Online or the N.C. Coastal Federation.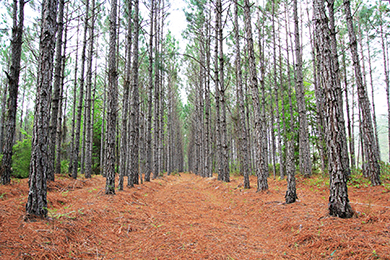 It's not surprising that the most innovative tech company in the world, Apple, is shaking up the conservation community with its bold decision to invest in 36,000 acres of American forests. Apple's press release cites a commitment to ensure a steady supply of sustainably harvested timber for its paper and packaging needs.
What might be a surprise to some is that 3,600 acres of the forestland Apple is investing in is located here in southeastern North Carolina. Conservationists around the nation are justifiably envious of Brunswick County's coup in capturing Apple's investment.
In the world of conservation, like other enterprises, it's frequently the case that investors–or, more accurately, funders–are drawn to places where others have already invested successfully. As Bruce Watkins, the legendary local deal-maker for the North Carolina Coastal Land used to say, "Money follows money." Funders like "landscape scale" conservation work, rather than just protecting bits of forest here and there. Because in conservation, the larger the forest, the richer the variety of plants and animals that can live there.
And this, indeed, is the "secret weapon" that Brunswick County has in competing for conservation investments. It's not just its world-class conservation resources—pine forests, pristine creeks, bird and wildlife habitat, and rare plants—all of which can take your breath away on a beautiful spring walk in the woods. It's the fact that more than 70,000 acres of those spectacular lands are already protected. As Bill Holman of The Conservation Fund, Apple's conservation partner in the transaction, said last week, "Protection of this 3,600-acre tract in Brunswick County builds upon the great conservation that The Nature Conservancy and the North Carolina Coastal Land Trust have done in the Green Swamp and in Brunswick County. "
Brunswick County's conservation success story is the story of dozens of private landowners who've placed conservation easements on their lands. It's the story of hunters and paddlers and folks who love to fish. It's the story of foresters and timber companies who manage their lands sustainably. It's the story of quiet but persistent conservationists at The Nature Conservancy and the Coastal Land Trust—and all the volunteers and members that support their work.
Crucially, it's also the story of tax incentives like the N.C. Conservation Tax Credit–now defunct–and conservation grant programs such as the N.C. Natural Heritage Trust Fund and the Clean Water Management Trust Fund, which are now reduced.
This investment by Apple and The Conservation Fund shows that some of the best and brightest in corporate America consider southeastern North Carolina's natural resources worth protecting.
As local conservationists here, on the ground, we couldn't be happier. We're proud to be involved in saving nature here in Brunswick County—from the Green Swamp to Town Creek to Orton Plantation to Bird Island. And we hope the spotlight placed on Brunswick County's world-class natural resources will be seen all the way to Raleigh, as the General Assembly debates its support of our state's conservation programs.
North Carolina forestland: If we save it, they will come.