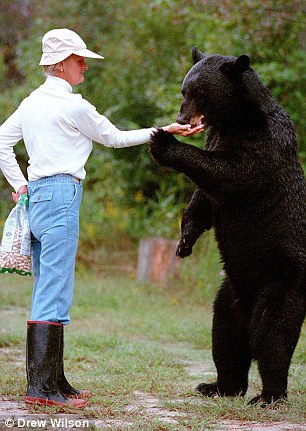 ALLIGATOR, N.C. — In the end, the Bear Lady has been returned to the place she had shared for 25 years with her beloved bears.
Kay Grayson, famous for the controversial practice of feeding the black bears that lived in the tangled woods surrounding her trailer, was discovered dead in late January, her remains scattered along a logging road near her rural Tyrrell County home. Her body was cremated, said her niece Susan Clippinger, and her ashes were buried on her property.
"Hopefully," Clippinger said, "she is where she would want to be."
Affectionately known as the "Bear Lady" by folks who knew of her passion for protecting the bears, Grayson had apparently been pulled onto the dirt path by a bear. Only bits of her clothing and hair, along with bones, were found at the scene.
"She's one of the footnotes of history that made this place interesting," said Willy Phillips, a Tyrrell County crabber who was a juror in a trial she was party to. "She lived on her own terms and died on her own terms."
It is likely that no one will ever know if she was attacked by a bear, or had died of another cause before the bears found her.  An investigation conducted by the N.C. Medical Examiner's Office in Greenville concluded that the cause of death was undetermined.
But Clippinger, who is one of Grayson's three nieces, and whose father is Grayson's brother, said she was assured by the coroner that it appeared "relatively certain" that her aunt was not killed by an animal attack.
"She was out there for so long," she said. "I honestly think if something was going to happen, it would have happened long ago."
Grayson — who according to her niece, was born in Pennsylvania in 1941, not 1947 as she claimed – came to her naturalist lifestyle in roundabout fashion. In her younger years, she lived in Florida, and then Las Vegas, where she worked as a professional dancer and show girl.
For a few years, she owned an old-style dude ranch with horses outside San Diego. She was married briefly. Then she lived on a sailboat and sailed around the Caribbean.
But after she landed in 1990 in Tyrell County, a rural, poor county near the coast in northeastern North Carolina, Grayson rarely talked about her pre-bear life. Once stunningly attractive, Grayson had lost her teeth and didn't wear dentures. But she still maintained a graceful walk and trim figure, and was gifted with quick wit and sharp intellect.
"If you told me 15 years ago that I would be here feeding a wild bear," she said in an Oct. 1997 article in The Virginian-Pilot. "I'd be telling you were drinking some bad stuff."
It was a business arrangement gone bad, followed by a legal settlement, that gave her 970 acres off U.S. 64 that led her to the woods near Alligator, a speck of a community between Columbia and Manteo. She told herself it would be temporary.
It wasn't long before Grayson had the first close encounter with her new neighbors, when a bear tore into an old trailer and pulled out her mattress. Soon, she developed an affinity for the shy animals, and started feeding them and shooing bear hunters – or poachers, as she more often called them – off her land, which she dubbed "Bearsong."
---
Meet Vince, the man who turned his home in Minnesota into a fast food stop for wild black bears. This fascinating BBC video is narrated by Sir David Attenborough.
---
She had no electricity and no running water. She had an outdoor toilet. Early on, she got rid of her pickup truck after, she claimed, it was shot-up by hunters. She used kerosene for heat and cooking. Until recent years, she had no telephone. She would walk to the highway to wait for rides from friends to get groceries or do laundry.
But Grayson's consuming focus was the bears. Initially, she started feeding the huge animals – males can grow to 600 pounds — because she believed their routines had been disrupted by hunting dogs, leaving them hungry and underweight.
Calling in a sing-song voice as she walked along the logging road, the bears would emerge from the shadows to eat piles of dog food, stale bread or peanuts she left for them. Sometimes, she let a bear eat out of her hand. Each bear had a name; she knew their ages, their sex and their parents.
For income, she would sell videos she made of the bears, or sell off portions of land. She asked visitors who came to watch the bears to donate costs for the food.
Grayson became a fierce advocate and protector of the bears, constantly on the lookout for poachers and hunters. She wrote letters to the editor. She called reporters.
Somehow, she clipped or copied every newspaper article she could find about bears and wildlife.
A conservationist who declined to give his name recounted a time years ago when he had come to her property with a few people. He was met by Grayson, armed with a shotgun and demanding to know what they were doing there.
In a comment posted in May 2008 about an article on a bear attack, Grayson blamed callous humans for bear aggression.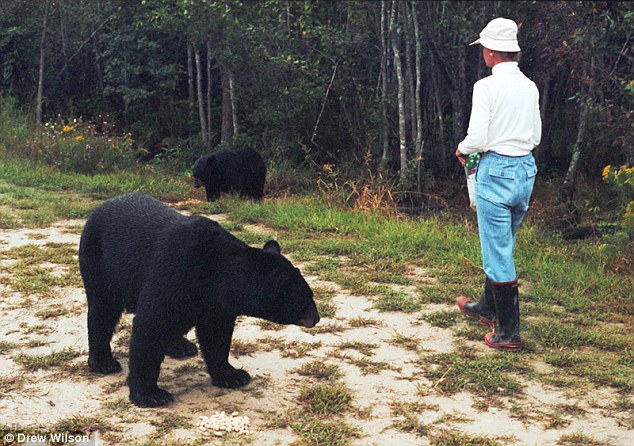 When bears are "unmolested by the idiots with guns and packs of dogs, they can relax," she wrote.  It's the "criminal activity of the gall bladder and general body-parts bunch" who kill for profit and want people to fear bears.
"I saw and lived this first hand and loathe the human killers for their general overall destruction of our wildlife," she continued. "The black bear is highly intelligent, very emotional, generally gentle and shy of humans and like dogs, WANTS to be WITH humans."
Today, the population of black bear in northeastern North Carolina is one of the largest in the country. Wildlife officials say that feeding bears can encourage aggression by taking away the natural fear of humans.
Grayson was well known to the sheriff's office, said Tyrrell County Sheriff Darryl Liverman. Over the years, her calls to report gunshots and complaints about hunting dogs and poachers gradually became less frequent.
In all the times he responded to the calls, Liverman said, he never found anyone.
"I think a lot of times, she just heard shots," he said. "She did have some problems with hunters, but it wasn't as bad as she thought it was."
Mark Cagle, a sergeant with the N.C. Wildlife Resources Commission who patrols Hyde, Tyrrell and Washington counties, said that in the mid-2000s, there were problems with bear baiting. In 2006 and 2007, there were about 50 cases each year in his district. The following year, it went down to 11, and now averages between one and five cases a year.
It is against the law to use processed food to bait bears during open hunting season, which is typically a few weeks during October and November. But it is legal to use dogs to hunt bear, as long as there is no trespassing.
Increased law enforcement and stricter laws have helped alleviate problems with bear hunting, Cagle said. In Grayson's case, it also helped that some of the hunters that had been a thorn in her side have moved away. When he last spoke to her in late 2014, Cagle, who has known Grayson since the late 1990s, she said she had "the quietest bear season ever."
Cagle said he often warned Grayson not to feed the bears, not only because it was dangerous, but also because it was illegal. She also admitted to him that she would sometimes let the bears come and go in her place.
"She was definitely very cautious with them and understood their power and respected them," Cagle said. She later told him that she had stopped feeding the animals, and had decided it was better to lock her doors than have the bears trash her home.
Grayson, he said, said the bears were never aggressive with her.  But it was possible, he said, that she had a "bad encounter" with one that ended up killing her.
"I think Kay's main objective was, she loved the bears," he said, "and she wanted them close."
Although "her" bears have gotten used to being fed by humans, Cagle said that it's unlikely they will go anywhere in that vast, sparsely populated land expecting handouts.
"I think they'll be fine," he said. "There have been bears in that area long before she got there."
As the years wore on, the isolated conditions may have worn on an ageing Grayson. Carolyn Beck, a friend in East Lake, said that when she last spoke with Grayson in January, she said that her battery on her cell phone had died.
Beck said that Grayson told her earlier that a "drop-off" bear – not one of her bears – had gotten into her trailer shortly after she had been to the grocery store, and eaten all her food.
"I think she was starving," Beck said. "I think she died before the bear got her."
For Clippinger, 55, it's been hard to reconcile the vibrant aunt she knew and loved with the lifestyle she chose in Tyrrell County.
Although Grayson was estranged from her family, Clippinger, who lives in Kissimmee, Fla., had visited her numerous times throughout her life, including in Alligator, and has fond memories of her aunt as a "beautiful, poised" woman.
"She had etiquette about her," she said. "She was always positive, even with the challenges she had in later years. It was a hard life at the end because of the choices she made."