This is part a monthly series about the food of the N.C. coast. Our Coast's Food is about the culinary traditions and history of N.C. coast. The series covers the history of the region's food, profiles the people who grow it and cook it, offers cooking tips — how hot should the oil be to fry fish? — and passes along some of our favorite recipes. Send along any ideas for stories you would like us to do or regional recipes you'd like to share. If there's a story behind the recipe, we'd love to hear it.
In the mid-1800s, Portsmouth Island's heyday, nearly 700 people lived on the dot of sand, marsh and maritime forest between the mighty Pamlico Sound and the powerful Atlantic Ocean. Residents endured fierce storms, little fresh water and harsh growing conditions.
Yet, they considered living in such a beautiful place a blessing, and they celebrated their good fortune at Christmas.
Portsmouth Island, Core Banks, Shackleford Banks, Diamond City. These barrier island communities are long gone, but their holiday traditions ring in the hearts of islanders' descendants now scattered among Carteret, Pamlico, Hyde and Dare counties.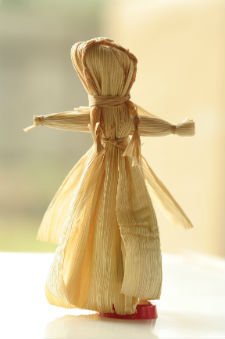 Families celebrate on Dec. 25 but also on Jan. 7, a date called "Old Christmas." The latter holiday traces back to the ecclesiastical Julian calendar that American colonies refused to abandon after Pope Gregory XIII in 1582 adopted the Georgian calendar.
No matter the Christmas date preferred, holiday time was always precious. Stories of past festivities are retold and recreated year after year.
Christmas meant faith and togetherness. Islanders cooked holiday meals with each other, sang carols, attended church programs and told the story of Christ's birth on Christmas Eve. Presents were usually simple, homemade gifts – a cornhusk doll or a hand-stitched shirt. After gifts were opened, islanders walked to friends and relatives' houses to share the day's joy.
"Everybody loved Christmas," the late Jesse Lee Babb Dominique recalled in 2004 at age 78.
"Everybody."
The last person born on Portsmouth, Dominique lived on the island in the 1930s and '40s. Back then, Dominique's mother went into the woods to cut the family's cedar Christmas tree.
"The yaupon bushes were filled with red berries at Christmas time, and my Aunt Elma used to decorate with yaupon," Dominique recalled. "She'd put it in vases on the organ, at each end of the organ."
Banks people fished and hunted, grew vegetables and trapped rainwater in cisterns. Sweet potatoes and collards flourished in the sand. "'Tater pies" cooled on planks hung from the ceiling or stretched between two chairs. Men folded the pies in half and ate them for breakfast with mugs of hot coffee.
Sweet and white potatoes landed in seafood and game stews. "You had the traditional oyster roast at Christmas, conch stew, goose, brant, loon," historian Connie Mason of Morehead City said.
"There was no such thing as turkeys," according to Karen Amspacher, director of the Core Sound Waterfowl Museum and Heritage Center in Harkers Island. Her father lived in Diamond City, near the Cape Lookout light. "Daddy said he was grown before he ever saw a turkey."
Cooking began the week before Dec. 25 on Portsmouth, Dominique remembered. Fresh ham, roast chicken, baked beans, potato salad, collards and rolls were on the menu. Seafood was less common, "you see because we had it all the time," Dominique said.
Cream pies, coconut pies, pineapple pies, sweet potato and mincemeat pies along with pineapple, jelly and chocolate cakes, were all baked in kerosene cookstoves. Although she lived alone, Dominique's Aunt Elma, nicknamed Addie, baked for a large brood.
"Addie would say, 'Well I want to make sure if somebody comes in that I'll have it so I can give 'em a piece of it,'" Dominique said.
"When you went to visit on Christmas you were always asked would you like a piece of pie or a piece of cake. And this is why they made so many. Because people did visit."
At Dominique's childhood home, guests arrived at 9 a.m. sharp on Christmas day. Before neighbors joined the family to open presents, Dominique and her sister scurried downstairs to check for "that round ball" in the end of their stockings. If it was there, Dominique said, "you knew he had come."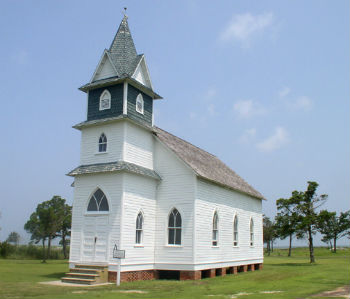 The ball was an apple or an orange from Santa. "That was a big excitement to them – fresh fruit – because fresh fruit did not exist (on the island)," Amspacher said. "Ships wrecked offshore, and fruit washed ashore from them. That's what Santa Clause would bring."
Shipwrecks brought other treasures that became gifts: silk dresses, fine undergarments, shoes and exotic foods. Catalogs filled out the selection. Mailboats delivered orders.
Folks mostly received stuff they needed. Portsmouth native, the late Dot Salter Willis, once recalled that she so cherished the china-head doll Santa brought her one year that when she dropped the toy and its head shattered, her family conducted a funeral.
"Uncle David, he done the preaching," she said with a chuckle when she told the story in 2004. "We had a whole service burying that doll and she's buried somewheres on the Sheep Island," an island where sheep grazed.
An old-fashioned Christmas spirit continues among coastal N.C. natives. No one lives on Portsmouth Island, but past residents' descendants trek there to decorate the former community's church, homes and graves.
Ocracokers attend community holiday gatherings. Walking to neighbors' houses is still more appealing than opening presents. Homemade gifts and food hunted or harvested along the shore remain part of celebrations.
Karen and Gary Davis of Carteret County's Marshallberg began camping on Shackleford at Christmas time when their sons, Zack and Ramsey, were toddlers. Karen Davis' grandmother and great-grandparents lived at Shackleford. Gary Davis' father camped and fished for a living on Core Banks.
During campouts, the Davises fish for trout and drum, collect shellfish and hunt ducks. They grill the fish, stew the birds with potatoes and cook clam chowder, all old-timey coastal recipes.
The Davis boys have carved gun racks, cutting boards, decoys and hair baubles to give as Christmas gifts. One of the first gifts Zack asked for as a boy was a coil of rope.
"It takes you back to your roots," Karen Davis said of holiday trips to Shackleford Banks.
"You can smell the marsh and you can see the water and you know you're back home," Gary Davis added. "It's like we're going home."
As Salter Willis said back in 2004, "Those who were living off (Portsmouth) usually came home (for Christmas).