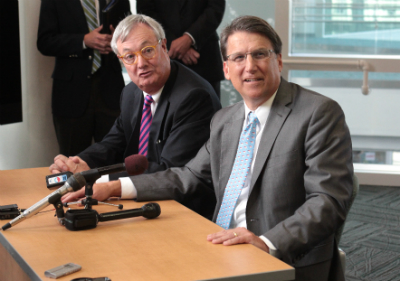 Gov. Pat McCrory, right, and John Skvarla, secretary of N.C. Department of Environment and Natural Resources, attended the closed-door conference on offshore drilling on Nov. 6. There McCrory advocated seismic testing for oil and natural gas in state waters, or waters within three miles of the shore. He said he would not rule out oil and gas development closer to shore if the resources were found there and suggested that legislation be revised so that coastal communities receive more royalties from offshore development. Photo: Kirk Ross
RALEIGH – Gov. Pat McCrory said he supports new tests for potential oil and gas fields in state waters off the coast and would not rule out the possibility of exploration closer to shore if the resources found were worth it.
Speaking to reporters last week at the end of a lengthy, closed-door conference on offshore drilling, McCrory and John Skvarla, secretary of theN.C. Department of Environment and Natural Resources, said they supported the inclusion of areas within the three-mile limit of state jurisdiction in evaluating potential areas for exploration.
McCory said that the state needs to find out what the potential is first. The federal government controls leases for oil and natural gas more than three miles from shore.
"Isn't it time to find out what we have? And then once we find out what we have, we'll find out whether or not it's worth investing in for North Carolina," he said.
McCrory said whether there are opportunities closer to shore is one of the unknowns.
"We don't know yet because the seismic testing has not been done, but we'd also have to evaluate the pros and cons of how close to shore you want to be versus offshore," McCory said. "So that's why I think it's smart to find out what we have both near the shore and farther out."
Skvarla said it was too early in the process to rule out tapping resources closer in. "I don't think we know yet," he said, acknowledging that exploration closer in would be much more complicated.
"The implications grow exponentially the closer you get in. You've got tourism, fishing, so there's kind of a three-mile cut off there," Skvarla said. "It becomes a significantly different set of decisions if you're inside three miles."
McCrory said his job was to try to strike a balance between the prospect of new state revenues from oil and gas royalties and the travel and tourism industry as well as "the quality of life along the shore."
Under current federal law, the state would receive no money from leases in federal waters. If Congress were to allow East Coast states a share of those payments, a bill passed by the N.C. General Assembly last year requires that the money go into a special fund. The fund could only be used in case of related emergencies, such as an oil spill. Once the fund exceeds $250 million, then 75 percent of the royalties would be credited to the general state fund. The remainder would be distributed among the N.C. Highway Trust Fund, community colleges, the University of North Carolina System, the state Department of Environment and Natural Resources, state ports and the state Department of Commerce. McCrory said repeatedly that the state would not pursue offshore drilling proposals that did not provide additional revenues to the state. He also suggested that the funding formula contained in that 2013 bill should be revised to offer a much larger cut from any offshore royalties to coastal communities
"I think a larger portion of the money needs to go toward dredging and re-nourishment of our beaches and other coastal needs, infrastructure needs that are quite unique along the coastal areas because of the changing weather patterns," McCrory said.
Closed Session Questioned
The nearly daylong meeting on Nov. 6 included McCrory, who is now chair of a three-state task force advocating for Atlantic Coast exploration, a handful of state environmental and commerce department officials, a contingent of federal officials led by the Bureau of Ocean Energy Management, or BOEM, and a group of congressional staffers.See the list of attendees here.
Environmental groups protested the decision to close the meeting to outside groups and the media, pointing out that members of three groups affiliated with the oil and gas industry were among the presenters.
Skvarla and McCrory told reporters that the meeting was closed at the request of federal officials and that there would be ample public input as the process goes forward.
Molly Diggins, state director of the N.C. Sierra Club, said the meeting sent a message that decisions were being made about oil and gas exploration out of public view.
She contrasted the way the oil and gas is being pursued with the amount of public input sought for offshore wind energy projects. That process, dubbed "Smart from the Start" by BOEM, is far different than the oil and gas efforts.
"They're being much less transparent with the details," Diggins said. "Call it 'Secret from the Start'."
Diggins said she expects there to be intense opposition to any proposed drilling in state waters because of safety and aesthetics. "It's likely to galvanize a lot people," she said.
Derb Carter, director of the Southern Environmental Law Center's North Carolina and South Carolina offices, said he was not surprised that McCrory is leaving the door open to exploration in state waters despite the likelihood that it will draw a strong public opposition. McCrory, he said, seems to be anxious to strike oil.
Carter said the public needs a clearer picture of the massive amount of infrastructure that would be needed to support the new industry.
"That's always the elephant in the room. Where do you put the pipeline facilities, the refineries and the petrochemical industries that come with it?" Carter said.
North Carolina, he said, needs to have a conversation about whether it wants an industrialized coast akin to Texas or Louisiana and is willing to risk the multi-billion tourism and fishing industries to do it.
"That's always been the big question," he said. Part of the problem is that politicians don't want to talk about the impact of industrialization on the coast. We need to know where and how that's going to occur."