Sixty years ago this week, the most powerful hurricane to strike North Carolina devastated much of our coastline. Hurricane Hazel remains one of the benchmark coastal storms against which all others in the state are measured. We'll take the next three days reliving Hazel with people who lived through it and examining the lessons it taught us. This article was first published in the autumn issue of Coastwatch magazine, a publication of North Carolina Sea Grant.
FRIDAY, OCT. 15, 1954. The date is seared into the psyche of those who lived through what many describe as the most destructive hurricane in N.C. history.
Hurricane Hazel made landfall on that fateful morning at the peak of the highest lunar tide as a Category 4 hurricane near Calabash, at the South Carolina line. With winds as high as 140 miles an hour and a storm surge of up to 18 feet, Hazel changed the face of the coast — leveling dune fields and cutting inlets on barrier islands — as well as perceptions about hurricanes being purely coastal events.
Hazel's rampage lasted another three days, roaring as far inland as Raleigh and Chapel Hill, and as far north as Lake Ontario on the Canadian border, still packing speeds of 100 mph in some places. Torrential rains flooded streams and rivers, adding misery and loss to Hazel's destructive path. The storm finally weakened as it arced across Canada, raining itself out in the Maritime Provinces.
Though a teen at the time, Southport's Jim Harper says, "I recall the sound of the wind and broken glass until this day."
Harper, former editor and publisher of The State Port Pilot, would remember Hazel in his paper's 50-year retrospective as "the most transforming event of the 20th century for this community."
Days before coming ashore in North Carolina, Hazel swept over Haiti, where heavy rains caused massive landslides — taking lives, homes, businesses and valuable sugarcane crops.
While the mountainous island tamped down Hazel's fury temporarily, warm surrounding waters intensified the storm. Early forecasts had predicted that Hazel would track offshore along the U.S. East Coast. But, by Oct. 14, she shifted course and headed for the Carolinas.
All told, Hazel claimed between 400 and 1,000 lives in Haiti; six in the Bahamas; 95 in the U.S., including 19 in North Carolina; and 81 in Canada. Its trail of destruction caused an estimated $350 million in property damage from the Caribbean to Canada. Those 1954 dollars translate to roughly $2.8 billion today.
Stories of death, destruction and survival emerged from a storm that took many in Hazel's path off guard.
Calabash Resilience
Calabash, the small fishing village best known today for its distinctive seafood cuisine, first felt the effects of Hazel's landfall. Residents there recall their losses, but also manage to count their blessings.
For William Dixon, 15 years old at the time, the day began with bad news.
"I had planned to go hunting that morning, but Mom came in to say there would be no hunting. A bad storm was coming. Fishermen already were bringing their boats up into the canal in advance of the storm, so I stayed put. By 9 o'clock, the winds were howling and we sat out the storm in our house in the Hickman's Crossing area," Dixon remembers.
"When it was over, the shrimp house was gone, a three-mast schooner was sitting in our front yard, and we began to hear horror stories of people who died out on Ocean Isle," he says.
Hazel took lives, property and livelihoods. "After the storm, people grabbed a hammer and nails and did what they could to make a living. Dad helped tear down what was left of the motel in North Myrtle Beach. In return, the owner let him take pine paneling and hardwood flooring. We managed to pull a house out of a pile of rubble," continues Dixon, who later owned and operated a restaurant in Calabash. He now is a member of the town commission.
Now-retired Calabash commercial fisherman Samuel "Shorty" Thomas worked on his father's 40-foot boat, Louise B, at the time. "The tide was so high, the boat sank at the dock," Thomas says. "After the storm, we hauled her out of the water, repaired her and went back to fishing. Oddly enough, shrimping was better than ever after the storm."
Salt water runs in his veins, says Thomas, who operated tugboats for dredges up and down the Southeast coast before returning to Calabash to resume shrimping for 10 years. Now retired, he opts for a rod and reel, and meets old friends every morning at Capt. Nance's Restaurant "to see who can tell the biggest lies."
Count on Anthony Clemmons to be at the table.
"Most in Calabash had never experienced a hurricane. We just didn't know what to expect," says Clemmons, who was about 14 at the time Hazel hit.
"My family went inland, where houses may have been sturdier than the rickety houses in Calabash, mostly built in the 1920s and 1930s and of uncertain storm worthiness. Surprisingly, our house and some of the old shack houses withstood the wind force and tide," he says.
Clemmons recalls one Calabash shrimper, Capt. "Kinky" Coleman, who rode out the storm on his boat. Coleman told Clemmons that the Shallotte River looked like the ocean.
"As the eye passed and all got calm and quiet, he thought the worst was over. He looked behind him, and here came a big wave — Hazel's other side. Somehow, Kinky made it through safely," Clemmons adds. "Fortunately, no lives were lost in Calabash."
It took Calabash more than a year to get back to normal — a new shrimp house, a new restaurant and one surviving oak tree left standing testified to the resilience of nature and people, Clemmons says.
Clemmons and his wife, Frances, returned to Calabash after he retired from a career in the Navy. A former town mayor, he is writing a book on Calabash history.
Ocean Isle Tragedy
Brunswick County's south-facing barrier islands, including Sunset Beach, Ocean Isle, Holden Beach, Long Beach and Caswell Beach, took the full brunt of Hazel's winds, 18-foot storm surge and treacherous waves.
For Ocean Isle, the loss was staggering. In just one incident, eight of the state's 19 victims perished on the small barrier island across the Intracoastal Waterway, or ICW, from Shallotte.
Southport's The State Port Pilot reported the tragic story of Sherman and Madeline Register, their 10-year-old son, Buddy, and their daughter and son-in-law, Sonja and Bunky Bellamy. The family had gathered for Thursday evening dinner at the Registers' Ocean Isle cottage.
By 6 a.m. Friday, Oct. 15, with Hazel's winds pushing onshore, it was too late to return to the mainland. The two-car ferry had stopped operating once its pulley cables went under rising waters.
Within two hours, winds exceeded 100 mph and angry ocean waters were advancing across the low-lying beach. Three couples from High Point, also stranded on the island, made it to the Registers' cottage seeking help. In a last-ditch effort, all 11 of them piled into Sherman Register's work truck to attempt the drive to the highest point on the island.
With winds reaching peak force by 10 a.m., their efforts were no match for the deadly storm surge that washed over the truck, dumping all 11 into the roiling waters. Seven were lost. Somehow, Bunky Bellamy, barely conscious, landed on a road west of the ICW; an unconscious Sonja Bellamy floated ashore elsewhere; and one of the three High Point couples survived.
The Oct. 20 edition of The State Port Pilot editorialized that "by some miracle death was cheated" with their survival.
However, along with Sherman, Madeline and Buddy Register and the two High Point couples, death claimed one more life: Southport's Joe Dock drowned during his heroic, but unsuccessful, attempt to rescue the stranded Ocean Isle people by rowboat, the paper reported.
Long Beach Succumbs
In the early 1950s, Long Beach was just becoming a destination for people who loved the beach, and good surf and pier fishing. With only a handful of pay phones on the island, it was a good place to "get away from it all."
By October 1954, there were 357 houses on the beach. One of them was the newly completed "dream home" of now-deceased Sam and Mattie Carr and their 14-year-old son, Sam "Butch" Carr.
Butch Carr recalls, "We moved in just days before Hurricane Hazel struck."
Long Beach, now part of Oak Island, was beach sand, dirt roads and lots of maritime woods."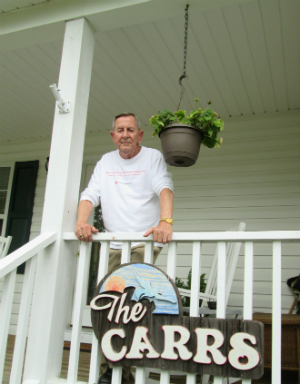 Sam 'Butch' Carr recalls how Hazel affected Long Beach. Photo: Pam Smith
Carr and his friend, Charles "Skeeter" Trott, learned of an approaching storm — and possible evacuation — after school on Thursday.
"Dad and my grandfather turned on the shortwave [radio] for a weather update. They were predicting that the storm would be 75 miles off shore. So, no one seemed fazed," Carr remembers.
That is, until dawn on Friday when the family's parakeet escaped its cage and woke Carr's sleeping parents. By then, Hazel's wind, waves and rain were pounding the shore.
"Our 1953 Buick wouldn't start, so we drove our 1949 station wagon to my grandparents' house. I kept watching the ocean rolling and churning toward the house. We heard the screen porch creak and begin to separate from the house.
We knew it was time to go," Carr recalls. His grandparents, the late C.C. and Sadie Carr, built the first permanent residence on the island, part personal home and part boarding house.
"It was about 7 a.m. There were about four or five cars in our group — my grandparents, aunts, Ellen Gilmore (postmistress). The water was rising fast on the full-moon tide. We encountered standing water, but managed to get across the old swing bridge to the mainland," Carr says. "We may have been the last people off the island before Hazel made landfall."
They waited out the storm at Southport's First Baptist Church, which had been turned into an American Red Cross shelter.
When Hazel passed, the family returned to Long Beach to search for remnants of their lives. "After the storm, everything was gone. We followed the debris field from where our house had been to the edge of the woods," Carr says.
Looters had emptied one chest of drawers, but hadn't discovered his mother's cedar chest under a heap of rubble. Mattie Carr's fur stole was inside — a bit damp, but not damaged. She hung it on a tree branch to air while the family continued searching for other possessions. When they returned, looters had stripped the fur stole from the tree.
The only clothes any of them had were on their backs, Carr says. "I wore the same clothes and my galoshes for a week until my cousins came from Goldsboro with clothes for us. My grandparents' friend offered us an apartment."
Carr's parents, grandparents and aunts, now deceased, rebuilt their homes on Long Beach and moved back in 1955 — safely on the second row.
Carr graduated from Southport High School in 1959 and joined the Air Force. He and his wife, Susan, returned to the area in 1995 and reside in Boiling Springs.