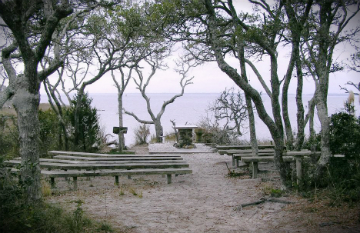 Sanders Point is a place of worship for Trinity Center and the marsh behind it, a classroom for its environmental education program. Trinity Center and its Sound to Sea educators won a Pelican Award for their leadership in planting a living shoreline to save Sanders Point from further erosion. Photo: Sound to Sea
PINE KNOLL SHORES – It wasn't just a few trees and a little sand that was saved. The eroding shoreline at Sanders Point is a sacred space for this worship center and an irreplaceable classroom for its environmental education program. One storm at a time, it was slipping away into Bogue Sound.
"While it is one of the most beautiful spots on the property, it is also one of the most exposed," said Penn Perry, the executive director of Trinity Center, which is the retreat, worship and education center of the Episcopal Church's Diocese of East Carolina.
Trinity Center could have built a breakwater to help save the holy point from eroding. In fact, they had plans to do so. When two educators from its Sound to Sea education program learned of the plans, however, they took it upon themselves to find an alternative solution that wouldn't destroy the marsh that they teach about.
"They went above and beyond for the coast and for their kids," said Lexia Weaver, a coastal scientist for the N.C. Coastal Federation.
Their actions did not go unnoticed. The federation presented Trinity Center and the Sound to Sea educators a Pelican Award for their leadership in building a living shoreline in Bogue Sound. This alternative buffers wave energy and slowly builds up the shore while also enhancing the marsh ecosystem and improving water quality.
The environmental nonprofit organization presents their awards annually to people and groups along the N.C. coast who have demonstrated exemplary commitment and have undertaken meaningful actions to protect and restore the coast.
Sanders Point sits high on the edge of Bogue Banks overlooking the sound. The outdoor chapel has wooden benches, a sky for a roof and an altar framed by twisted oak trees. It's used for worship, weddings and baptisms. It's also the entre to the outdoor classroom — the marsh.
Thousands of students of all ages come to Trinity Center each year to participate in the Sound to Sea program, which emphasizes hands-on learning to foster appreciation and stewardship of the environment.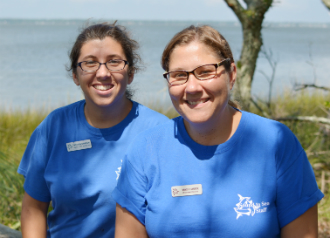 Meghan Dinneen, left, and Mindy Furrer work for the Sound to Sea program. They wanted to find a shoreline stabilization technique that didn't destroy the environment they teach about. Photo: Tess Malijenovsky
"Science and nature doesn't mean very much to a lot [of students], so getting out there and getting to hold crabs and talk about why the water quality is important while they're in the water makes it real for them," said Meghan Dinneen, the program coordinator.
"And our hope, because they're not usually from this area, is that they take these lessons back to wherever they're from and are able to use them as they go and explore their surroundings," continued Mindy Furrer, the program director.
Dinneen and Furrer have been working together for quite a while. Long enough, they say, that they can complete each other's sentences. They recognized that it would be difficult for their students to make that hands-on connection if they lost the marsh to a bulkhead.
"We figured since we're here teaching in the sound to the kids that come here about having a positive impact on the environment, we thought what if there were other ways to [stabilize the shoreline] besides a typical bulkhead or seawall or something like that," said Dinneen. "So we just wanted to explore our options."
"We didn't know what we were going to look into. The terminology we were using with our executive director was soft stabilization versus hard stabilization, and that's really all we knew," said Furrer.
With a little research, Trinity Center staff came across a photograph of a living shoreline that the federation helped build. Dinneen contacted the federation to learn more about this technique and present the idea to the center.
"They really took the initiative to do the project," said Weaver. "To me, they got it and they knew that if they put this [breakwater] in, it's not going to be as healthy for the stuff that they teach people about – the plants and the animals and the critters that live in the estuary in Bogue Sound."
Hardened structures, like a breakwater, protect a shoreline for a while until they have to be replaced; meanwhile, the wave energy scours the existing marsh, leaving behind a barren environment. A living shoreline is typically a combination of planted marsh grass and a sill made of oyster shells. The sill slows down the wave energy and knocks down the sediment in the water, which over time starts accumulating and re-building the shore. The grass and oysters filter the water and provide habitat and food for animals.
According to Dinneen, making a case for the living shoreline had two selling points. It had a great tie-in to environmental stewardship, for which both Sound to Sea and Trinity Center advocate. And, it had an appealing price tag.
"It actually was significantly less expensive than a seawall," Dinneen said.
"That's what hit it out of the park," added Furrer.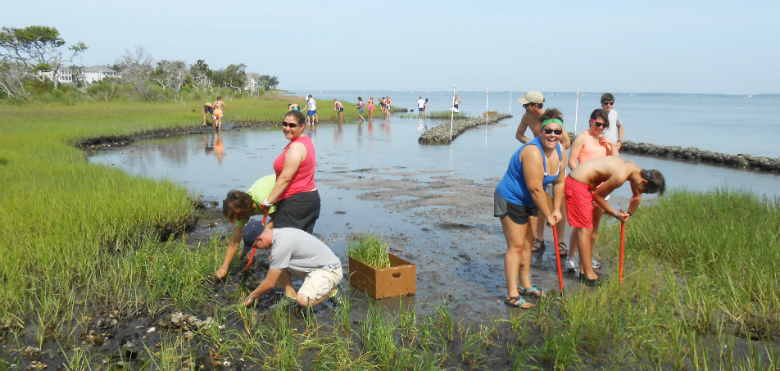 Volunteers plant spartina marsh grass to complete the living shoreline at Sanders Point. Two sills made of bagged oyster shells in the background will buffer the wave energy, accrete sand, improve water quality and provide habitat for critters. Photo: Sound to Sea
"They were very thorough about their plan, and they persuaded me that the opportunities the living shoreline presented were too good to pass up," said Perry. "They were willing to oversee the project, their willingness to donate labor made it cost-effective, and the education opportunities it presented for Sound to Sea were obvious. In addition, the N.C. Coastal Federation made clear its willingness to partner with us to complete the project."
Working side-by-side with the federation, Dinneen and Furrer began and ended the permitting process in 2013 and, with the help of many volunteers, completed the construction in 2014.
"It's rare that you find someone that actually wants to do something good even though it'd give them more work to do," said Weaver. "They run the education programs, they're not in charge of property maintenance."
"For us it was just getting this one thing done and using it as a teaching tool," said Furrer, "but the fact that we were nominated for an award and got that award put a bigger scope on the bigger picture."
"We were pretty proud of what we'd done because we had put the — whew — sweat and tears into it, so we felt really good," said Dinneen. "But I think this [award] gave us a reason to feel like it was a good example for others. Just people knowing about it could have an impact on decisions they make in the future."