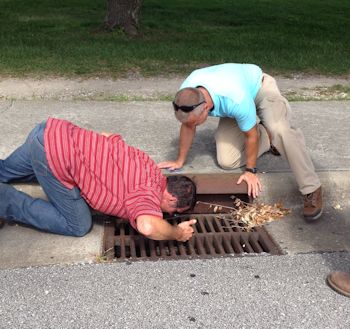 Members of the project team peer into a storm drain in the Hewletts Creek watershed to try to determine the flow of stormwater.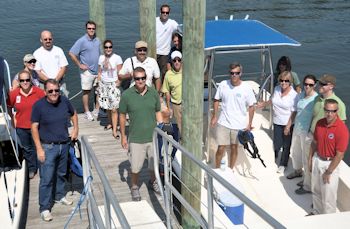 The project team prepares to embark on a boat trip  in Hewletts Creek.
WILMINGTON — The message in a Wilmington neighborhood where efforts are being led to reduce stormwater runoff is simple: Even the smallest changes can help make a difference.
Portions of driveways at six homes in Raintree, a middle- to upper-class subdivision built in the 1980s off Greenville Loop Road, have already been replaced with pavement that will allow runoff to absorb into the ground. In the second part of the project, modifications, most of them subtle, will be made on eligible homes. Cisterns and rain gardens could be added to yards.  Flexible tubes could be connected to downspouts on homes to reroute stormwater away from paved surfaces.
The city plans to retrofit a road right-of way in the neighborhood into a bioretention area to capture and treat stormwater runoff.
All of this is part of an ongoing endeavor to restore Hewletts Creek, the city's second-largest watershed and one riddled over the years with pollution from stormwater runoff.
About 85 percent of the creek's nearly 12-mile watershed is developed. Stormwater flowing from the rooftops, driveways and streets of those developments, including half of the Raintree subdivision, has polluted the creek so much so that it is closed to shellfishing.
"We understand that in existing neighborhoods we're not going to tear up roads and we're not going to tear up houses," said Tracy Skrabal, a coastal scientist with the N.C. Coastal Federation. "The philosophy is for these existing neighborhoods to disconnect the sources of stormwater runoff. Everybody can do something around their yard. These are very simple techniques. Just by doing one thing you could probably make a significant difference in stormwater runoff and in the creeks."
The stormwater reduction project in Raintree is part of a larger collaborative effort led in part by the federation to protect and restore the waters of Masonboro Sound and the watersheds that feed into the sound.
The project is being paid for by a grant from National Estuarine Research Reserve System's Science Collaborative, a partnership program between the National Oceanic and Atmospheric Administration and the University of New Hampshire.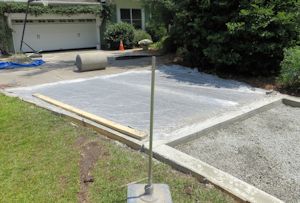 A portion of a driveway in Raintree is replaced with pavement that will allow water to soak into the ground.
The grant covers a variety of ongoing stormwater reduction efforts being made by a team of stakeholders that include the federation, the N.C. National Estuarine Research Reserve, the N.C. Department of Environment and Natural Resources, the University of North Carolina Wilmington, Wilmington, Wrightsville Beach and land developers and contractors.
Using Raintree as a model, the federation plans to educate people and encourage other neighborhoods to use simple  techniques that reduce the flow of stormwater.
University researchers will monitor stormwater runoff flow from the neighborhood into Hewletts Creek, collecting runoff amounts before, during and after the project is complete.
"The major portion of the work still has to be done there," said Mike Mallin, a research professor at UNCW's Center for Marine Science. "We have some complicating factors we've found. There may well be leakage from sanitary sewage from the storm system up there. Right now there's some pretty high fecal bacteria loads that come through the stormwater drains in the Raintree area. We're currently investigating that and if that is indeed a leak from sewage that's certainly going to be complicating our efforts."
Federation Deputy Director Lauren Kolodij describes the neighborhood project as "a work in progress."
"We've got some retrofits in the ground," she said. "We've pulled up sections of impervious driveway made of concrete and replaced them with pervious surface. We want to substantially reduce the amount of volume that is going into Hewletts Creek from that neighborhood."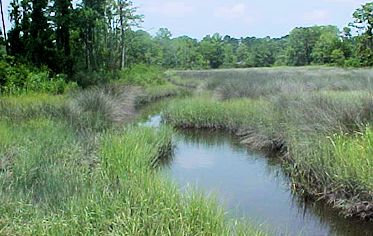 The Raintree project is part of a larger effort to reduce the flow of polluted runoff running into Hewletts Creek. Photo: City of Wilmington
Stormwater runoff from about half of the Raintree subdivision– 40 or so homes – directly flows into Hewletts Creek watershed.
Homeowners are being asked to volunteer to join in the effort by doing things as simple as allowing the installation of tubes to redirect the flow of stormwater from downspouts to changing out a portion of their driveways with pervious concrete.
"We chose six properties that had regular impervious driveways and we cut out a section of the driveway pretty close to the end of the driveway and replaced it with a section of pervious pavement," Skrabal said.
Her driveway was one of the six.
"The water comes off the house, down the downspouts, hits the pervious pavement and goes right in," she said.
Retrofitting a driveway is, of course, a more costly stormwater reduction project. The price tag anges anywhere from $1,500 to $3,000.
Reduction methods such as downspout diverters and rain barrels are much cheaper.
"What we're trying to show is that we can go into these areas where shellfishing has been closed for decades and we can get to a place where we can open these areas," Skrabal said. "If we are successful in this neighborhood then we can start going to other neighborhoods. We can use these retrofit approaches in existing and new neighborhoods and not write off our creeks. We have a lot at stake here keeping these waters clean for our future generations."