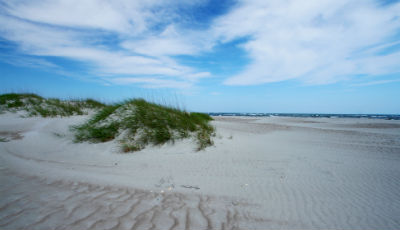 Sam Bland, coastal specialist for the N.C. Coastal Federation and former superintendent of Hammocks Beach State Park, is happy about the recent court settlement that will add nearly 300 acres to the park's mainland. One of its biggest values, he said, is for protecting water quality. Photo: Sam Band
SWANSBORO — "Hear that?" says Sam Bland, the former superintendent of Hammocks Beach State Park, as he cuts the engine of the boat. We're drifting near some marsh, just five minutes away from the mainland of the Onslow County state park.
"That's a painted bunting," he says. "He's going to go silent soon."
"Huh? Sang enough for the day this early in the morning?" I asked.
No, Sam explains, the beautiful thicket-loving bird — somewhere in the marsh but invisible to me despite its resplendent red, blue, yellow and green coloring — was a male; and they generally become totally silent after the breeding season is over, no longer needing to signal their territorial rights.
From there, with only a little prodding, Bland goes off extolling the virtues of his favorite bird and this park, his favorite place. Hammocks Beach State Park encompasses the entire coastal habitat — from forests on the mainland, through estuaries, to barrier islands. After decades of exploration, these azure waters, green marshes and creatures still bring him simultaneous senses of calm and wonderment.
Bland can wax poetic about all of the state park's ecology. And in fact, on this day he does in light of the announcement last month that a recent court settlement will soon add 289 acres to the park's mainland along Queens Creek. Right now the park has only 30 acres of mainland property.
After he ties off the boat at the ferry dock on Bear Island, Bland sees some morning glory flowers in bloom and stops to see if any crystal skippers are flitting about. He's off again; Crystal skipper is the commonly used yet unofficial name for a butterfly discovered a few years ago and so far, Bland says, it's only been found on Bear Island and the nearby island, Bogue Banks.
Its habitat, he says, is a plant called the bluestem, and it gets nectar from dewberries and morning glories when they're in bloom. There are no skippers this morning, but it doesn't matter, really. Bland revels in the fact that the morning glories are blooming and the butterflies, relatives of the more common dusky skipper, will be there, at some point, and he'll see them.
To write about the ecology of the park with Bland as your guide, you've really got to talk not just to Bland but about Bland and his love for the park.
"I first saw the park in 1976," Bland says. "I was in high school and I came over on the ferry. I got the last ferry of the day. And right away, I knew this was something special. I told myself I'd come back here and not just to visit."
Two or three years later, he came back as a seasonal employee while in college. He graduated, became a park ranger at Fort Macon State Park in Atlantic Beach and then at Eno River State Park. All along he was headed back to the Hammocks in his heart; and six years later, he was there as a ranger specializing in resource management and environmental education.
He stayed long enough to make superintendent and then retired — ending a 30-year career — when the administrative demands of the job made it less and less possible for him to get out in the environment that drew him there in the first place. Bland then joined the N.C. Coastal Federation staff as a coastal specialist in 2009, where he still works. His work with state parks earned Bland the federation's Lifetime Achievement Award and the state's highest civilian honor, the Order of the Long Leaf Pine, in 2009.
On the trail, we run into a retired teacher that Bland once hired as a seasonal employee while he was superintendent. She was just off the ferry with family and headed toward the beach on the other side of the island.
"Sam Bland!" she exclaims upon seeing him. "I just mentioned your name. We saw something on the path and I said, 'I wish Sam Bland was here, he'd know what it is.'"
It's a safe bet that the woman was right. Bland knows Hammocks Beach State Park like most people know their spouse's face.
Back on the boat, Bland points out a towering dune on Bear Island. At one time, he says, it was probably 60 feet tall, although now it's only in the 40- to 50-foot range. It's an unusually tall dune for a barrier island, in part because Bear Island is unusually wide for a barrier island, often half a mile or more. The dune is one of Bland's favorite spots because it offers a panoramic view of the ocean, the island and the marsh.
If you're stranded on a barrier island such as Bear, he says, and you're about to perish of thirst, you can go the base of a dune and dig down and quite possibly find some fresh water, a remnant of the rain that runs down the dune.
Bland was there years ago, before there was running water to the island for restrooms and concessions, and saw fresh water being pumped from the base of a dune by the University of North Carolina Wilmington researchers. There have been times when cattails grow at the base of dunes, a clear indication of fresh water. And there are depressed places where you can see hoof prints that indicate deer have dug down to get that water, according to Bland.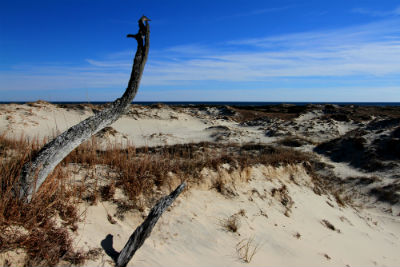 The tall, interior dunes are some of Bland's favorite spots because they offer a panoramic view of the ocean, the island and the marsh. Photo: Sam Band
Sam points next to the salt-tolerant trees and shrubs, such as red cedar, live oak and wax myrtle. They're the first trees to grow in these maritime forests and create a protective buffer from the harsh salt sprays. That buffer then allows less-hardy plants to grow, chief among them the loblolly pine.
It's an incredibly complex ecosystem, Bland says. It's almost impenetrable in places and is one of several distinct systems on a barrier island. You'll also see, of course, the thickets, the secondary dunes, the primary dunes, the sandy beach and the surf zone, followed by the ocean, which shapes it all.
He honestly believes he's hiked and boated every inch of Hammocks Beach State Park. He fell in love with it most deeply on long, solitary hikes in the winter in his first years there. There's nothing like it, he said. You could hike for hours without seeing another soul, take all of the time you wanted to learn about the plant life, to examine things, to simply revel in the splendid isolation and solitude. That isolation – while still being accessible to civilization – is one of the main things that sets Hammocks Beach apart even from other coastal state parks, such as Fort Macon and Jockey's Ridge in Dare County.
Both of those parks are on islands, but you can drive to them across bridges from the mainland, and their visitor numbers approach or exceed a million a year. Hammocks Beach drew 135,000 visitors in 2013, primarily because it's off the beaten tourist path and you have to get to the ocean beach by personal boat or ferry, and a long walk.
"Look around," Bland says as we sat in the boat, bobbing in the current generated by the tide and a moderate, southwest summer breeze. "It's the middle of the morning in the middle of July – the peak of the season – and we are the only ones in sight. You can be alone here, even now."
The park, Bland says, is critical to maintain both for ecological and habitat reasons, but also just because it's there. We need these places, he says, for our souls; and Hammocks Beach is wondrous both for its splendid isolation and for its proximity to Swansboro, just minutes away, and to residents of all of eastern North Carolina, for whom it's an easy day trip.
It's about to get bigger and better too. Although those two things are not necessarily linked when it comes to natural areas, Sam believes the addition of the huge chunk of mainland acreage will be good.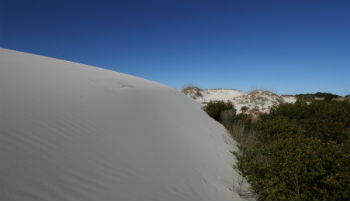 The dunes on Bear Island can be 40 to 50 feet tall because the barrier island is exceptionally wide, often by half a mile or more. Photo: Sam Bland
"It's exciting," he says of the recent court settlement, which will add nearly 300 acres to the park. "I'm happy that it's happened. One of the biggest values is for water quality. All of this," he looks around from the boat, "is Outstanding Resource Waters, and it's good to know that there won't be development and all the runoff that would come from it."
The 30 acres of mainland property that the park currently has limits what can be done there. The addition could mean more room for trails, kayak launches and camping. Bland says he'd love to see the state, perhaps in cooperation with the federation, build and operate an environmental education center. There is, he said, no better place to teach folks about the myriad values of the N.C. coast.
Some have touted the addition for its ability to greatly increase visitation and the consequent flow of dollars into the local economy. Bland doesn't doubt that will happen, to some degree, but he firmly believes that whatever is done must be well-thought-out and of proper scale. He wants more people to enjoy this jewel he loves, but not so many more that it risks losing what so many come there to see.
Whatever happens, it will be the result of a long-running battle that ended in June when the state and the Hurst and Turner families of Onslow County signed an agreement to end a lawsuit and clear the way for the eventual expansion of the park. David Pearson, president of the Friends of the Hammocks and Bear Island, the park's support group, said the agreement should eventually result in the state paying the families $10.3 million for the land.