PINE KNOLL SHORES – Former Senator Marc Basnight, a Dare County native, received the Lifetime Achievement Award from the N.C. Coastal Federation for years of leadership in the N.C. General Assembly that shaped the N.C. coast in significant ways.
"You look up and down the coast, there are a lot of things that have resulted from his legacy, from land being protected, restored areas, better regulations for coastal development to investments in infrastructure and things that he really shepherded through the process," said Todd Miller, the executive director of the federation.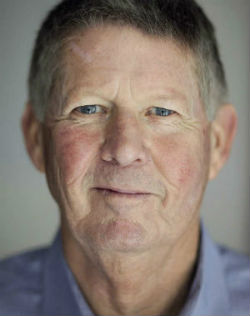 Former Senator Marc Basnight wins the Lifetime Achievement Award from the N.C. Coastal Federation. Photo: Shawn Rocco, News & Observer
Basnight is one of 15 winners of the 2014 Pelican Awards. The winners this year are varied, from a commercial fishermen to a Realtor to the library staff at the University of North Carolina Wilmington.
The annual Pelican Awards recognize exemplary action to protect and preserve the coastal environment. The winners will receive the awards Saturday at a luncheon at the N.C. Aquarium at Pine Knoll Shores in Carteret County, thanks to the sponsorship of Backwater Environmental.
Lifetime Achievement Award
During his 26-year reign in the Senate – the last 17 years of which he was the president pro tempore – Marc Basnight rose through the ranks, outlasting his opponents and even governors, to become the most politically powerful man in the state.
"Just the Clean Water Management Trust Fund by itself has certainly driven our agenda since 1997 in terms of a lot of things we've done. He opened up vast new opportunities that we didn't have before that as a new tool for land acquisition," Miller said.
Basnight's brain child, the N.C. Clean Water Management Trust Fund, which was established by the General Assembly, provides millions of dollars through grants to finance projects that address water quality. Money from the fund has helped reduce stormwater runoff, bought and restored vulnerable lands threatened by development and created a planning blueprint to start restoring the state's once-famed oyster populations. He is also praised by environmentalists for a bill in 1997 that tightened regulations on hog farm lagoons and improved sewage treatment plants.
While the federation didn't see eye-to-eye on all issues with the political leader, they recognize that he made the coast a much better place during his many years in public service. "I would say to his credit he was responsive — when he got requests for help, he tried to help people," said Miller.
Northeast Coast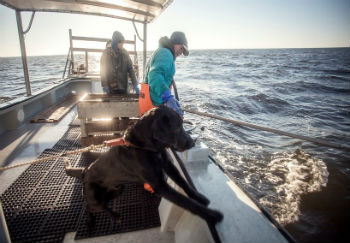 Troy Outland is a commercial fisherman on the Outer Banks who received a Pelican Award for making working waterfronts a workable idea. Photo: Staff
Many others along the coastline's three regions have demonstrated exemplary commitment to their vision of a healthy, thriving coast. For example, Troy Outland, a native of the Outer Banks and a lifelong commercial fisherman whom the federation considers "a pioneer of cooperation" among recreational and commercial fishing interests in the area. He will be recognized with a Pelican Award for making traditional commercial fishing access to the historic Manns Harbor Marina a sustained reality.
"Well I was pretty surprised. I really had no idea I was going to get (picked) for that. Just pleased to get it," said Outland.
Commercial fishermen along the coast find it more and more difficult to afford access to the water to dock their boats because of the cost of water-front property and the limited space available for storing their fishing gear. Outland helped establish and now chairs the Manns Harbor Commission, which is a board tasked with managing the first state-funded, shared-use working waterfront.
"Most fishermen, including myself, just don't really like to get involved with things like that. They just like to get up and go to work and not really deal with issues like that. So I just felt like someone had to try to come up and get everybody together to see if we could get something going," Outland said.
Central Coast
Another friend of the coast is Allen Propst, a realtor from Oriental — a town in Pamlico County – who blew the whistle on the illegal ditching and draining of wetlands in the area.
"When Buck told me about this wetland forest conversion of the Atlas Tract to agriculture land, I was stunned," Propst said. "I had spent about a week on this property about three years earlier trying to sell it as hunting/forestry land for Copper Station, one of the prior land owners. I knew without a shadow of a doubt that the vast majority of this 4,700 acres was non-riverine wetland forest."
His efforts resulted in hundreds of people writing emails and attending county commissioner meetings, letters from county leaders to federal agencies, and what appears to be enforcement action by the U.S. Environmental Protection Agency. The country is losing wetlands at a rate of seven football fields each hour, and Propst showed that much of this loss occurs because regulatory safeguards for wetlands are not enforced.
"Continued diligence must be taken to prevent further degradation of these valuable wetlands now and in the future," said Propst.
Southeast Coast
Looking to the southeast region, another winner is Sue Weddle, of Sunset Beach. "Shocked, speechless, jubilation," was how Weddle described her reaction to learning she had won a Pelican Award for being a dedicated, persistent and effective advocate of the coast.
Weddle retired in Sunset Beach with her husband, Owen, but found she could not relax. "I went out on our deck overlooking the marsh in a spring rain to thank my lucky stars that I had been given this wonderful place. When I looked up at our tidal creek, I saw a sediment plume about three-quarters of a block long with what looked like an oil slick on top of it. On that day I became an environmentalist," she said.
Weddle soon began serving on state and local environmental rules review committees. She advocated against lifting the inlet-hazard area designation from Mad Inlet and continues to advocate for effective stormwater regulations. Most importantly, she keeps a close eye on how coastal development rules and regulations are being enforced and met near Sunset Beach. The federation said that Weddle "leaves no stone unturned, deed unread or permit unchallenged" when it comes to unnecessarily hurting the health of the coast.
"I always thought there were grown-ups in charge, and I didn't have to worry," Weddle said. "I learned there are no grown-ups in charge, and each and every one of us must step up to the plate."
Many Others
Many others demonstrated the likes of these few winners and received Pelican Awards:
Bill Hettler, a volunteer, for his loyal stewardship of the Hoop Pole Creek Nature Preserve and commitment to the federation 

Bill Edwards of the U.S. Natural Resources Conservation Service for his significant contribution to land conservation and wetland restoration 

Ernest Boyce, another volunteer, for his dedication to the coast and enthusiastic help with all federation efforts


Craig Hardy of the N.C. Division of Marine Fisheries for his dedicated career in oyster restoration 

Burrows Smith, a developer, for being a local champion and pioneer of Low-Impact Development

Shawn Ralston, a former planner for New Hanover County, for leading efforts to provide sound environmental safeguards via adoption of the New Hanover County's Special Use Permit process

The staff of the UNCW William Maddison Randall Library for cataloging the federation's collection of documents and making them accessible as a permanent coastal education resource

The Trinity Center's 

Sound to Sea

 Program educators for their leadership in installing a living shoreline in Bogue Sound

The board of directors of the N.C. Press Association for recognizing the changing media landscape by supporting Coastal Review Online's membership in the association 

Lakes of Lockwood Homeowners Association for their efforts to install over 50 rain barrels and eight rain gardens with the Smart Yards Program

The Town of Wrightsville beach for the town's partnership and support in establishing the federation's new southeast office and

Fred and Alice Stanback Education Center