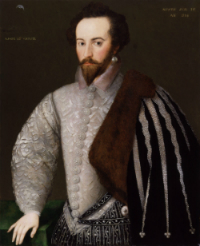 This portrait of Sir Walter Raleigh was painted in 1588 when he was 34. Photo: National Portrait Gallery, London
MANTEO — Digging on the Internet may prove to be more fruitful than decades of digging in the earth has been in deciphering the stubborn mysteries of early English exploration of the New World.
Thanks to new digitalization of some British historic records, a previously unseen document likely dating from 1584 to early 1585 appears to be communication from Sir Walter Raleigh about the first of the 1584-1587 Roanoke Voyages and details of the visit to England by Native Americans Manteo and Wanchese.
"It's more interesting than anything that has come to light in the last 50 years," said Phil Evans, a founding member of the nonprofit First Colony Foundation, a team of veteran archaeologists dedicated to finding evidence of 16th century English settlements and forts on Roanoke Island and the Albemarle region.
The foundation announced this month that it will open an office in Manteo, near where most of their work is being done at the Fort Raleigh National Historic Site. The archaeologists are in a race against time in exploring a rapidly-eroding shoreline on the Croatan Sound that could hold clues about English colonization, perhaps even the fate of the so-called "Lost Colony."
The 117 men, women and children who came to Roanoke Island in 1587 disappeared without a trace. Despite numerous attempts by researchers, historians and archaeologists to determine their fate, it remains the oldest unsolved mystery of early America.
That's one reason that any new information is so exciting. Not only does the new-found document give insight into Raleigh's thinking, it also illuminates what was going on with the two natives, who went to England in 1584 and returned in 1585. Raleigh himself never came to the New World.
"This gives us a look at what they would have been doing when they were in England and what was their role to Raleigh," Evans said. "This gives us an idea what their purpose was . . . Anything that puts us in England with them is interesting."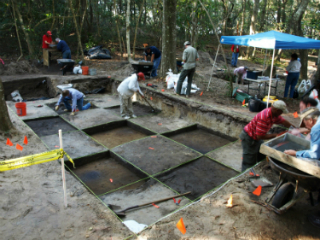 Archeologists and volunteers look for evidence of the "Lost Colony" settlement at the Fort Raleigh National Historic Site on Roanoke Island. Photo: National Park Service
The document, which is in the process of being transcribed, he said, could be one of many that have been or will be digitalized and posted online for anyone to see ­­­– essentially transferring reams of previously hard-to-find information from the dusty shelves of historic archives into readily searchable databases.
Potentially, documentation could be found that leads archaeologists to significant sites to explore or new understanding of early exploration. "This is a good one," he said, "and it gives us hope that there may be many more."
For instance, Evans said that it is known that Thomas Hariot, a scientist on the 1585 Roanoke Voyage and author of A Briefe and True Report of the New Found Land of Virginia, published in 1588, had written another chronicle of colonization that has never been seen.
Other lost treasures that could be in an archive somewhere, Evans said, are the letters that the 1587 colonists gave artist John White, the colony's governor, before he departed for England in August 1587 to get supplies. War between England and Spain prevented White from returning to Roanoke Island until 1590, when he found no trace of the colonists.
Evans said that more information about the Raleigh document is expected to be released soon.
Founded in 2004 by a handful of veteran Early American archaeologists and historians, the foundation picked up where previous archaeologists had left off at Fort Raleigh. Despite its name, virtually nothing has been discovered in the park that links it definitely to an English fort, an Indian village or a colonists' settlement.
Most of the foundation's research has been led by Eric Klingelhofer, a professor at Mercer University in Macon, Ga., and Nick Luccketti, the principal archaeologist at the James River Institute for Archaeology in Williamsburg, Va.
First Colony Foundation archaeologists Nicholas Luccketti, left, and Luke Pecoraro uncover a copper necklace at Fort Raleigh National Historic Site. Photo: First Colony Foundation
After reexamining sites of previous digs in the park, the team in recent years found several 16th century artifacts in an area that is targeted for further exploration.
Additional analysis is also being conducted on an original John White map that was discovered in 2012 to have had a patch covering what could indicate an Elizabethan fort at an area in Bertie County where the colonists may have fled. The patch had not been noticed before.
Klingelhofer said that a Tudor map expert at the British Library has been studying the significance of the mark under the patch, but it's still not definitive. It appears that there is a patch under the patch, and that the ink is disappearing where there were marks made by a quill pen. But so far, researchers are at loss to explain what has happened to the ink.
Meanwhile, Luccketti has been exploring the Bertie site with the aid of satellite imagery. Underwater surveys and an inventory of all artifacts found in the area have also been done.
But Klingelhofer said there has been no evidence found yet of a major earthen fortification.  It is possible, he said, that the fort symbol on the map was indicating what was a prospective fort.
The core sight for exploration is focused in and around Fort Raleigh, the most likely location of the "Indian town" that 1584 explorers referenced when talking about being greeted by the wife of an Indian nobleman when they first landed.
That was the first contact between the natives and the English, Klingelhofer said, and that was why the explorers decided to stay on Roanoke Island. "The only thing earlier than Jamestown," he said, "is here."
But time is of the essence, Klingelhofer said. "We are always concerned about these early sites with the rising sea level in North Carolina," he said, "and also with development."
Much of what the numerous digs have found is "negative evidence," Klingelhofer said, which is actually good, because it's through the process of elimination that archaeologists are able to find artifacts. In addition to looking at the shoreline, the team will reexamine the earthworks in Fort Raleigh.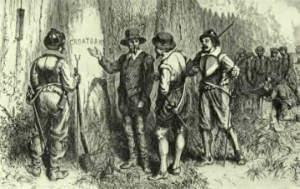 When he returned in 1590, John White found the colony deserted and the word "CROATOAN" carved on a tree. Photo: British Museum

Ultimately, he said, the goal is to find evidence of the Indian town, the English fort and the colonists' settlement.
The group has an agreement with the National Park Service,and is hoping to be able to work on private property, possibly along Shallowbag Bay and off Mother Vineyard.
It could be fruitful to include the public in more of the research, since members of the community often have institutional knowledge and insight that could be helpful, Evans said. Some people may even have artifacts stashed away that the foundation could examine without the public fearing it would taken from them.
That is one benefit, he said, to having a location in downtown Manteo, which has been offered at no cost by Dare County. The office is expected to be opened this fall.
"We are going to have to be within the community and engage the community to do that," said Evans, a Durham attorney who was formerly a park ranger at Fort Raleigh.
"The local people there, they mention regularly 'You should look here, you should look there.' I think if we're in the community, we can have those conversations."