OCEAN – Many people will remember her for helping save Sugarloaf Island, an undeveloped island visible from Morehead City's waterfront. Books, however, may be the things Sarah Hamilton loved more than environmental activism.
Hamilton, 90, passed away in March of 2013, but the library at the N.C. Coastal Federation's headquarters here in this small community in Carteret County continues to be a reflection of her touch.
Hamilton made a career out of her love for books, introducing others to the gift books offered. Born in 1923 in Morehead City, she was librarian at three high schools in Carteret County over her lifetime. Todd Miller, the executive director of the federation, remembers Hamilton when he was a student at West Carteret High School.
"She was of the community. She was well known and well respected," Miller said. "She was just a very sweet woman."
Hamilton served on the board of the federation for 20 years.
 The federation's "library ladies," from left, Dot Reist, Sarah Hamilton and Ann White. 
She also served on the town planning board of Morehead City and took an interest in environmental issues. During the time she was on the board, there were several proposals to develop Sugarloaf Island. Accessible by watercraft only, the 47-acre island can be seen from the restaurants and shops lining downtown Morehead City's waterfront on Bogue Sound.
"She was pretty instrumental in saving the island," Miller said. Hamilton opened the door for the federation to begin working with Morehead City, helping the town apply for funding to buy the island. Sugarloaf Island is now a part of Morehead City's park system with a floating dock, nature trails and public restrooms. The preserved island is like a good book in a way – it's a place where you can get away from it all.
Hamilton's background as a librarian was put to use when the federation was settling into its office in Ocean in 1995 and another former board member, Bob Daland, died, leaving behind his collection of environmental literature. Daland, whom the library is named after, was an active member of the Sierra Club and infatuated with environmental issues, said Miller.
"He gave us the beginning of the library," Miller said.
Hamilton in 1996 recruited the help of two other local women – Anne White and Dot Reist – to organize and help maintain the library. The three of them, known around the headquarters as "the library ladies," were recognized in 2006 for their outstanding environmental service to the federation with a Pelican Award.
"She was a gracious lady with finesse under any circumstance. I just admire her so much," said Reist, of Emerald Isle.
Reist volunteered at the library until 2013, two years longer than Hamilton was capable for health reasons. White died in 2013.
"I really got to know her through politics," Reist said. "She was a good Democrat and so am I. We used to go to Raleigh often, my husband would drive us."
The women would visit senators and congressman in Raleigh together, going office to office. Reist said, as one example, they fought for tougher regulations on hog farms, which had open pits for waste that would wash out into the watershed with each storm.
Reist was invited to help organize the federation's library by typing the catalog cards. In fact, part of the ambiance of the federation's library is its classic card catalog system that Hamilton installed, said Rose Rundell, a federation staffer.
There is no computer database to tell people where to find a particular book. The federation's library relies on the good old-fashion system that's worked since 1876: the Dewey Decimal System. Whether you're searching a book by title, author or subject, it's easy to locate the book you're looking for by pulling the appropriate file draw and flipping through cards in alphabetical order for a classification number.
"Aunt Sarah was all about books," wrote one of Hamilton's nephews, Bob Harvey. "I'm not sure she would have the same love of Kindles and iBooks."
"Having the card catalog system was definitely her touch," Miller said.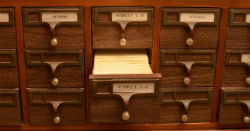 Sarah Hamilton helped put in place the card catalog system that you'll find at the federation's library. Photo: Tess Malijenovsky 
The catalog system may be old school, but its contents are old and new, from classics like the Audubon Society's Sibley Guide to Birds to Philip Gerard's most recent novel Down the Wild Cape Fear. The library features books and magazines for the environmental enthusiast on a range of topics, including gardening, crafting with nature, seashells, wildlife and much more. There's even a juniors' section.
And thanks to a contribution made by Harvey, the library will continue to expand its book collection over the next several years. "It just seemed appropriate to donate it to one of the things that she was involved in," said Harvey.
It was something of a family tradition, Harvey said, for Hamilton to bring her nieces and nephews over to Dee Gee's Gifts and Books, a shop on Morehead City's waterfront, the day after Thanksgiving to pick out a new book.
In addition to the federation, Hamilton was also a volunteer for Hospice, Emily's List, Planned Parenthood and the Southern Poverty Law Center. "I think probably because she didn't have any kids, she got involved with a lot of things that helped other people," said Harvey.
If you've never visited the library before, it's a cozy nook in the federation's headquarters, just beyond the entrance and front desk. Three walls of shelved books surround a spiral staircase, plush reading chair and study table. Readers will find a checkout sheet on top of the vintage card catalog cabinet.
There are no late fees here. "We go by the honor system," said Rundell.
The library is one of the privileges of being a member of the federation. Members simply fill out their contact and library book information and can keep the books for as long as it takes them to read it. Book can be returned in a pile next to the checkout sheet or, if the office is closed, the white mailbox just outside the entrance doorway. You might like to visit if you share Hamilton's love for reading with a worn paperback book in your hands.