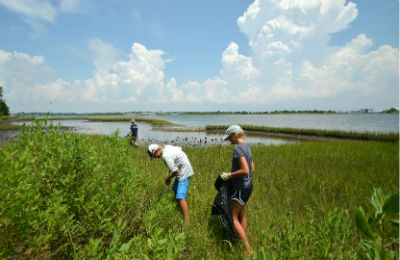 Conner and Whitney Miles pick up trash on Huggins Island during their summer break with the N.C. Coastal Federation. Photo: Tess Malijenovsky
SWANSBORO – What do glass bottles, fishing lines, plastic slides, beer cans and bags of dog food have in common? They litter our beaches. At least, that's what a group of volunteers found on Huggins Island with the N.C. Coastal Federation staff.
"I've heard from a number of people who say, 'I want to do something,' but they don't know what to do," said Sam Bland, a coastal specialist for the federation.
They will this summer, anyway. The federation, for the first time, is offering people a series of opportunities to help clean up several local islands. People can enjoy a free boat ride, spend an afternoon in the sunshine, explore an undeveloped island and, most importantly, make a noticeable difference.
"There's so much need to clean up these marshes," said Lexia Weaver, a coastal scientist for the federation.
Whether you call it trash, litter or garbage, marine debris is a serious problem along the coast and in the world's oceans. Just ask Bland or Weaver about the flounders they've seen stuck in aluminum cans or entangled in fishing line. Wild animals can die by swallowing plastics, like sea turtles that mistake plastic bags for jellyfish.
Litter also chokes the economy. Tourists escaping the city heat won't be likely to stay long or return if the environment is trashy or if they step on a rusted nail on their beach walk. Boat engines and propellers can also be damaged by floating marine debris.
Volunteers came from near and far to help clean up Huggins Island last month, which is at the mouth of the White Oak River in Onslow County. For instance, a visitor from Louisville, Ky., who was camping nearby and a man who drove an hour and a half away from Apex just to help clean the island.
All sorts of discoveries are made during the island cleanups, like this living bay scallop opening its mantles to reveal its many blue eyes. Photo: Sam Bland
"It's good volunteer hours and it's fun," said Conner Miles. He and his twin sister, Whitney, said they could earn volunteer hours for their high school. "Besides, my mom said I can't surf every day."
It was a gorgeous summer afternoon for the first island cleanup of the series with clouds like whipped cream in the pale blue sky. Dolphins were seen along the boat boat ride from Hammocks Beach State Park to Huggins Island. And there, without a road or shop in sight, the only thing stirring was the breeze that carried the tune of cicadas through the apple-green marsh.
The group set out with gloves and trash bags to patrol the coastline for the eyesores — the plastics, the glass and the treated wood — that didn't belong.
Marine debris wasn't the only discovery the volunteers made exploring the coastline. The federation's staff pointed out the birds and the shellfish, like a living bay scallop, which has a string of blue eyes like a sapphire necklace lining the edges of its two shells.
Maybe island cleanups aren't for those afraid of getting a little muddy or wet; then again, that seemed to be part of the fun. The day's haul filled the bed of a truck, and the staff of Hammocks Beach State Park thanked the volunteers for their service. No one could say that it didn't feel rewarding.
"The opportunity that we present allows people to feel good about their own contributions," said Bland. "And I think it's important for people to have those opportunities because if they don't have them then they'll never be able to have that sense of participation and pride and involvement."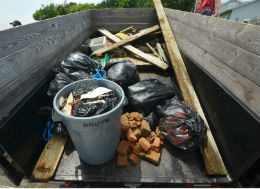 All this trash was picked up in a few hours from Huggins Island, thanks to the volunteers. Photo: Tess Malijenovsky
Here are the locations and dates for the island cleanups scheduled for the rest of the summer:
Bear Island, July 9

Sugarloaf Island, July 23

Radio & Pivers Island, July 30

Gallants Channel, Aug. 6

Shackleford Banks, Aug. 13

TBA, National Estuaries Day, Sept. 2
If you're interested, check out the calendar of events for more details.