First of two parts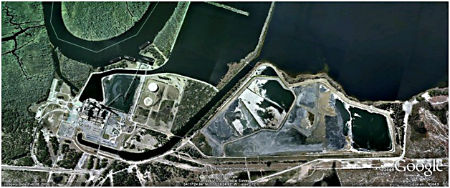 The Sutton power plant is in the lower left, the two coal-ash ponds on the right. The large body of water is Sutton Lake. A loop of the Cape Fear River is in the upper left.
WILMINGTON – Duke Energy's two coal ash ponds north of Wilmington – the only ones on the N.C. coast – are leaking and full of nasty stuff. They are high on everyone's clean-up list. The governor wants them closed. So do legislators. The company hopes to have it done within two years.
The ponds cover more than 155 acres at Duke's L.V. Sutton Generating Station on U.S. 421. They contain about 2.6 million tons of slurry, which is a mixture of fly and bottom ash, boiler slag, ash sluice and wastewater — byproducts of burning coal to produce electricity. It is a concoction that includes arsenic, selenium, lead, and cadmium. All are human carcinogens that can cause organ and developmental problems.
Sutton's ponds are adjacent to the lower Cape Fear River and Sutton Lake, a 1,100-acre reservoir that now-defunct Carolina Power & Light Co. built in 1972 to provide water to cool the plant's boilers. The plant was converted to natural gas last year.
One pond is more than 40 years old. The other was built 30 years ago this year. They are lined with clay and both are leaking.
"Every single coal ash pond in North Carolina leaks," said Cape Fear Riverkeeper Kemp Burdette. "These [ponds] are not highly engineered. They leak from the bottom."
Duke did not begin voluntarily testing groundwater around its 33 ash ponds in the state until 2006. Two years later, the state began requiring tests within a 500-foot radius of the ponds following the worst coal ash spill in history when 5.4 million cubic yards of coal ash flowed from a broken dike in Kingston, Tenn., into the Emory and Clinch rivers.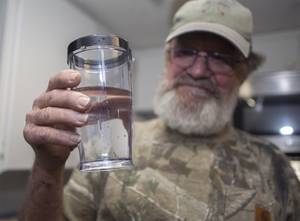 Flemington Road community member Sam Malpass of Wilmington holds a glass of water from his home. Malpass and his wife, Pat, are part of a small community near L.V. Sutton Generating Station that residents fear could be polluting well water with seepage from large coal ash ponds. Testing of the well water, however, hasn't uncovered any evidence of pollution. Photo: Randall Hill, AP
Groundwater testing at Sutton has revealed levels of arsenic, boron, chromium, iron, lead, manganese and sulfate exceeding environmental standards underneath the coal ash impoundments.
These contaminants are seeping into surface waterways and discharging into Sutton Lake, Burdette said. The lake is a popular recreational and fishing spot known for its largemouth bass, bluegill and crappie.
A plume of contaminated groundwater is traveling toward drinking wells in the Flemington community, a working class neighborhood of about 400 residents whose homes sit about a half-mile from the plant.
The Southern Environmental Law Center on behalf of Cape Fear River Watch, the Sierra Club and the Waterkeeper Alliance, filed a federal lawsuit in September against Duke for unlawful groundwater contamination and its threat to the community's drinking wells and pollution of Sutton Lake.
Duke is paying for more than half of the estimated $2.25 million it will cost to extend Cape Fear Public Utility Authority's pipes to the neighborhood.
"The water system serving the Flemington community meets federal and state drinking water standards with a margin of safety, and there is no public health risk to those residents," Erin Culbert, a Duke spokeswoman, wrote in an email response to questions. "However, monitoring data indicated groundwater was starting to move in the direction of the CFPUA wells. It's unclear whether groundwater constituents could be expected in the future to affect water quality in the Flemington wells, but we wanted to prevent that possibility."
The water line project will be complete in two years, she said.
State regulators have not taken action to force Duke to stop the spread of the underground pollution.
The groups suing Duke also contend that selenium from the ponds is harming fish in Lake Sutton. Sampling that they paid for found that selenium pollution is killing fish in the lake at rate of more than 900,000 a year and triggering mutations in thousands more that affect their ability to survive, The groups researchers also found that the lake's population of catchable bass has dropped 50 percent since 2008.
Duke was cited in March by the state for illegally pumping about 61 million gallons of contaminated water from coal ash at its Cape Fear plant into the Cape Fear River about 2½ hours upstream of Wilmington. The utility maintains it did not violate its permit.
The Breach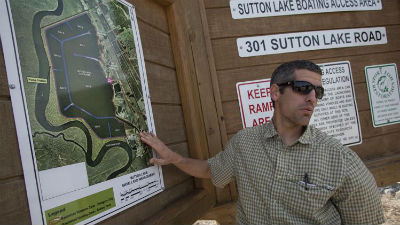 Cape Fear Riverkeeper Kemp Burdette shows the location of the L.V. Sutton Generating Station and it's proximity to Sutton Lake and the Cape Fear River at a map located at the lake's landing in Wilmington. Photo: Randall Hall, AP
On Sept. 27, 2010, heavy, steady rains saturated the area and quickly filled the newest pond at Sutton, which was built in 1984. Stormwater burst through the southeast corner.
A plume of mud and ash spread about 60 feet out from the roughly 30-foot high earthen dam, "but was contained completely in the general area," according to state documents.
The breach left a gap 80 feet long, 22 feet wide and nine feet deep.
The company placed stone at the top of the breached area to prevent more sludge from spilling from the pond. Runoff was pumped into a wastewater truck.
"That area was modified after the event to prevent future events, and no other similar events have occurred since," Culbert said. "The ash dams at Sutton are safe and are inspected frequently."
Dams are inspected monthly. Sutton's ash dams were last inspected April 24, "and identified nothing unusual," Culbert said.
A 2013 nationwide Environmental Protection Agency inspection of coal ash impoundments designates Sutton's pond dams as "satisfactory" with no existing or potential safety deficiencies.
"Our dam safety program requires additional inspections after two inches of rain fall within 24 hours," Culbert said. "These inspections give us an early indicator about any erosion or changes occurring that would require maintenance or repair. Additionally, as part of our proposed plan to the governor and state regulators, we're planning to accelerate the removal of freestanding water in ash basins at retired plants, including Sutton. This minimizes the potential risk of a discharge caused by extraordinary circumstances like a hurricane."
Eliminating freestanding water does not eliminate the risk, Burdette said. "They're still just mounds of earth piled up around coal ash in hurricane alley," he said.
Storm drain pipes made of corrugated metal run underneath Sutton's ponds. Similar drainage pipes failed at Duke's retired Eden plant in February spilling tons of ash into the Dan River.
Duke inspected the pipes at Sutton after the spill. They were found to be in "good condition," according to state Department of Environment and Natural Resources.
"The results were provided to DENR at the end of March and April, respectively," Culbert said. "In general, video inspections found some infiltration in pipes that we will repair but identified nothing that would indicate an immediate structural issue."
Tuesday: The Clean-Up Plan