This is part a monthly series about the food of the N.C. coast. Our Coast's Food is about the culinary traditions and history of N.C. coast. The series covers the history of the region's food, profiles the people who grow it and cook it, offers cooking tips — how hot should the oil be to fry fish? — and passes along some of our favorite recipes. Send along any ideas for stories you would like us to do or regional recipes you'd like to share. If there's a story behind the recipe, we'd love to hear it.
"If you like fried chicken, you'll like soft-shell crab."
OK, well, you might like soft-shell crab a whole lot better, but this is the phrase my mother and father used to entice people to sample pan-fried, fresh-from-the-water soft-shell crab.
Dusted with flour or dipped in the lightest batter, my folks sautéed the crabs until their lacy crusts turned honey brown, signaling the sweet, juicy meat within the papery shell was ready to eat.
Forget tedious hours hand-picking meat from hard-shell crabs. With soft-shells, you eat the whole thing.
My parents, brother and I found soft-shells while digging clams around Sneads Ferry. Now and then, the crabs would be hiding in the shallows. Just after molting, blue crabs lay low. Their new, soft shells make the normally formidable pinchers an easy meal for predators.
Sometimes, one or two soft-shells would end up in my father's shrimp or fishing nets. Four crabs a day, no matter where they appeared, was a big haul, making soft shells a rare delicacy.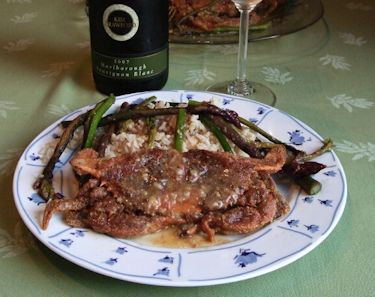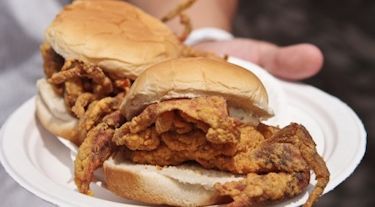 Whether prepared elegantly with asparagus and brown rice or merely slapped into a hamburger bun, soft-shell crabs are a delicacy of the sea.
If we landed just one, my father fried and plated it ceremoniously, placing the crab on the cleared dinner table. There the soft-shell sat as he described how delicious it would be. Our imaginations on anticipation overload, Dad carefully cut the crab into four equal parts. Each of us slowly savored our share.
Back then, soft-shells were a marvel in our Jacksonville neighborhood. Friends went crabbing, but it was the hard-shell crabs that hit their chicken-neck baits tied at the end of long strings. No one had ever seen a soft-shell crab.
These days, the soft-shell crab season's arrival is indicated by more than May's first full moon, the traditional marker for fishermen. The crabs show up on menus all over North Carolina, and diners know when they're due. The soft-shell crab's celebrity is thanks to fishers and seafood markets that some years ago predicted the sales growth potential for soft-shell crabs and put the word — and product — out.
Fishermen understood the market segment's promise because they had eaten their share of delectable soft-shell crabs. As South River's Rodney Cahoon once said, "When you take a crab hot out of the oil and put it right between a light bread biscuit, it's a heck of a meal. You'll feel like you died and gone to heaven."
During May and June, soft-shell crab season peaks. That's when maturing crabs that have outgrown their hard shells shed the too-small armor. For a few hours afterwards, the new exoskeleton, including that on the legs and claws, is soft.
Commercial crabbers might nab one or two soft-shells, but to get a load, they look through their hard-crab catch to determine which of the crustaceans are preparing to molt. They identify the "peelers" by looking at colors and other markings on the crab's body. The secrets of identifying peelers have been handed down to fishermen through the generations, especially in northeastern North Carolina, where the soft-shell industry especially thrives.
The peelers go into large shallow tanks, where they are monitored around the clock. Some fishermen can estimate the exact hour when a crab will lose its hard shell. Time is short between molting and the crab's new shell hardening. Immediately upon shedding, crabs are sent to market live, where chefs have a limited time to serve them, or the crabs are packed and frozen.
Frozen soft-shell crabs are washed, dressed and ready to cook after defrosting.
To prepare fresh soft-shell crabs, wash the body and then turn the crab on its back. Lift and remove what is called "the apron" from the crab's underside. The apron is a rounded or T-shaped flap on the stomach. It lifts off easily.
Turn the crab back over and lift up the shell so that the grayish gills are exposed. Use a knife to scrape off the gills. The shell may be left intact or removed along with the digestive sac. Finally, remove the eyes and mouth by making one cut behind the eyes with kitchen shears.
From there, prepare to enjoy a Down East delight: that heavenly soft-shell crab sandwich Cahoon described. It's classic in the eastern Carteret County fishing communities known as Down East.
Keep other preparations in mind. Marinate and then grill soft-shell crabs over a slow fire and at least 12 inches above the heat. Cut fried or grilled soft-shell crabs into bite-size pieces and add them to bisque.
Fried Soft-shell Crab
2 eggs
1 tablespoon of water
2 cups all-purpose flour
Peanut oil for frying
1 dozen soft-shell crabs, cleaned and dressed
In a large, shallow bowl, beat eggs with water. Place flour in another large, shallow bowl or plate.
Place a large, heavy skillet over medium-high heat. Pour peanut oil into skillet, to a depth of 1 to 2 inches.
While oil is heating, dip crabs in egg mixture and then dredge them in the flour.
Fry crabs in medium-hot oil until crabs are lightly browned. Drain on paper towels. Serve immediately.
Down East Soft-Shell Crab Sandwich on Light Bread
1 package yeast
2 cups warm water
6 cups all-purpose flour
3 teaspoons salt
4 tablespoons sugar
4 tablespoons shortening
Fried soft-shell crabs
Sprinkle yeast over warm water and allow to sit for 5 minutes.
Meanwhile, in a large bowl blend together flour, salt and sugar. Cut shortening into dry ingredients until mixture resembles coarse meal. Add yeast and water mixture and stir until dough is formed.
Turn dough out onto a floured pastry board and knead 8 minutes or until elastic. Cover dough and allow to rise in a warm place until doubled in size. Punch down and shape into rolls large enough to hold one crab each.
Place rolls on a greased cooking sheet and let rise until doubled, about 20-30 minutes.
Bake rolls in a 400-degree oven for 10 to 15 minutes. Cool slightly. Split rolls and place a hot, fried soft-shell crab in each roll.