BOLIVIA — Proposed terminal groin projects in Brunswick County would receive minimal funding generated from an additional sales and use tax on the county's ballot next month.
Should Brunswick voters on May 6 approve bumping the tax by 25 cents, giving county commissioners the authority to raise the rate from 6.75 cents to 7 cents on the dollar, an estimated $3 million in additional revenue would be split equally between school capital projects and beach projects, including terminal groins.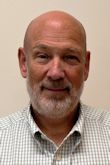 Steve Stone
"Specifically, with regard to terminal groins, given the anticipated cost, while that would be an eligible expense it doesn't appear that the county would be providing relative significant funding," said Steven Stone, Brunswick's deputy county manager. "It's just not a real good fit to provide substantial support for those types of activities."
As with other coastal counties, Brunswick County officials have been increasingly approached by beach towns seeking contributions to aid in the costs of beach and inlet projects as federal contributions have steadily diminished.
Brunswick County has six beach communities, including the Village of Bald Head Island, Holden Beach and Ocean Isle Beach, all of which are in the process of obtaining permits to build terminal groins, which are usually made of rock or steel and built perpendicular to shores at the end of islands near coastal inlets to control erosion.
All of the proposed projects, including one off the shores of Figure Eight Island in neighboring New Hanover County, are in various stages of the Army Corps of Engineers' environmental review. None have yet applied for a state permit.
Of the Brunswick beach towns hoping to build these groins, Bald Head Island is the furthest along.
The village is asking the little more than 240 registered voters there on May 6 to approve authorizing $18 million of bonds, plus interest, to pay for the construction of groins, additional sand and sand dunes.
The Army Corps of Engineers has conducted a draft environmental impact statement and, if the voters pass the referendum, the project could begin late this year.
"The corps has told us that they expect to issue a permit in September of this year and that they anticipate doing a maintenance project for the Wilmington harbor next winter," said Karen Ellison, the village's communications director. "If all of those things fall into place, theoretically, we could begin construction at that time."
A groin nearly 2,000 feet long will best reduce erosion, village officials say, on South Beach, the Point and West Beach, all areas that have experienced persistent sand loss for nearly two decades.
Until 2011, hardened erosion control structures were banned on the beach because they tend to increase erosion on nearby beaches. That year, the N.C. General Assembly passed a bill allowing no more than four permits to build terminal groins. The law requires that local governments have to get voter approval to fund the costs of building the structures.
"It has to be specifically voted for," said Michele Walker, public information officer with the N.C. Division of Coastal Management.
Raising sales tax countywide to pay for re-nourishment and counter erosion projects has been unpopular in other coastal counties.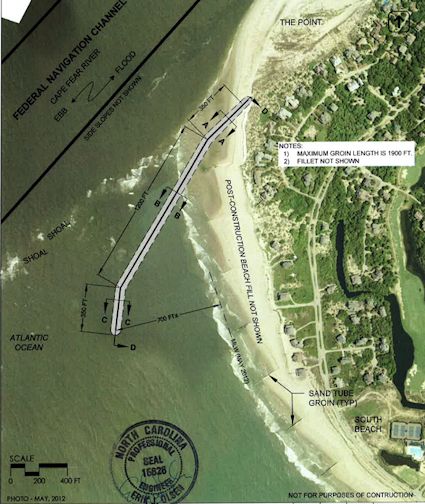 The 240 or so registered voters on Bald Head Island will vote in May on an $18 million terminal groin project. Source: Army Corps of Engineers
Dare County voters in 2006 overwhelmingly overturned a proposed penny increase in the local sales tax. The outcome was similar in Carteret County years ago when voters there did not support a bond for beach re-nourishment.
New Hanover County's Tourism Development Authority recently denied a request of beach towns there to use part of the revenue generated from the room occupancy tax to pay for beach re-nourishment projects.
Ocean Isle Beach and Holden Beaches have not yet determined projected costs to build terminal groins. Holden Beach is undergoing the first stages of its environmental study. Attempts to reach the town manager there were unsuccessful.
"We are currently working through the EIS process for the terminal groin application," Ocean Isle Town Administrator Daisy Ivey said. "We hope to have a draft to the Corps personnel this month and hopefully a draft EIS will come out in late May, early June."
A terminal groin would be built along the beach's eastern end, which borders Shallotte Inlet.
Ivey said the town has not decided how to fund its proposed project.
The town later this month expects to wrap up a $7 million coastal storm reduction project in which 640,000 cubic yards of sand is being pumped onto the beach. Federal funds are covering 65 percent of the project. The remaining 35 percent is being split between the state and town.
If Ocean Isle does receive a portion of the estimated $1.5 million that would go to the beaches if the referendum is approved the town will still likely be responsible for funding a significant portion of the project.
"I do think it's a positive step that the county is taking to realize that beach communities need help," Ivey said.
If voters approve the additional sales tax and if county commissioners decide to authorize the increase, money going to beaches would likely be used for smaller re-nourishment projects and inlet dredging projects, Stone said.
"It appears there's going to be more local responsibility and the sales tax seemed a more equitable way to support those projects," he said. "Our visitors who use the waterways and the beaches clearly participate in generating that revenue. With all the other needs the property taxes continue to be under tremendous pressure."
The number of building permit applications plummeted during the onset of the recession. Land values dropped.
Properties there were revaluated in 2011 and the tax base dropped from the low $30 billions to about $24 billion, Stone said. The rate has stayed flat and it is not expected to change following the 2015 revaluation.
"I certainly think anyone on staff doesn't think there's going to be a significant tax growth," Stone said. "There is some development going on, but it appears the drops in land values are about netting out with the new residential development."
The decision of the more than 83,000 registered voters in Brunswick County is anybody's guess, but presentations county officials have made to various civic group and municipal boards have been received relatively well, Stone said.
Many inland towns have passed resolutions in support of the referendum.
Figure Eight Island is privately owned and construction and maintenance of a terminal groin along Rich Inlet would be privately funded.
"Obviously we are doing an EIS," said David Kellam, administrator for the Figure Eight Island Homeowners Association. "The EIS will determine the best management strategy for the north end of the island, which could include a terminal groin. The terminal groin is very likely the most preferred environmentally and economical option that's on the table. We really don't have a dollar figure, no."
Kellam said he anticipates the EIS will be released by this summer.