Reprinted from the Outer Banks Voice
NAGS HEADS – This Outer Banks town went on record last week opposing seismic testing for oil and natural gas off the East Coast.
The Board of Commissioners passed a resolution on Wednesday, April 2, declaring its objections after hearing a report from Caroline Wood of Oceana, the environmental group leading opposition to the use of air guns to look for oil and natural gas deposits below the sea floor.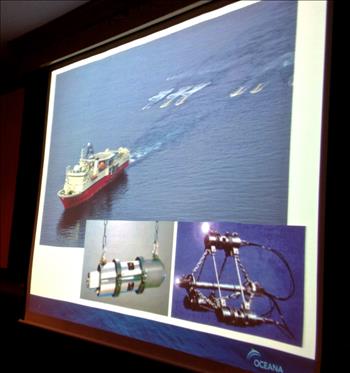 Oceana's presentation showed ships towing air guns and monitors to look for oil and gas deposits. Photo: Outer Banks Voice
Wood said the guns, which are towed behind ships, emit 190 decibels, or noise that is 100,000 times that of a jet plane engine. The sound travels to the bottom, and then bounces back data to monitors also pulled by ships.
The problem, she said, is "all of the marine life that gets caught in the crossfire."
A federal environmental review released at the end of March sets broad standards for companies to use seismic testing and other methods to look for oil and natural gas under the ocean floor.
The environmental study by the Bureau of Ocean Energy Management encompassing coastal waters from Delaware to Florida does not authorize seismic surveys. Instead, it sets up a framework for "additional mandatory environmental reviews for site-specific actions" and measures to govern the surveys.
A North Carolina State University study estimated that energy exploration off the coast would produce 1,122 jobs and $181 million annually for the state during its first seven years, a statement from Gov. Pat McCrory's office said when the federal review was released.
McCrory supported the use of seismic testing, saying that the review, called a Programmatic Environmental Impact Statement, included extensive safeguards for marine life.
But Wood said last week that some of the information is outdated. She said seismic testing would put thousands of dolphins and whales at risk of injury. The loss of just one female right whale, a highly endangered species, could put the entire population of about 500 at risk, she said.
Testing would also affect commercial fishing, she said, because it would drive some species away from traditional areas. In addition, fishing would not be allowed where the testing is being done.
The board made its decision after several weeks of researching documents and hearing the presentation from Oceana, according to Commissioner Susie Walters.
The prospect of using air guns to survey the seafloor has touched off a debate along the coast. The Sierra Club criticized the testing, and the town council in Carolina Beach in Brunswick County unanimously passed a resolution last month in opposition to it. The Kure Beach council, after listening to hours of public comments in February, split on the topic and didn't pass a resolution. Mayor Dean Lambeth came under severe criticism for writing a letter endorsing the testing off the N.C. coast.