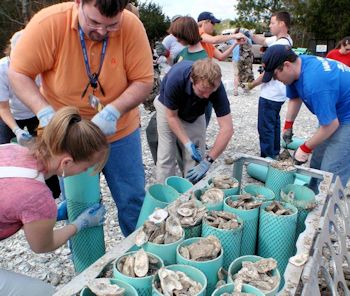 Volunteers fills mesh bags with oyster shells for a federation restoration project.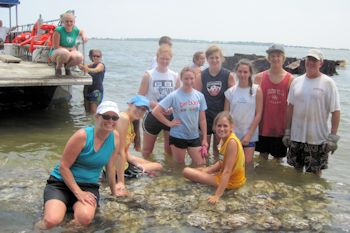 A school group takes a break from building a reef at Jones Island in the White Oak River.
BEAUFORT — Twenty years ago, North Carolina's oyster population and its commercial harvest appeared to be down for the count. It had been floored by pollution and loss of habitat and sucker punched by Dermo, a parasitic disease that kills the shellfish before they reach the legal harvest limit.
That year, 1994, the state's watermen harvested a paltry 34,727 bushels of oysters, worth a meager $632,000, an 80 percent decline in six years, according to state N.C. Division of Marine Fisheries figures.
As oyster and fish houses continued to shut down and fisheries managers contemplated drastic measures, such as bringing in and planting non-native oysters in the state's coastal waters, an industry that once supported thousands of fishermen and their families seemed headed for a technical knockout.
But thanks to concerted efforts by many – including state and federal agencies, nonprofit groups like the N.C. Coastal Federation and academic researchers – the oyster fishery has staggered back to its feet. Commercial landings have not yet reached historic highs and probably never will – Joel Fodrie, an oyster researcher at UNC's Institute of Marine Sciences in Morehead City says it was common for 5 million pounds a year to be harvested in the 1880s. But there's no denying the clear upward trend since the doldrums of 1994 — 196,661 bushels in 2010 and 151,314 in 2011 before dropping to 83,188 in 2012.
Experts, such as Craig Hardy, the lead oyster biologist at the fisheries division, don't believe there's a new downward trend under way; Hardy said environmental factors were largely responsible for the 2012 dip. But there is a sense that if the fishery is to remain viable, efforts, such as planting shells and protection of existing habitat, must continue. And equally important, all who have been involved in the effort to save the North Carolina oysters must work together.
That process will get a boost at "North Carolina Oysters: A Workshop to Charter Future Restoration," set for today and Thursday at the NOAA's lab on Pivers Island near Beaufort.
The workshop will engage participants in a two-day forum focused on assessing the existing body of North Carolina's oyster research and restoration efforts to highlight lessons learned, identify knowledge gaps and recommend options for future oyster research and restoration.
Through poster and oral presentations, facilitated discussions and group consensus-building, participants will produce a set of workshop findings that will help determine future action items, strategies, resources and partnerships to achieve robust and resilient N.C. oyster populations that support a viable fishery and provide valuable ecological services.
These findings will be used ultimately to revise and update the existing Oyster Restoration and Protection Plan for N.C.: A Blueprint for Action.  Almost 30 groups, agencies and universities involved in oyster research and restoration put the plan together in 2008. At an anticipated January N.C. Oyster Summit, workshop findings will be reviewed, and then, incorporated into a third edition of the oyster plan that will guide state research and restoration efforts from 2015 to 2020.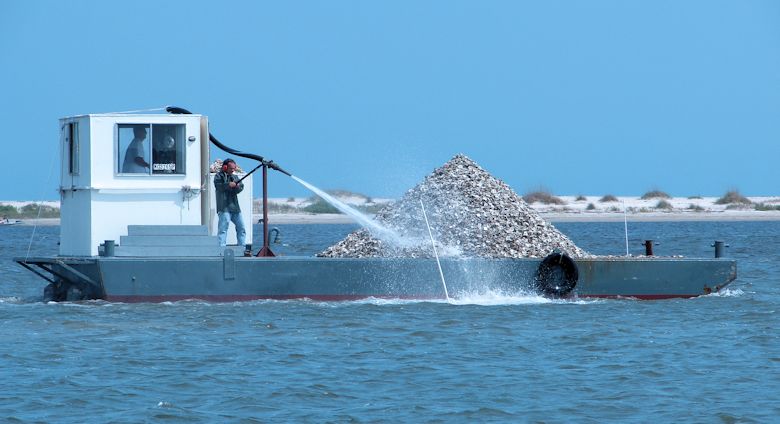 A N.C. Division of Marine Fisheries barge puts down oyster shells in Stump Sound.
The session is hosted by the Albemarle-Pamlico National Estuary Partnership, the federation, the fisheries division, the N.C. National Estuarine Research Reserve, the North Carolina Sea Grant, the N.C. State University's  Center for Marine Sciences and Technology, the UNC Institute of Marine Sciences and the UNC-Wilmington Center for Marine Science.
Ted Wilgis, one of the federation's coastal education coordinator and one of the organizers of the workshop, said the nonprofit organization got involved in oyster work not only to help the fishery and fishermen, but because oysters are crucial to the federation's mission of protecting and enhancing coastal water quality. Because the shellfish filter pollutants as they feed, a healthy oyster stock is essential to water quality. And, he and others noted, the oyster is something of a "canary in the coalmine" because if oysters aren't healthy, the waters that host them surely aren't either.
Oysters can live up to 40 years and grow up to 8 inches; however, most N.C. oysters are harvested at three years of age, at the minimum harvest size of three inches. In the early stages of an oyster's life, it's carried about by currents. As it matures, the oyster sinks to the bottom, and to survive, it must land on a hard surface. That's why they are found growing together in clumps.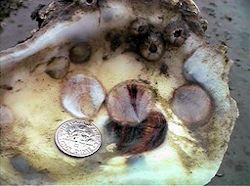 Young oysters, or spat. adhere to a shells on a federation reef.
Experts say each adult oyster filters and cleans up to 50 gallons of water per day, eating algae and removing sediments and nitrogen, so it's easy to see why a good oyster population makes a big difference in local water quality and the health of the ecosystem.
The federation got involved in shell planting for precisely those reasons. In the past decade, staff and volunteers working for the organization have planted countless shells, both to create habitat and to stabilize shorelines without the use of rock bulkheads or seawalls.
One of the best examples in near Swansboro, where for more than five years the federation has been working on a project with Hammocks Beach State Park officials around Jones Island in the White Oak River. The state has been planting shells, both large-scale and small, to help restore habitat lost over the years.
Wilgis said the conference this week is important because everyone involved in the fight to save the oyster in North Carolina needs to be on the same page.
"We need to review what's been done in the past, to see what's worked and what hasn't, what can be done better, what can be done differently, what new things we can do," he said. "We need to make sure that we're all looking at data and results the same way. We need to make sure that we're not duplicating efforts.
The workshop will bring together fishermen and many of the people who have been involved in oyster restoration, Wilgis said.
"We know there have been successes, but we also know we're in a time when budgets are being cut," he explained. "We need to make sure that all of our resources are used in the best and most efficient ways possible."
The recession, Wilgis said, has had a significant effect on federal and state budgets, so those who want to keep the oyster recovery going "need to look at innovative ways to use funds and at making sure we don't compete for the funds that are available."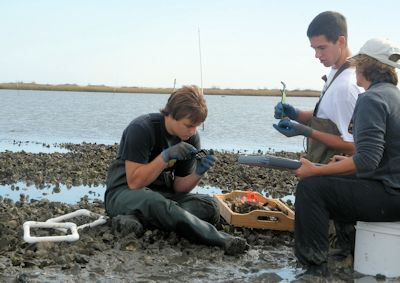 Oysters are wonderful educational tool. These students are measuring the growth of oysters on a reef in New River.
In addition, he said, it's important to avoid complacency; people see better harvest numbers and more oysters and oyster habitat in the water and could be lulled into believing the successes are permanent.
Workshop participant Hardy said all the hard work has been beneficial.
"We had a decline in 2012, but almost all of that can be attributed to a low dissolved oxygen flow down the Neuse River, which had a big impact on the numbers," he said. "But I think we have probably reached a level of stability. I hopeful we'll see the harvest click back up. I think we are past that period in the late '80s and early '90s when things were so bad. Part of that is probably related to weather."
Dermo, Hardy noted, thrives in drought conditions and high salinity. He hopes that N.C. oysters have now developed some resistance to the disease.
"But there's no doubt that the shell plantings and habitat work have helped a lot, too," Hardy said. "For a while, there was some talk that planting appeared to be a 'put and take' effort, not sustainable. But we're hearing from the fishermen and seeing evidence that some of the areas that were planted quite some time ago are still doing well. Oysters get harvested, new oysters are recruited and the population rebuilds for more harvest. I think that when you see these same areas productive for 20 or 30 years, it's pretty clear that it has worked."
Fishermen, he said, remain interested in the division's annual meetings to discuss where planting should take place. And despite budget cuts, the division is committed to continuing the program.
Many of the small-scale shell recycling sites have been eliminated, but the division still has agreements with some waste disposal sites and maintains its shell recycling site at division headquarters in Morehead City.
But he, like Wilgis, said budgetary restraints make it all the more important for researchers, state and federal agencies and private nonprofits like the federation to compare notes and cooperate.
"What we (at the state fisheries division) see this conference as is an opportunity to get everyone involved together and to roll up our sleeves and find out what we've done, learn from it and find the best way to move ahead together," he said.
Another workshop participant, Carolyn Currin, a marine scientist with NOAA's Center for Coastal Habitats and Fisheries Research on Pivers Island, has been studying living shorelines – the use of oyster shells and other materials to form sills to help prevent erosion. She has found that living shorelines help maintain ecosystems, fish habitat and the nutrient cycle, all while offering significant and cost effective erosion control, and looks forward to the workshop as an opportunity to "get scientists and coastal managers together" to compare notes and talk to each other about the results of their efforts.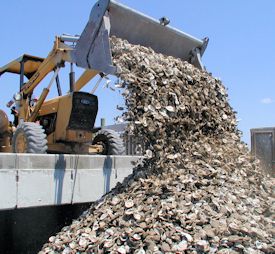 Shells are loaded onto a state barge at Morris Landing in Stump Sound.
"The state, the federal government and the private groups have been spent a lot of money and put a lot of effort into this, and I think it has been pretty successful," she said. "We have learned a lot. But it's a good idea to get everyone together and make sure we understand what we've all learned and what we need to do next."
Jimmy Johnson, who spent 1997-2004 as chairman of the N.C. Marine Fisheries Commission, the policy-making arm of the fisheries division, will also participate in the workshop in his role as coastal habitat coordinator for the Albemarle-Pamlico National Estuary Partnership, a cooperative effort jointly sponsored by the N.C. Department of Environment and Natural Resources and the U.S. Environmental Protection Agency.
The program area extends across most of the Albemarle-Pamlico watershed, including the Neuse, Tar-Pamlico, Roanoke, Chowan, lower Roanoke, and parts of the White Oak river basins, and its mission is to identify, protect and restore the significant resources of the Albemarle-Pamlico estuarine system.
"We've helped fund a lot of these (oyster) projects and it's clear that they are important," he said. "The oyster is one of the key species we use to identify the overall health of the system. We've seen a good bit of success."
It's true, Johnson said, that after a period of steadily improving numbers, the oyster harvest seems to have hit a plateau the last couple of years. Still, he noted that has occurred in a time of declining budgets for the work that helped fund the improvement.
"Some cuts had to be made," he said. "So it's important that we all find ways to work together and to make sure that we can continue the effort and get the most bang for the buck. This workshop will be a good opportunity to do that, among other things."