Reprinted from the Outer Banks Voice
KITTY HAWK – This beach town in Dare County is still many months from a possible beach widening project, but municipal service districts that might help pay for it are coming into focus.
A proposed map depicting three districts was presented recently to the Town Council as the town considers whether and where it will levy additional taxes to help pay for pumping sand onto the beach.
Town Manager John Stockton emphasized that the map is not official until every property owner is notified, a public hearing is advertised and the council passes a resolution adopting the map.
It could be changed during that process. A public hearing is possible by the fall, Stockton said.
So far, the town is working with the county and the towns of Duck and Kill Devil Hills to explore where sand would come from, how much would be affordable and the permitting process. The county provided Kitty Hawk with the money from its Shoreline Management Fund.
"Phase two is when the town starts obligating money in addition to what the county has," said Mayor Gary Perry. "And at that point, we're going to have to have the municipal districts set up and taxing for this project. We'll have a better idea how much we need to tax."
A probable scenario is that districts will pay additional taxes according to their risk to ocean overwash and flooding.
The preliminary map shows District A running from the oceanfront to U.S. 158 and including commercial properties. District B would include what is being called the ridge area and District C is the village to the sound.
Under a plan outlined in October, the Dare County Beach Nourishment Fund would provide Kitty Hawk with $13.2 million of the roughly $17 million it needs to pump sand onto its severely eroded beaches.
The Town Council has already approved an agreement, which basically declares that it wants to participate in a financing plan involving multiple towns and the county.
Duck and Kill Devil Hills are also planning to widen their beaches after seeing Nags Head's 10-mile project appear to be holding up two years after it was completed. The county is developing its own project on Hatteras Island.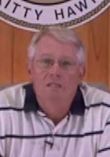 John Stockton
The preliminary financing plan calls for the county fund to provide Kitty Hawk $10.3 million up front and another $3 million to help pay off a six-year bond. The beach re-nourishment fund is made up of a portion of occupancy taxes paid by visiting renters.
Kitty Hawk's share of debt service would be $3.9 million, which would be financed by an average property tax increase of 7.82 cents per $100 of value. Kitty Hawk's payments after the first year would be $765,977 annually.
Some property owners would pay more, some less depending on where they live based on a final municipal service map.
Towns could see savings of up to 17 percent if their plans allow simultaneous use of dredging equipment and offshore borrow areas, town and county officials believe.
Towns are also seeking legislation that would give them condemnation power in the event that easements for placing sand cannot be obtained.