WILMINGTON – A young woman's idea to build a rain garden to help two impaired coastal creeks has now become a collaborative effort among two universities, two nonprofit groups, a local business and the city.
"This project is important to the City of Wilmington as there is a major push to address the health of Hewletts and Bradley creeks," said Roger Shew, a professor at the University of North Carolina Wilmington, one of the partners.
The tidal creeks are on the federal "black list" of sorts for polluted waters, known as the 303(d) list. It's named after the section in the federal Clean Water Act that requires states to periodically list waterways that no longer meet water-quality standards and then come up with plans to restore them. The state recently released its draft 2014 list.
Hewletts and Bradley are on the list because they've been polluted to the point where harvesting oysters and clams is no longer allowed because of high levels of bacteria. The culprit is polluted stormwater runoff, the number one cause of water quality impairment along the N.C. coast.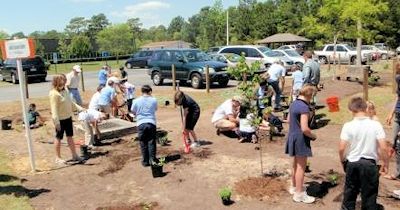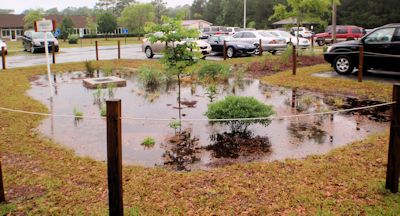 The N.C. Coastal Federation has been working in the Bradley Creek watershed for years. Here, the federation is helping students and staff at Bradley Creek Elementary School build a rain garden on the school's campus.
In the middle of the two is Tidal Creek Food Co-op, Wilmington's cooperative food market. Like so many other businesses, the store has two parking lots. A grassy strip of land intersects the two where a deck was built. Parking lots, rooftops, roads and the like are considered "impervious surfaces" because they prevent rain from soaking into the ground. During a storm, rain rushes from the parking lots into the grassy area, which is unable to absorb the large volume of water. The now contaminated runoff floods onto Oleander Drive, where it drains into a grate on the roadside.
"Once that water gets into the stormwater system, it goes straight to Hewletts Creek and there's no filtration," explained Erin Carey, Wilmington's watershed coordinator. "There's no treatment of that water at all."
The rain garden project began in 2011 with a phone call to Kathryn Waple, a Tidal Creek employee. Waple has short curly hair, a bright smile and a baby on the way. Three years ago she didn't know much about rain gardens or watershed restoration.
Sean Ahlum, chair of the Surfrider Foundation, called to ask if Waple would spearhead the foundation's "Ocean Friendly Garden" program in Wilmington. She agreed. "I thought it would be a good fit because I had this experience organizing a community garden downtown on Castle Street," said Waple.
The Surfrider Foundation is an international non-profit organization that works to protect the world's oceans and beaches through a grassroots activist network. Their "Ocean Friendly Garden" program aims to educate people about the benefits of maintaining one's yard in a way that reduces the ocean's primary source of pollution.
"There are just better ways to handle your yard than to have golf course, manicured, super-neon green grass that we see around here so much," said Ahlum.
Installing rain gardens and using native plants are two methods of controlling stormwater pollution. A rain garden functions as a bowl collecting polluted stormwater runoff, which then filters into the soil where it does not cause a problem for water quality. Native plants not only drink up the water but their roots create resistance to the flow, prevent erosion and aerate the soil for draining water. And native plants, already conditioned to the environment, require less fertilizer and water to grow.

Roger Shew
Surfrider Foundation was looking for a "centerpiece educational garden" in Wilmington. Waple began by identifying an area in her community suitable for the project. She didn't have to look far. The co-op seemed like an ideal location because its runoff affected both creeks.
"It's a place where we can show people how they can do stormwater retention, native gardening, in an easy, low-impact way that will have a significant impact on the stormwater," said Waple.
Craig Harris, the store's general manager, jumped right on board. "Our namesake and where we live, it just makes total sense," he said. "If you think about what the co-op is as opposed to your traditional for-profit, part of our mission and values is supporting the community and supporting the environment. So when they talk about something that we could do literally at our store that would help, there really wasn't any question in my mind."
In the project's preliminary stages, two UNCW professors, Shew and Anthony Snider, supported the effort to have the rain garden installed as a learning opportunity for their students, people in the community and city officials.
"I thought it was a great opportunity for UNCW to partner with a business, the City of Wilmington Stormwater Services and non-profits to do both something good for our watersheds and to provide an educational benefit to the community," said Shew.
The next hurdles were convincing UNCW, which owned the grassy area outside of Tidal Creek, that it was a valuable cause and worth investing in and then to find an engineer to design the garden.
In November of 2012, Wilmington hired Erin Carey to implement the Bradley and Hewletts Creeks Watershed Restoration Plan. The plan's approach to restoring water quality focuses on reducing the volume of stormwater runoff reaching coastal waters—rather than addressing pollution sources such as pet waste—with the use of rain gardens, and other methods.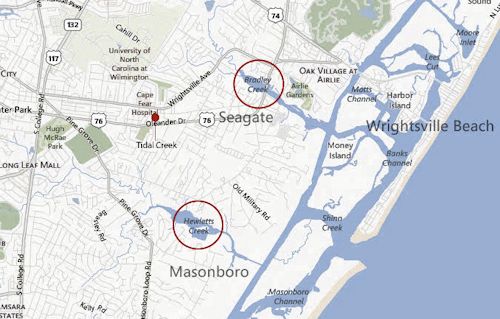 "When Erin got on board, she helped tie everything together. That's when it really started moving forward," said Waple.
Once UNCW's administration gave permission to use the land, Carey reached out to Bill Hunt at N.C. State University, an internationally recognized stormwater engineer.
"When I saw the site, I realized how good a location this was for a stormwater management facility, meaning that the design would be simple enough that a student team with limited experience could do a good job," said Hunt.
He assigned his design class the task of designing the rain garden for their senior project.
Shew also involved his environmental science students by having them conduct tests on the site and share the results with the NCSU students. The professor intends to continue having a class design and monitor the site.
The N.C. Coastal Federation and Surfrider are helping fund the project. Shew and Snider also received a grant from the Center of Teaching Excellence at UNCW to support the project.
"This will be a major achievement for us and the City of Wilmington as we try to get more businesses and residents to adopt methods for reducing stormwater runoff," Shew said.
The NCSU students finished the engineering design last fall. Construction of the garden could begin this spring.
"The spring is a great time because people are thinking about their yard; they're starting to get back outside," Carey said, "and it's a great time to reach out to people to tell them about native plants, tell them about rain gardens, explain about rerouting downspouts."
Not every stormwater control method requires an engineer. Anyone can reroute her downspout or plant a rain garden and play an important role in restoring coastal water quality. In fact, a communitywide effort is the only way to restore our coast.
"It's that idea that you just contribute what you can, when you can, and something good happens because of it," said Waple. "If everybody is doing a little bit then nobody is burning themselves out trying to do it all."