RALEIGH — Somehow, this sentence makes sense: A state commission on rules has scheduled a public meeting next week to review how it will review state rules.
The meeting will be start of a multi-year effort that could subject every environmental rule to revision or repeal and give new appointees on state boards and commissions an opportunity to shape not just new rules, but all those already on the books. The N.C. General Assembly ordered the sweeping reshaping of all state rules in a law passed last year.
You might think of "rules" as a generic term but in the parlance of government the word describes exactly how something mandated by law is accomplished.
Rules lay down the definitions, requirements and procedures both for government agencies and anyone who wants or needs to interact with them.
The complexity of rules and their necessity have been the subject of intense debates since the dawn of bureaucracies, and in North Carolina the elimination of rules under the banner of "regulatory reform" has been a key part of recent attempts by the N.C. General Assembly and the administration of Gov. Pat McCrory to rebrand the state as more business friendly.

Rules regarding shellfish waters are among those that will be reviewed.
The elimination of unnecessary, out of date and confusing rules is not new — a major effort was launched in 2009 by former Gov. Beverly Perdue, a Democrat. But Republicans, after taking control of the legislature in 2011, have kicked that process into high gear.
The law they passed last year gives the task of overseeing the review of all state rules to the Rules Review Commission, a little-known executive agency created in 1986 with the limited role of determining that proposed new rules are authorized by law and are clear and necessary. Its members are appointed by the legislature. The new law, though, greatly expands the commission's role by making it the final arbiter on whether all existing rules are needed or should be abolished.
The commission will describe how it will attempt to do that at meeting 10 a.m. Thursday at the Office of Administrative Hearings on New Hope Church Road in Raleigh. People will be able to comment on the process the commission has devised for sifting through thousands of rules.
Under the plan, state agencies are required to categorize rules as either unnecessary; necessary but without "substantial" public interest; and necessary with "substantial" public interest. Unless they are mandated by a federal law, rules in the "unnecessary" category will automatically expire and rules that are found to be necessary but essentially uncontroversial — without substantial public interest — would be allowed to stay on the books. Rules that are found to be necessary with substantial public interest will go back through a full re-adoption process, which typically takes one to two years to complete and is subject to legislative review.
Previous efforts to review rules and regulations, which since the 2011 session have come in a series of omnibus regulatory "reform" acts, encouraged a review of existing rules, but last year the legislature added a clause that put additional teeth into the effort by mandating a review of all permanent rules at least every 10 years and writing into law that any rule that has not gone through the additional scrutiny will automatically expire.
The legislature also required that the first rules in the cue be those dealing with surface waters and wetlands.
The N.C. Division of Water Resources on Wednesday presented the state Environmental Management Commission, or EMC, which devises environmental rules, with a list of 375 surface water and wetland rules that it says will need to go back through the re-adoption process.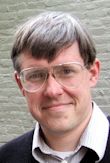 Grady McCallie
They include everything from how the state classifies and protects rivers, streams and drinking water sources to stormwater rules, shellfish water classifications and buffers requirements designed for specific river basins.
Grady McCallie, policy director the North Carolina Conservation Network, said the process being set up means that essentially every requirement in place to protect the quality of water and wetlands could be rewritten over the next two years during the review and re-adoption process by the EMC or the Rules Review Commission.
McCallie said given the complexity and the number of rules and competing interests, the task ahead is daunting, especially since the state Department of Environment and Natural Resources, or DENR, has said it will try to complete the project without asking for additional money to add staff.
The EMC, McCallie said, has roughly 2,000 rules to consider. Hundreds more are under the purview of other DENR-related entities such as the Coastal Management and Mining and Energy commissions.
Judging from DENR's assessment of just the surface water and wetland rules, McCallie said it appears that most of those rules would be required to go through a full review process.
Part of what's triggering the classification of so many rules for full review is that the legislature requires any rule that has received a recent objection to be classified as necessary with substantial public interest.
"The most important rules are those that require an industry or other actors to do something, so the most important rules almost by default are going to fall into that category. They're the one that always have people gunning for them," McCallie said.
DENR officials have estimated that the review process will run through 2018. In an email response to Coastal Review Online, DENR spokesperson Jamie Kritzer outlined the current thinking on how the review process will work starting with the surface water and wetland rules.
"For those regulations where the final determination is that they are 'necessary with substantive public interest' the rule re-adoption process will begin. The process is still in development and could be changed somewhat, but is being discussed as:
A. Work with stakeholders to capture components desired for draft rules;

B. Develop draft rules;

C. Take draft rules to the Water Quality Committee;

D. Take Water Quality Committee suggestions to the full Environmental Management Commission;

E. Develop a fiscal note for the Environmental Management Commission approved draft rules;

F. Take the draft rules and fiscal notes out to public comment and hearings;

G. Develop final rules; and

H. Take those through the Environmental Management Commission, the Rules Review Commission and, if necessary, the legislature for final adoption."
Kritzer said other DENR divisions will go through a similar rules adoption process through 2018 and after that the process of reviewing environmental rules will be repeated every 10 years as required under the new law.
McCallie said in addition to the extra staff time and extra work for board and commissions, the threat of regular reviews could undermine the ability to hammer out compromises between stakeholders.
Environmental rules, McCallie said, are almost always a result of compromises between environmental and industry groups, various levels of government and other interested parties.
"This process could upend all that," he said, "because part of negotiating a compromise is that once you put all that time into something, it's going to stick around for a while."
The other major worry, he said, is how the new administration at DENR and the new appointees on the state's environmental boards and commissions will interpret another law passed by the legislature that prevents state rules and regulations to be no stricter than federal standards. That requirement, which was not in place when many of the existing rules were written, could yield major changes if DENR and the commission members decide to adopt a narrower standard, McCallie said.