First of two parts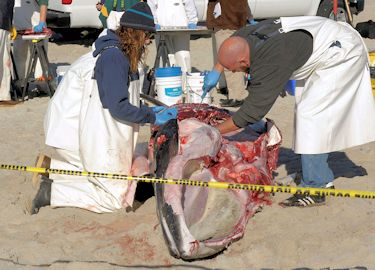 William McLellan, right, performs a necropsy on a stranded marine mammal. Photo: UNCW 
WILMINGTON — They are washing up on beaches and in estuaries, both the dead and the dying. Some show little signs of illness or injury on the outside, others are emaciated and sickly. Since July, at least 1,000 bottlenose dolphins have died along the East Coast, from New Jersey to Florida.
"It's a terrible milestone," Ann Pabst, a professor of biology and marine biology at the University of North Carolina–Wilmington, said grimly. Sitting inside her office surrounded by pictures of dolphins playfully bow riding and swimming through the ocean, Pabst reads through the numbers.
Many of the dead animals end up here, at Pabst's lab, where they are examined and dissected.
"We are at 144 bottlenose dolphins," she said.
That is more than triple the number of stranded dolphins that ended up at the lab during the same time period last year.
"And these are just the dolphins we are finding," said William McLellan, who coordinates the stranding of marine mammals in the state. "There are a lot of sharks out there, and a lot of animals that we aren't finding. We estimate if we are seeing 25 percent (of the deceased individuals) then we are doing well."
McLellan and his collaborators across the state were alarmed as stranded animals began to appear in large numbers along the N.C. coast.
"We started seeing live coastal bottlenose dolphins (stranding)," he explained. "I have been doing this for 30 years and you just don't see a live coastal bottlenose dolphin strand unless there is some sort of unusual mortality event going on. They live on the coastline and they know how to avoid it. They can work into two feet of water and come back out no problem. So when we first started seeing live dolphins we knew there was something really bizarre going on here."

Ann Pabst
The National Oceanic and Atmospheric Administration has confirmed that morbillivirus – a family of highly infectious viruses that includes measles in humans, rinderpest in cattle and distemper in canines – is to blame for the rash of dolphin deaths. The virus, which is not transmissible to humans, causes fluid to build up in the lungs, something that is particularly dangerous in a marine mammal.
"Bottlenose dolphin lungs are really large for their body size," McLellan said. "The virus comes in through their blowhole, settles into the lungs and the lungs become really congested. Just like they were getting the flu. While you would go home, get into bed, cough it out and be really unhappy for a few days, a dolphin can't cough it out. They are just sitting out there unable to breathe well and can't come to the surface."
The virus is likely being transmitted when dolphins surface to breathe. An infected animal exhales the virus into the air for nearby dolphins to inhale when they surface.
"What is interesting about this class of viral diseases is that often once it enters a population it can be very destructive," Pabst explained. "We know that this same disease caused a mass mortality event of bottlenose dolphins 25 years ago, and it seems to be doing it again now. So it can be very, very detrimental to populations."
A morbillivirus outbreak in 1987 killed up to half the bottlenose dolphin population in the mid-Atlantic during an eight-month period. Researchers were unprepared for that level of outbreak and still knew relatively little about the population structure of coastal dolphins.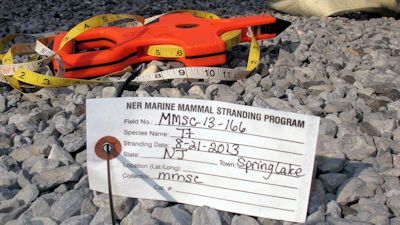 This is the identification tag, the equivalent of a toe tag, ready to be placed on a dolphin that died in August on a beach in New Jersey. Photo: Wayne Parry, AP Photo
"We really didn't have any idea what could have been causing it. And we also didn't have any idea what the stock structure was," said McLellan. "What that event taught us all was that we really didn't understand anything about our backyard bottlenose dolphins."
Scientists have since learned that bottlenose dolphins have a complex population structure composed of subpopulations called stocks. Some stocks remain close to estuaries and the coastline while other stocks migrate longer distances up and down the Eastern Seaboard. Dolphin stock structure, combined with their highly social nature, makes for a very complex pattern of disease transmission that researchers are still trying to understand.
The pattern of death has followed the same path in both outbreaks. Dead animals first washed up in Virginia during the warm summer months, quickly followed by stranded animals in New Jersey and New York. As temperatures have dropped the dolphins – and the disease – have traveled down the coast line, into North and South Carolina, Georgia and now Florida.
In addition to transmission among bottlenose dolphins, researchers are unsure if the virus poses a threat to other species of marine mammals. Three humpback whales have tested positive for the morbillivirus, but at this point there is no indication that the virus was their cause of death or that it is linked to the outbreak in dolphins.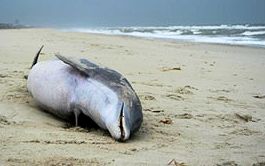 A dead dolphin at Carolina Beach. Photo: UNCW
The lessons learned from the 1987 epidemic meant investigators were better prepared when dead animals began to appear this summer. Collaborations between scientists and agencies allowed researchers to quickly recognize a connection in dolphin strandings across states. NOAA rapidly classified this event as an "unusual mortality event," or UME, a label that recognizes a significant die-off in a population of marine mammals and the need for an immediate response.
"The only way this works is through a huge collaboration," Pabst said. "NOAA is basically coordinating all of the activity for this event. They have done an extraordinary job coordinating samples. Everybody is sharing information."
McLellan notes that this type of collaboration is necessary to understand a disease outbreak in a wild population of marine mammals. "It is not just "CSI" where we put samples into a machine and it bings 'morbillivirus', and we check a box yes," he said. "We need to get together systematically."
But because of the information gained from the 1987 outbreak, scientists have an established protocol in place to confirm a morbillivirus infection in a dead dolphin.
"You do PCR (polymerase chain reaction) and histology, you diagnose the lung congestion and you can have a confirmed case based on a number of criteria we now have," noted McLellan.
Tuesday: Viral outbreak keeps UNCW lab busy