Last of two parts
State regulators charged with protecting wetlands now work for a slimmed down environmental agency that must do more with less. Its leaders, the governor who appointed them and the legislators who control the purse strings want an agency that's more business friendly, less inclined to levy fines and penalties. Many more of those regulators than ever before now can be fired at any time with no recourse.
It all begs the question: How aggressive are they likely to be in protecting the state's wetlands?
John Dorney has his doubts. He retired two years ago after almost 30 years in state government. Most of that time was spent at the N.C. Department of Environment and Natural Resources. Dorney started and headed one of the department's wetlands units.  He still keeps in close touch with his old co-workers. Many, he said, are frustrated and fearful.
Some have had their job protections removed after the N.C. General Assembly more than tripled the number of "exempt" state positions. Those employees serve "at-will" and can't contest their removal from their jobs. They lack the protections guaranteed by the State Personnel Act.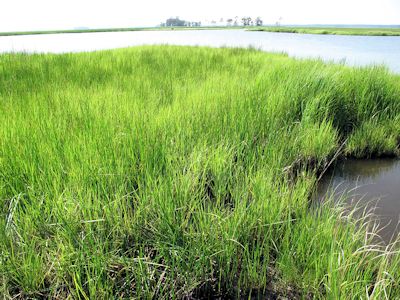 A legislative-mandated review of all state rule could affect those dealing with wetlands protection. Photo: USGS
"Some positions have been eliminated," Dorney said, "but what may be even worse is that many of those who are still there don't know what their future will be. They now serve 'at the pleasure' of the governor, which means they can be fired at any time. And they know that, and it weighs on you when you know that.
They want to do their jobs, do what's right by the environment, Dorney said. But they also want to keep those jobs. "You're not sure what will happen if those above you don't like the results of what you're doing," he said. "This is a scary thing when you're 40-something years old and have a family. And while people can be replaced, this kind of atmosphere is known, and it can make it difficult to attract the right kinds of new people."
Tom Reeder is the director of the N.C. Division of Water Resources, the main agency charged with protecting wetlands. In the past, he was generally considered an ally of water-quality activists. He dismissed allegations of poor morale among employees within the environmental agencies in general, and his in particular.
"It's ridiculous to make those claims," he said. "When I ask, people tell me it's great. Of course, they will tell me that. It's the same thing as when they (environmentalists and opponents of the administration) ask it and people say morale was bad. It has the same validity. Nobody has complained to me. I'm not concerned about it."
Reeder said he didn't think funding or personnel cuts have hurt the division. "This division is accomplishing its mission and doing so in a responsible manner," he said.
Dorney, Molly Diggins of the N.C. Sierra Club and Derb Carter of the Southern Environmental Law Center also noted that the state is beginning a legislature-mandated review of all of its rules.  Wetland rules could be on the chopping block, they fear
"It's not an accident that the water quality rules were the first one targeted for review." Carter said. "All of the rules are going to be examined, and they're going to determine whether they are needed or not needed. Literally everything is going to be under review. And you can't really know what's going to come out of this."
Carter and Dorney said there is the potential for a lot of changes to water quality and wetlands rules, which have been controversial since the state first adopted them. Developers might have been stymied in recent years by the poor economy, but many – and they are often well-connected politically – have long insisted the rules hamper economic development.
All Dorney can do is hold his breath and hope. "Obviously it could be changed at the next election," he said. "But in the interim, I'm not sure much can be done. People do need to come out to public hearings and make their opinions known, and make phone calls and other contacts, but again, elections have consequences."