For those of you aiming to make this season not only merry and bright, but green as well, there are a multitude of eco-friendly alternatives to consider when decorating, party planning and checking off the gift list.
Cut up last year's holiday greeting cards and turn them into gift tags. Spruce up an old, artificial wreath with a fresh coat of spray paint. Carve cardboard from used boxes into an indoor nativity scene.
"I think you can get extremely creative," said Jennifer Maxwell, resource conservation specialist with Appalachian State University's Office of Sustainability. "A lot of people get really crafty with old things. I've seen people take old phone books, glue them cover-to-cover and paint them green to make little Christmas trees."
Conservationists urge those celebrating the holidays to think about ways to reduce, reuse and recycle.
This season may be for some the most wonderful time of the year, but it is also the most wasteful.
Americans throw away an extra 25 percent more trash – about one million extra tons of garbage per week – between Thanksgiving and New Year's, according to the Use Less Stuff Report, an on-line conservation newsletter.
The newsletter lists 42 ways to reduce throughout the holiday season, including portion sizes to serve at holiday parties, eco-friendly shopping tips and ways to cut down on giftwrapping wastes.
Maxwell suggests letting your children or grandchildren decorate brown paper sacks or old newspaper to use as giftwrap. Wrap a gift with another gift, such as a piece of jewelry with a scarf. For those large or hard-to-wrap gifts, Maxwell suggests topping them with a cloth bow, one that can be reused the next holiday.
Cloth gift bags, which can be used year after year, are also a good alternative to traditional giftwrap.
Families can opt to hide unwrapped gifts.
"A scavenger hunt is always really neat," Maxell said.
Frank Tursi, Coastal Review Online's editor, reports that one of his friends hides his wife's gifts in the oven because it's so little used that she would never think to look there.
There are also a number of gift-giving alternatives to help reduce holiday waste. Homemade presents, such as baked goods, add that personal touch.
Reusable gifts such as grocery totes, water bottles and lunch containers give the gift-giving the opportunity to teach the importance of reuse, Maxwell said.
"Re-gifting is certainly more acceptable these days," she said.
When shopping for those on your list, look for recycled content items and gifts that have little or no packaging.  Donate to a loved-ones favorite charity in lieu of a present. Tickets to a concert or sporting event and gift cards are among the non-material alternatives to consider.
"Try not to have those impulse buys on those items that are not very sturdy like cheap, plastic decorations," Maxwell said. "Try to purchase really nice quality items. The better their quality, the more use you can get out of them throughout the years."
Conservationists suggest keeping an open mind when decorating. Mix fresh greenery, such as pine needles from your back yard, with artificial or real fruit.
"There's something to be said for using food to decorate," Maxwell said. "It's not only being more conscious about reducing solid waste, it also connects you to the past."
Decorating with fruit is a Carolina tradition, said Douglas Tramper, an employee of The Flower Shoppe in Jacksonville.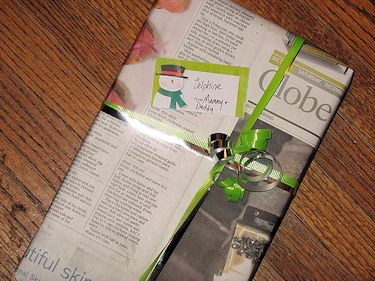 Newspaper can be recycled into gift wrapping.
"A nice fruit dish with nuts makes a very attractive center piece on the table," he said. "The key to decorating for Christmas with fruit is not to do it too early. You don't want fresh fruit out there for maybe more than two weeks, if that."
Tramper has customers who make imitation fruit swags by tying fresh greenery in with artificial fruit they use year-after-year.
Some of the most popular holiday plants can be maintained year-round.
"Your poinsettias don't have to die every year," Tramper said. "Don't overwater it."
There's also the Norfolk Island pine, a tropical evergreen that looks like a miniature Christmas tree, and the Christmas cactus, which blooms around the holidays.
These popular houseplants, given proper care, can live for years.
"When you purchase these kinds of plants, whether you buy them from a florist or Home Depot, it doesn't matter, most places will tell you how to keep them alive," Tramper said.
If you want a live tree, consider buying one with a root ball so it may be planted after the holidays.
"If you're going to buy an artificial one check thrift stores first," Maxwell said.
Yard sale web sites are another good source for finding pre-owned artificial trees.
"I think the biggest thing is trying to not only do these things, but spread the word," she said. "This is a great time to educate others about how we can all reduce waste."