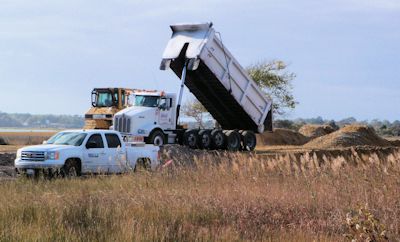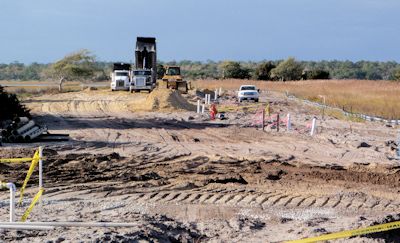 Construction has begun on The Peninsula subdivision in Surf City. Trucks have brought in fill for the road beds.
SURF CITY — After years of environmental and legal disputes, land created when man-made canals were dug along Topsail Sound in Surf City is being developed.
Permits were long ago issued for building on The Peninsula – more than eight acres of property that juts out like a finger into the sound.
Surf City residents who have lived near the property have been fighting to keep development off the land, created decades ago by soil excavated from two man-made canals. These canals are home to hundreds of shellfish, and concerned residents as well as the N.C. Coastal Federation argue that development would harm the wildlife.
"Our concern – this is basically wetlands," said Mike Giles, a coastal advocate in the federation's Southeast Region office in Wilmington. "The water table is right at the top of the soil. It's flooded with wind tides and high tides regularly. They've got the permits. It's legal but is it going to work?"
Jay Shott, who is part of Peninsula at Topsail LLC, which owns the land, said the property is being developed in an environmentally sound manner.
"We have been doing everything the way we have been instructed to do it," he said. "We don't want to get fined. We don't want to have problems out there. As far as our approach to anything like this we're not looking to cut corners."
The Mooresville-based company began prepping the land for building weeks ago.
Neighbors first noticed in early October water being pumped into a large bag to capture sediment, then sent streaming across the land into one of the canals.
Jim Gregson, surface water protection supervisor with the N.C. Department of Environment and Natural Resources' Wilmington Regional Office, said he visited the site to observe the pumping in late October.
Groundwater was being pumped through swells and there were a series of wells that ran down each side of where the sewer line is going to be installed, he said.
"A lot of it that is coming out of the ground is extremely clear," Gregson said. "We made the suggestion that they just put the line into the ground itself. It was stirring up the bottom a little bit in the canal when the tide was low. That activity, the discharge of water from well pointing, is allowable without a permit from us."
Gregson said DENR did not take water samples.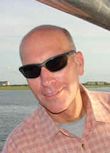 Jim Gregson

Mike Giles
"Whatever they pumped would be long gone now," he said. "It shouldn't be a problem. They're lowering the water table by pumping the groundwater out."
Gregson conducted a field investigation report about the property for the state Division of Coastal Management in 2005.
The property owners at that time wanted to build a 37-lot subdivision on the land, which is described in his report as having more than 82,000 feet of vegetated wetlands and more than 86,000 feet of high ground.
The land was created as a result of canals that were dug after a permit was issued by the U.S. Army Corps of Engineers in 1969 and the state in 1970.
Gregson found that the state Division of Commercial and Sports Fisheries in 1973 denied the request for a second permit renewal. A Nov. 6, 1973 report from the division stated that the request was not granted, "since the original overall project involved considerable additional fill being placed in an important marsh species."
Because this area is in the center of the peninsula, it is not under tidal influence and is not deemed coastal wetlands, his reports states.
The 1973 denial would not be the last. In 1989, the property's owner at the time, Ruth King, filed for a CAMA major permit with the Division of Coastal Management. King wanted to bulkhead the property and fill the entire tract, raising it by two feet. Her request was denied.
She received a CAMA major permit in 1991, but the Division of Water Quality denied the Water Quality Certification, which was one of the approvals she had to have in order to fill the wetlands.
King filed a "takings claim" against the Environmental Management Commission and the Coastal Resources Commission. In 1997, the state Supreme Court denied her petition for discretionary review, a decision later upheld by he Court of Appeals.
King's son, Walter Warren, filed a CAMA major permit in early 1999. He wanted to develop a 46-lot subdivision and requested permission to fill about .39 acres of wetlands in the center of the land.
In December of that year he received the permit. It was renewed in October 2002 and expired Dec. 31, 2004.
Red Apple Group LLC purchased the tract in July 2004. They too turned to CAMA for a permit to fill in about 1.9 acres of wetlands. Their proposal at the time was to build a 37-lot residential subdivision.
After their plans were rejected by Surf City's town council twice, in 2005 and again in 2007, Red Apple Group came back to the table in 2010 with a proposal to develop 24 lots and create wetlands on the site.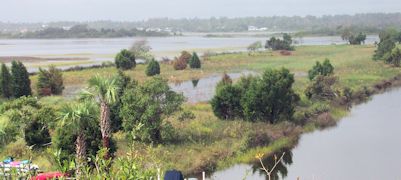 Before construction began, high tides could flood the low-lying land.
The town council unanimously approved the preliminary plans during their Feb. 2, 2010 meeting.
Surf City resident John Tucker was at that meeting to voice his opposition to development of the land. For him, it was a five-year battle that included a lawsuit against he and a handful of other property owners who spoke out against building on the land.
"The whole thing has been about water quality for me from the get-go," Tucker said. "I've been getting oysters out of that canal for almost 20 years."
He said during a Nov. 7 interview he had not had a chance to check oysters in the canal to see if they had sediment in them.
His home on Driftwood Avenue, which sits near the entrance to the peninsula, will neighbor the new, 22-lot subdivision, the latest plans proposed by the current owners.
"They're building it per the approved plans," Surf City Town Planner Todd Rademacher said. "They're already recorded their maps with their conservation easements. They're really moving forward."
Online advertisements are luring potential buyers, touting private beach access and "sunrise and sunset" views of the Intracoastal Waterway.
There will be private paved roads and sidewalks, town-supplied water and sewer, unobstructed water views, and "fishing, crabbing, oysters all outside your door."
"Once we hydroseed and grass starts growing we're in great shape," Shott said. "Everything has gone well so far."
Giles said he believes the peninsula is a prime example of where not to build.
"I thought we had learned our lesson," he said. "Look at (hurricane) Floyd, look at Fan, look at Sandy. In the long run, this may cost people heartache and it's going to cost the taxpayers. We should know better."