MERRITT — A major Pamlico County land-clearing operation that farmers and business leaders fear is damaging wetlands and could lead to serious coastal water quality and habitat degradation might end up spurring local government action.
County residents, led by real-estate salesman Allen Propst, will ask Pamlico commissioners tonight to adopt an ordinance requiring that local governments be notified before forested land is ditched and drained. The commissioners will also consider sending a letter asking the Army Corps of Engineers to reconsider whether some or the entire forested tract near Merritt is or has been wetlands and therefore should be protected under the federal Clean Water Act from alteration and conversion to farmland.
Propst said residents consider the issue a big test of whether the federal and state governments will allow a renewal of major conversions of forest and wetlands to agriculture in the county and elsewhere along the N.C. coast. No such large-scale conversions have occurred along the coast in more than two decades. In fact, state and local governments have worked with environmental groups, including the N.C. Coastal Federation, to halt the practice and in some cases begin major wetland restoration efforts.
Pamlico County Manager Tim Buck said Thursday that the ordinance and a draft letter to the Corps – both proposed by Propst – are up for consideration by the board during its regular meeting at 7 p.m. in the county courthouse. The issue, first raised in a story last month in the Coastal Review Online, has drawn so much attention that the meeting has been moved to the courthouse to accommodate a larger than expect crowd.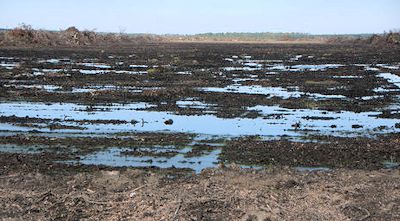 Neither the state nor the Army Corps of Engineers considers the cleared land to be wetlands.
Propst said he had never seen an issue so galvanize residents of rural Pamlico County.
"Everyone I've talked to, or just about everyone, is against this," he said. "On other big issues, things are usually about half and half, but not this. People are very concerned and upset. There is a lot of land where this could happen, not just this tract, and the impacts would be devastating on our water quality, our fishing, our environment, just from this one conversion, if it's allowed."
Clear-cutting small tracts, if done periodically, can be beneficial to wildlife by creating an edge-effect of new forage without dramatically destroying entire ecosystems, Propst added in a blog on the N.C. Coastal Federation web site. "It grows back. But converting wetland forest to farm land, as Spring Creek Farms LLC wants to do, would permanently and forever destroy vital habitat not only for the hundreds of deer, bear and wild turkey that inhabit the (tract), but for the thousands of birds and smaller mammals that will be permanently displaced. The (tract), as well as other large wetland forest tracts in eastern North Carolina, serve as a vital winter habitat for migratory songbirds for several months during the winter. Without (these) … songbird populations will be negatively affected."
People will be allowed to comment on the ordinance proposal, Buck said, but they'll be limited to three minutes. The commission, if it approves of the ordinance, would have to send it to the county planning board for a recommendation and to be drafted into legal form for a board vote. The county does not have zoning, so it's not a zoning ordinance issue.
Buck said the adoption process would take a minimum of two months. However, he added that the letter, should commissioners approve it, could go out under county letterhead immediately.
The ordinance, as currently written, would not prohibit such projects, but would try to ensure that they are well-documented and that county officials know about them. In this case, land was cleared before Pamlico officials knew about the project.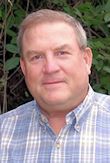 Allen Propst
The proposed ordinance states that, "Ditching, drainage, or hydrological alteration of forested land may increase flooding of flood hazard areas. Ditching, drainage, or hydrological alteration of forested land, including forested land on which the trees were recently harvested, is prohibited without first notifying in writing by certified mail the U.S. Army Corps of Engineers regulatory office, the N.C. Division of Water Resources, N.C. Division of Coastal Management, N.C. Division of Energy, Mineral and Land Resources, N.C. Forest Service, and the County Manager. The notification to the County Manager shall include notarized copies of the notifications to the U.S. Army Corps of Engineers, the N.C. Division of Water Resources, N.C. Division of Coastal Management; N.C. Division of Energy, Mineral and Land Resources, and the N.C. Forest Service as well as the affirmative written findings by each of these agencies that the proposed activities are consistent with all applicable federal and state laws and regulatory standards."
The 4,658-acre tract is owned by Spring Creek Farms LLC, which is registered in Illinois, according to Pamlico County tax records. About 250 acres on the south side of State Road 1324 have been cleared, a fact acknowledged last month by Abel Harmon of Hydeland Construction & Consulting in Swanquarter, who is working on the project. Farming could begin any time after the land clearing is completed, Harmon said in late September.
Todd Miller, executive director of the federation, contacted the Corps about the project in early August. In a letter to Emily Greer, a program specialist in the Corps' Washington, N.C., field office, he said the N.C. Division of Coastal Management considered the property to have "substantial" ecological and water quality values based on an inventory of wetlands it provides on its web site.
Local landowners, he wrote in his letter, told him that the only ditches on the property before 1990 were along the road. Miller told the Corps that a former landowner dug some new ditches after most of the trees were logged in 1990.
In an email response, Greer said that she and Anthony Scarbraugh of the N.C. Division of Water Resources met with Harmon on the site "as a result of multiple citizen complaints of possible conversion of silviculture lands to agriculture lands, as well as a request from Mr. Harmon."
Greer said in the email to Miller, "During the inspection, we observed maintenance of the existing drainage ditches, ongoing logging activities and no clearing of the subject properties that violated wetland standards regulations under the Clean Water Act."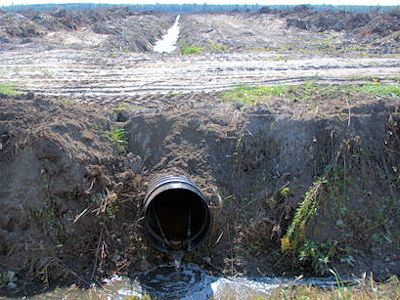 Ditches and pipes drain water from the property,
Susan Massengale, spokeswoman for the state Division of Water Resources, said in September that state inspectors visited the site four times and concluded that "this particular" area being cleared was not wetlands.
"It does have hydric soils, and (associated) vegetation," she said, but the soil was not saturated.
"It needs to have all three of those things" in order to be legally designated as wetlands, Massengale added. "We went four times and looked very carefully, studying the plants and the soils, there was just no way that it qualified. And so there is nothing being done there that is noncompliant."
But environmentalists believe the assessment was, at best, inadequate. Derb Carter, senior attorney for the Chapel Hill office of the Southern Environmental Law Center, said the assessment of four sites took place on June 8, when the water table would have been low. In a letter to Propst, Carter noted that Harmon and Mark Beck, representing Spring Creek Farms, wrote the Corps that the network of ditches on the property "has resulted in the removal of the hydrology parameters required to meet wetlands criteria."
If that is the case, Carter said, normal circumstances were not present – as required – when the inspection and assessment took place, and the Corps must determine whether the ditches were properly and legally permitted.
Coastal Review Online asked Scarbraugh if the state would re-investigate the property for wetlands determination. Scarbraugh referred all questions to Massengale.
Massengale said Thursday that "at this point" the state did not plan to revisit the property. She reiterated that wetlands delineation and permitting are the responsibility of the Corps and that agency "is the lead in this." However, she added, "if they feel they need to reassess this, they would inform us and we might go out with them."

The Corps' Greer did not respond to a message left asking the same questions last week.
Pamlico County's letter to Col. Steven A. Baker, commander of the Corps' Wilmington District office, asks the Corps to reconsider its determination that this tract of land does not include wetlands. It also asks the Corps to investigate if previous ditching was done legally.
"The county is concerned that clearing, drainage and conversion of this tract from forest to agricultural land will increase the risk of flooding in low lying areas, destroy wildlife habitat, and degrade coastal water quality and fisheries," the commissioners say in the proposed letter.
They note that farmland immediately uphill and adjacent to the cleared tract is designated as "prior converted wetlands" by the Natural Resources Conservation Service. The commissioners tell Baker that it makes little sense that the land being cleared, which is lower and wetter, wasn't wetlands as well.
6"It is important that all landowners and farmers engaged in forestry and agricultural activities be held to the same standards," the letter continues. "It is unfair to those complying with environmental and conservation requirements to allow others to circumvent those requirements."
The letter notes that aerial photographs show that a logging road was present on the tract before 1988 but the drainage ditches were dug between 1988 and 1993. The Corps, the letter says, based its determination on a Google Earth photo taken in 1993.
"It is our understanding that if these drainage ditches converted the site from wetland to upland sometime between 1988 and 1993, a permit from the Corps would be required," the commissioners write. "We are not aware of any permit from the Corps that authorized these drainage ditches."
The commissioners ask the Corps to investigate whether previous drainage activities on the site were properly permitted. They also ask that a Corps representative appear before the board to discuss the investigation.
The commissioners would also send the letter to U.S. Sen. Richard Burr, R-N.C., U.S. Sen. Kay Hagan, D-N.C., and U.S. Rep. Walter B. Jones, a Republican whose district includes Pamlico County and most of coastal North Carolina.
Propst, who owns and operates Mariner Realty in Oriental, said he is very familiar with the property, and hopes county commissioners and the other elected officials will take the issue seriously, because a lot is at stake. One reason, he said, is that there is so much potential for land to be converted to agriculture along the coast, and there are plenty of incentives right now for that to happen.
Spring Creek Farms LLC, he said, purchased the property from Copper Station through a holding company called Northeast Dakota Holdings LLC for $7.11 million, or just under $1,525 an acre. By converting this property to agricultural land, costing around $1,000 an acre for the conversion, and with farm land currently selling in Pamlico County for as much as $5,400 per acre, a future sale of $25 million could net as much as $13 million profit.
Converting the land for agricultural use could be devastating to surrounding waters, Propst said. Pesticides, fertilizers, herbicides and other chemicals could end up in rivers, creeks and eventually into Pamlico Sound.
"Harmful runoff will flow into the headwaters of Trent Creek, Pierce Creek, Orchard Creek and Brown and Lower Broad Creek," he wrote in his blog. "If this wetland forest is converted to farm land, then heavy rains will immediately flood these headwaters with agricultural run-off. The result: you'll see algae blooms and eutrophication – too many nutrients – in the waters nearby, which are valuable primary nurseries for fish, shrimp, crabs and oysters."
"All we are asking is for the people with the authority to do their jobs, to follow the rules and make sure that the laws we have in place are followed and enforced," Propst said last week. "If this goes through without more investigation, it's pretty clear that the sheriff is not on the job."
Buck, the Pamlico County manager, said he would make no recommendation to the commissioners on approving the ordinance proposal or sending the letter to the Corps. The elected officials, he said, are the policymakers, and they listen to the public.
"Going forward, if they approve this Monday and send it to the planning board, and it comes back to them, the commissioners will solicit public comment and make a decision on what they think is right," he said.
Although Propst said he believes public sentiment is strongly behind protecting Pamlico County's resources, he conceded no one can know how the board might vote. And if one county commissioner's comments Friday are any indication, some of the board members might not have made up their minds.
"I'm still gathering facts," said Township 4 Commissioner Carl Ollison, who lives in Bayboro. "I know there's a lot of discussion and a lot of interest. I guess if they (Spring Creek Farms LLC) have got all their permits and have done everything they're supposed to do, I'm OK with it. But I am still gathering information and I'll listen to what people say Monday night."