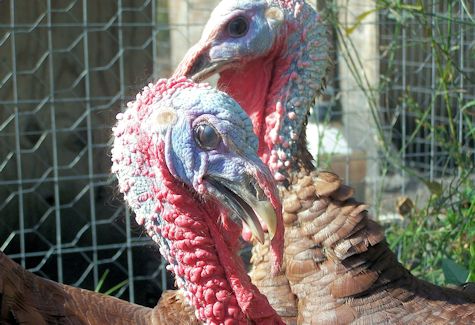 Farmers say Bourbon Red turkeys raised in pastures are lower in sodium than turkeys grown on industrial farms and have a richer flavor. Photo: Trista Talton
MAPLE HILL — No need to sweat it, Tom. You're safe this Thanksgiving.
The same cannot be said for the two Bourbon Red turkeys on Lemmonds Family Farm, a small farm nestled among crop fields and forests in this small Pender County community.
The handsome, reddish-feathered gobblers have been spoken for as the centerpieces on dinner tables come Thanksgiving Day.
James Lemmonds, the man raising them, doesn't necessarily like to think of their fate in that way, but he is the first to tout just how succulent a Bourbon Red tastes.
Lemmonds is among a select community of small farms in North Carolina where turkeys are bred and raised the old-fashion way. The poultry is termed "pastured" because they live in floorless pens and are routinely released to roam the farm, where they have access to fresh air, grass and insects.
"I let them out every day," Lemmonds said. "They go all over the place. They get to eat bugs. It gives them more protein and that's more of a natural substance. We don't spray around the farm so there are no herbicides or pesticides."
Lemmonds' brood of gobblers and hens, including Narragansetts, a breed dating back to the 1600s, are in a high-demand market that continues to gain popularity as consumers search for natural, healthy poultry alternatives.
"There's a market for them, you just have to get into the market," Lemmonds said.
He initially advertised his poultry on Craigslist after buying his first turkeys in June 2011. Little time passed before he started getting phones calls from eager customers in places as far away as Charlotte.
Pastured turkeys are in demand throughout the year and the holidays are no exception, farmers say.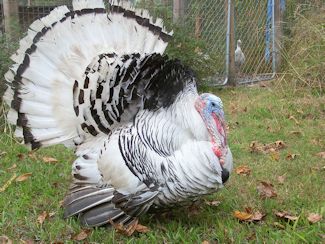 This handsome turkey, named Tom of course, won't end up on a Thanksgiving table. Photo: Trista Talton
"I never would have thought there were as many people wanting them as there is," Lemmonds said.
Cindy McNally and her husband have been running McNally Farms since 2008 in Rocky Point, where they primarily raise rare breeds of livestock on their four-acre Pender County farm. The McNallys are all out of pastured turkeys thanks to a low hatch last earlier this year.
"My demand was pretty high for them in the spring," McNally said. "A lot of people buy them for pets. My phone's usually ringing off the hook this time of year. They want me to give them a turkey they can put straight into the oven."
McNally only sells live birds, something she routinely has to explain to potential customers who want them as a main course.
Pastured turkeys are sought after for a variety of reasons, the main one of which is the fact they have a deeper, richer flavor than factory-farm birds.
Pastured turkeys taste different from mass-produced poultry for a variety of reasons, Lemmonds explained.
Pastured turkeys eat feed that includes fish mill, a protein supplement. Turkeys need a diet with 14 percent to 20 percent protein.
Turkeys raised on factory farms are given hormones to speed their growth, forcing them to gain weight more quickly and be ready for slaughter in five to six months. The broad-breasted white turkey, bred for the size of their large breast, is the industry standard.
It takes at least six months for gobblers to beef up anywhere from 15 to 17 pounds, Lemmonds said.
"A lot of people don't realize the sodium that's in the turkey they buy in he store," he said. "If you get a fresh bird, the sodium is not in them. The taste is great."
Lemmonds kept a close eye on his turkeys as they slowly walked outside their pens into an open yard of grass and weeds.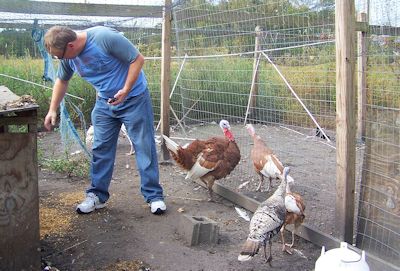 James Lemmonds lets his turkeys out of their pens at least twice a day. Photo: Trista Talton.
Tom, a proud, Royal Palm turkey with snow-white plumage, and the family pet gets picked on by the Bourbon Red males. He is the only turkey on Lemmonds farm to have a name.
"The rest of them, they do not get names," Lemmonds said. "We do eat them ourselves."
Lemmonds is a certified meat handler. His live birds sell for $40 to $45. He charges an additional $10 to $15 to prep a turkey for the table.
He's not shy about sharing how he kills and cleans the turkeys. Customers who want a fresh bird get just that – killed and cleaned in the morning and ready for the kitchen by afternoon.
That may the farming way, but Lemmonds doesn't try to hide his affinity for the turkeys. He pets the docile birds, talks to them like small children, and picks them up to place them back in their pens if they're misbehaving.
The Florida native always wanted to own a farm and raise turkeys. When he retired as a master sergeant from the Marine Corps in February 2011, he began buying livestock to add to his 5.5-acre farm, which includes silkie chickens and alpacas.
"Turkeys are just beautiful animals to me," he said. "They're just interesting creatures."