Reprinted from the Tideland News
CHAPEL HILL — Come Saturday, Todd Miller will be figuratively rubbing shoulders with giants of North Carolina and the nation, right up there with the likes of former governors Terry Sanford and Luther Hodges, fashion designer Alexander Julian, civil rights attorney Julius Chambers, soccer star Mia Hamm and broadcast journalist Charles Kuralt.
As part of the University Day ceremony to install Carol L. Folt as the new chancellor of the University of North Carolina at Chapel Hill, Miller, a native and resident of Ocean and founder and executive director of the N.C. Coastal Federation, will be one of five people this year to receive the school's Distinguished Alumna Award.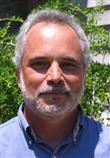 Todd Miller
"I was completely surprised," Miller said. "I had no idea I'd even been nominated. It means a lot personally, but it's really more a testament to what a public university can do for you."
The school, of course, is where Miller and thousands of other students gained the knowledge and expertise to succeed in their chosen fields, but it also provided a network of contacts. And for some, like Miller, it instilled a deep sense of responsibility.
In fact, he said, it's that sense that is in large part responsible for what he has done, what he has become, a nationally recognized leader in environmental activism.
"The school was instrumental in my being able to do the work I do," Miller said. "But more than that, going to a public institution like UNC can instill in you a desire to do public service, to give back to the state that made it possible. I think awards like this can encourage others to do that kind of work."
In an Oct. 5 speech in Chapel Hill to the Board of Visitors for the UNC Institute for the Environment, he put it this way:
"The N.C. Coastal Federation came about in large part because of my education here at UNC. UNC provided me the opportunity to chase my career dreams."
He also recalled how he got to the school, and what happened in the early years of his college education.
"Just to give you a sense for how much things have changed, as a young kid I watched a neighbor tend his fields and hogs behind his mule, Katie," he said in the speech. "Then, while in junior high, I cropped tobacco for a tenant farmer. He was one of the most generous people I ever met, even though he was dirt-poor. Back then in Carteret County we didn't need fences to have good neighbors, only to keep their hogs from roaming too far."
Miller's father, Ted, who died last year, was a chemist for the menhaden industry. He ran his own independent lab in the backyard of the family home on Bogue Sound. He employed his young Todd and his three sisters. "We raised chickens and cattle to test animal feeds enriched with fishmeal, washed glassware in his lab, cleaned animal cages and became guinea pigs to test the flavors of various fish oils," Miller remembered.
He attended public schools in Carteret County and entered UNC in 1975, living in a shack on a dairy farm four miles from campus.  "The farm was paradise for a country boy from the coast," Miller said. "There were two old Model M Farmall tractors that I got running, and I used them to mow the pastures, clean the barn, garden, and to haul out logs from the woods for my wood stove."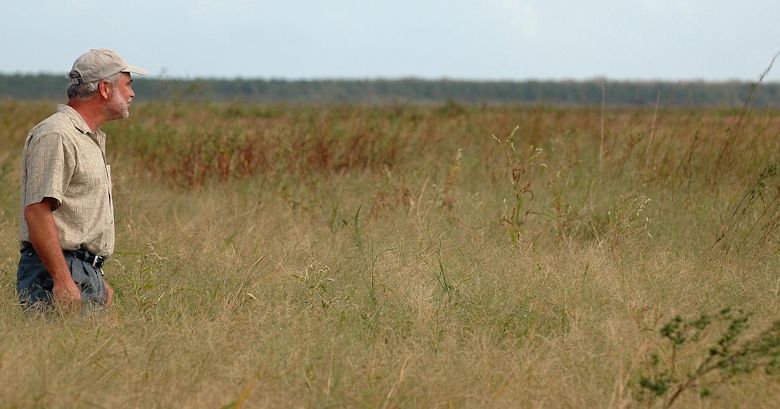 Todd Miller walks through the tall grass of a restored wetland at North River Farms, which Miller considers the federation's signature project.
He and other students from the coast formed a UNC-sponsored "Coastal Club," whose faculty sponsor, Conrad Neumann, a renowned oceanographer, became a good friend.  "He encouraged my interests, and I still receive his hand-drawn family Christmas cards," Miller said.
The club held forums on coastal issues that introduced Miller to Orrin Pilkey, Dave Owens, B.J. Copeland, Dirk Frankenberg, Dan Okun and other scientists and policy-makers who Miller would later call on after forming the federation in 1982.
With the help and support of people like them, Miller said, he formed his own interdisciplinary undergraduate degree in environmental studies. This degree combined marine and biological sciences, public health, public policy, and land-use planning courses.
He graduated in 1978 after completing an undergraduate honors thesis that analyzed the success of coastal management in North Carolina. He went on to get a master degree in city and regional planning.
But UNC alone didn't provide the impetus for what was to become Miller's life's work; home, Carteret County, played just as big a role.
"As I was about to finish graduate school, I remember going clamming in Bogue Sound with my father in the fall of 1980," he said. "That particular day sticks in my memory because we talked about what to do after I graduated."
He had turned down a job in Tampa a few weeks earlier after seeing thousands of dead fish in Tampa Bay.
"The thought of moving to a polluted bay as opposed to being able to walk out my back door and catch clams would have been a tough adjustment, but it took a lot of courage to turn down a good paycheck," he said.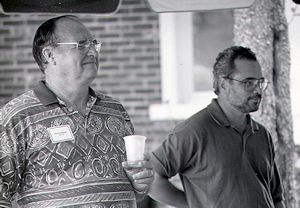 Todd Miller, right, with Melvin Shepard sometime in the 1980s.
He instead wanted to come home and advocate for the N.C. coast.
"While we clammed, I told my father there were no full-time citizen-based environmental groups in coastal North Carolina, and the volunteer groups didn't have funds to hire staff," Miller recalled in the speech. "He said not to be discouraged. 'Where there's a void to be filled there's opportunity,'" he advised.
One of his old professors provided a few hundred dollars to support an exploratory meeting about whether a new coastal group was needed. About 65 people showed up at the N.C. Aquarium in Pine Knoll Shores on April 22, 1982, to discuss the idea. After that Miller started putting together a board of directors.
Speculators who want to mine the peat bogs of the northeast coast for energy provided the issue. But Miller needed the money. He submitted a proposal to the Mary Reynolds Babcock Foundation in Winston-Salem. The foundation had a reputation of providing seed money for good ideas and upstart organizations.
"Meanwhile, I was about out of money and was forced to look for a more traditional planning job," Miller remembered. "If the grant request had been turned down, no one other than me would even remember the fledgling N.C. Coastal Federation today.
Just a few days before Thanksgiving word came that the foundation board had approved a $20,000 grant. With these funds, and a few extra dollars collected elsewhere, the federation's budget grew from a few hundred dollars in 1982 to a whopping $28,000 in in one year.
"It even gave me a salary of $1,000 each month," Miller said. "Each year since then we have expanded a little at a time, and have received more diverse sources of financial support. The Z. Smith Reynolds Foundation has been a supporter every year since 1983."
The federation now has more than 10,000 members, almost two dozen staff and an operating budget of about $2 million a year. It operates from three offices, but is still headquartered in tiny Ocean. The net worth of the federation is now more than $31 million, including thousands of acres of property, most of which are being restored from agricultural operations to wetlands in order to preserve and create habitat and protect water quality.
Highlights of the organization's work in the past 31 years include stopping the destruction of 120,000 acres of wetlands in northeast N.C. from peat mining; the designation of about 10 percent of coastal waters as "Outstanding Resource Waters;" strengthening of many state laws and regulations for coastal land use; restoration of more than 50,000 acres of fishery habitats; and the aforementioned wetlands restoration.
The largest of those has been the North River Farms effort in down east Carteret County, which Miller has called the federation's signature project.
"North River Farms … will result in nearly 5,000 acres of wetland restoration in the headwaters of critical coastal estuaries near Cape Lookout National Seashore," he said. "To date, around 2,200 acres of land have been restored as wetlands, nearly 1,200 acres of wetlands have been preserved, and the remaining acreage (about 2,600 acres) will be restored in the next several years. We have already seen remarkable water quality improvements and enhanced oyster reefs in the waters downstream of the restored wetlands."
The federation also has worked hard and successfully encouraged low-impact development practices in North Carolina and across the nation; and has encouraged future stewardship by providing hands-on environmental education for thousands of students.
The latter accomplishment, Miller notes in interviews, is critical, because those students are the future leaders who will continue to safeguard the coastal environment.
Students, faculty, staff, alumni, friends and local residents are invited to attend the installation ceremony on University Day. The festivities on Polk Place will begin at 1:30 p.m. with special music and a processional of faculty, students, staff, alumni, visiting dignitaries and other leaders. A public reception will follow on Polk Place, near Wilson Library.