Toni and John Cornelius wanted a house that went beyond green. They wanted to build simply.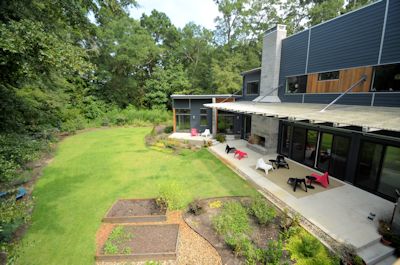 Rain gardens in the backyard are attractive landscaping features and also effective stormwater controls. Photos: Tess Malijenovsky
WILMINGTON — There will come a day when low-impact development is simply development. When that day comes it may look something like the residential property of Toni and John Cornelius tucked away beside a shaded edge of Summer Rest bike trail.
Examining a lot before building, its trees and vegetation, the way the water and air move or the site's exposure to the sun aren't just environmentally responsible meditations. They are the preliminary steps to designing a home that is resource and energy efficient and minimized stormwater runoff. Doing so is good for the environment and your pocketbook. In short, it pays off to think ahead.
When the Cornelius family moved to Wilmington they found a lot hidden in the woods, not far from the water. There, they could build a home for their three kids and dog to grow up in.
"We wanted to build beyond just green: build simply," said Toni Cornelius.
John and Toni brought on the expertise of Lara Berkley, landscape architect, and Scott Ogden, an architect with B+O Design Studio, to design the house that would meet their family's wants and needs.
"We—Toni and John included—are interested in what is called modernist design, which tends to be resource efficient in general," said Berkley. "We're not huge fans of ornamentation in architecture or landscape and find that simple, clean design gestures and site-specific design make for more interesting and special places."
In the respect that less is more, the architecture firm appreciates and takes advantage of a site's existing features, minimizes disruption of the natural environment, salvages its great trees and makes use of its water, paying particular attention to where it goes.
"First thing is to figure out where the site disturbance can happen," said Berkley.
In this step of determining where the house will be built, an effort is made to minimize the amount of land disturbed during construction, which saves money from bringing in fill or excavating it.
"What was really neat about that site was that they had a lot of awesome native buffer around the perimeter and we really didn't want to mess with that," Berkley said.
The team, for instance, went to great lengths to keep a tree in the center of the driveway alive by working around it.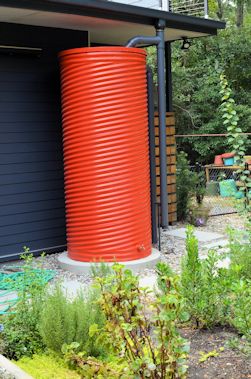 A 1,000-gallon cistern made from a culvert pipe captures runoff that is then used to water plants.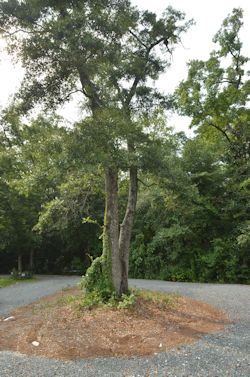 To save a tree, the driveway goes around it. Photos: Tess Malijenovsky
Plus, incorporating native plants into the landscape designs can save landowners time and money. Because they are adapted to the coastal environment, indigenous plants require less care and eliminate the need for pesticides, fertilizers and irrigation. The plants also prevent erosion and increase soil permeability, which reduces stormwater pollution by absorbing and slowing the flow of runoff.
Polluted stormwater runoff is the leading cause of degraded coastal water quality. Whenever rain falls on an impervious surface, like a roof or driveway, and the runoff drains into the street gutters it carries bacteria and other pollutants into our coastal waters. This is why more and more waterbodies are off limits when it comes to fishing clams and oysters. Allowing this runoff to soak into the ground as it naturally would is the key to low-impact development.
Rather than paying for someone to fill a depression or natural swale in the Cornelius lot, Berkley recommended they build a rain garden. Rain gardens are small, vegetated areas lower than the surrounding lawn that captures rain during storms. They not only help reduce flooding during heavy rains, but the plants and soil soak up the rainfall before it has a chance to become polluted runoff.
Many hours were spent observing the site before B+O Design Studio went to the drawing board. Berkley collects data from a geographic information system (GIS) to study how water moves on the surface of a property. "We want to allow the flow of water to go where it naturally wants to, while also allowing it to return to the groundwater—down into versus across the site," she said.
To do so the yard is designed in concert with the house. The two-story deck is slightly slanted so that rain is directed into a 1,000 gallon, bright red cistern conveniently and purposefully located close to Toni's raised garden beds. "Where possible, we look for opportunities for reuse, storing closest to where the client's needs are," said Berkley.
Cisterns and rain barrels are containers that collect and store rainwater. They double as a solution for reducing stormwater pollution and as a free source for watering a garden or lawn.
Bill Christopher, who built the house, also custom-built their cistern from repurposed culvert pipe. "[He] was a very creative contributor in terms of construction materials, methodologies, re-purposing and using salvaged materials," Berkley said.
The roof of the Cornelius house is also slanted, guiding rainfall to a downspout by the back porch. The downspout then sends the water down a clever and beautiful channel of stones outside the perimeter of the concrete porch, allowing the water to eventually drain into the nearby ravine.
The finished landscape design produced a backyard big enough for the kids to play in and small enough to maintain easily, utilizing every square foot as responsibly as possible. "We didn't want a huge lawn that we had to mow and a bunch of shrubs that we had to prune, so it was all about it being natural," said John Cornelius.
That's what we call a smart yard. The N.C. Coastal Federation created a Smart Yards publication that anyone can reference for simple, do-it-yourself solutions to reduce stormwater pollution.