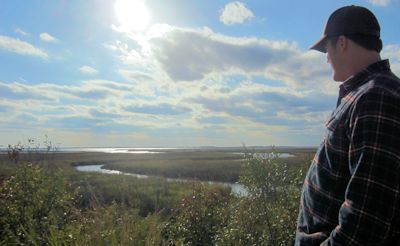 Bradford Downs leads tours to see the wild horses of Currituck Banks. Photo: Catherine Kozak. 
CAROVA — Wild horses on the Currituck Outer Banks are so used to tourists gawking at them, shrieking at the sight of them and rumbling past them in trucks hour after hour, day in and day out for four months straight, that they seem to ignore the constant stream of motorized steel and gaping humanity in their midst.
But the 180 or so year-round residents of once-quiet Carova have noticed all too well.
New rules that the county implemented earlier this year put more limits on horse tours operating in the four-wheel drive area north of Corolla and has helped stem what was becoming a free-for-all, said county manager Dan Scanlon.
"I think the change has been well-received from the community," he said last week.
About 120 horses roam a 12-mile long and one-mile wide ocean to sound area that abuts the 4,500-acre Currituck National Wildlife Refuge and encompasses beach, wild marshland and the residential community. Conflict was inevitable. Lines of vehicles filled with tourists snaked through the unpaved sand roads in Carova from sunrise to sunset. People got out frequently to take photographs. The brasher tourists parked on residents' front lawns and wandered through yards to find horses. In the worst cases, drivers zoomed over dunes and cut donuts in the sand.
Now tours that go west of the dunes into the residential area can only operate from 8 a.m. to 8 p.m. and they must led by a tour guide, and the number of tour companies is limited to 10. Each company must pay about $1,000 for an annual license, which will be put toward road and facility maintenance. Next year, each company will be restricted to a maximum of five vehicles.
"I think this ordinance is a good beginning," said Kimberlee Hoey, a full-time Carova resident since 2001 and board president of the nonprofit Corolla Wild Horse Fund. "I think there's some tweaking that's going to have to be done."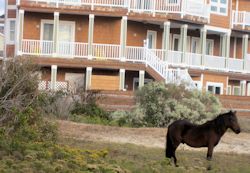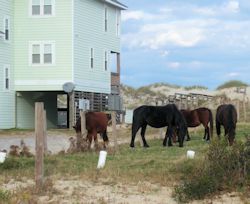 Horses graze in the yards of houses in Carova. They mow and fertilize the lawns at the same time, one tour guide quips. Photos: Catherine Kozak
As little as two years ago, she said, tour guides pulled into her driveway to get a better look at the horses, and groups of tours vehicles gunned through yards or stopped right in the road. Consequently, she said, "as silly as it sounds" in such a remote area, there were potholes, gridlock and traffic backups.
"It's constant," she said about the tours. "It's like living in a theme park."
Hoey said that with the new ordinance in place, the outrageous incidents happened far less frequently this year. But she said there still have been after-hours and trespassing violations, and it's clear that more enforcement is required.
The community and the horse fund appreciate the importance of the tours to the local economy, Hoey said, but there's got to be a line. "It's very, very difficult to balance that type of tourism," she said, "while respecting the privacy of residents."
With as many as 3,000 tourists a day taking horse tours, the Corolla wild horses are a marketing success story. Billboards and glossy advertisements that feature scenes of wild horses on the beach have lured millions of tourists to the northern Outer Banks. The horses have become one of the biggest draws for the state and local tourism industry.
Jay Bender, who owns Corolla Outback Adventures with his 80-year-old mother, has seen the horse tour business explode in the last 10 years or so, along with the development of the northern Outer Banks.
A native of Corolla, Bender said that his parents started the guided tour business in Corolla in 1962 as Bender's Beach Service, which took fishermen, hunters and sightseers on beach trips between Kill Devil Hills and Corolla, when there were no paved roads north of Duck.
When Corolla Outback started about 25 years ago, he said, it was billed as an ecological tour. With the increased interest in the wild horses in recent years, the tour has evolved to include them more. But Bender insists his tours are still 75 percent focused on the unique ecology, history and natural environment of Corolla.
Bender's family has donated more than 60 acres as a wild horse sanctuary, which is accessed as part of his business's tour.
According to the website of the Corolla Wild Horse Fund, which was established in 1989 to protect the horses, the animals are descendents of Spanish mustangs that were stranded on the barrier islands nearly 500 years ago. The Corolla horses have access to about 7,544 acres, 3,000 of them in the Currituck refuge. Two thirds of the land available to the horses is privately owned, and only eight horses live on the public land.
In the late 1990s into the 2000s, the fund struggled to keep the horses safe behind a fence north of Corolla, but they kept coming around the fence. For a number of years, the horses mingled with tourists in the village. But reports of horses being sighted on the decks of houses – one persistent story says a pony or two even entered Food Lion through the automated front door – and of people trying to pet them or feed them or even ride them made conditions too dangerous. Several horses had also been struck by vehicles and even shot. Eventually, the horses were contained successfully between Corolla and Virginia.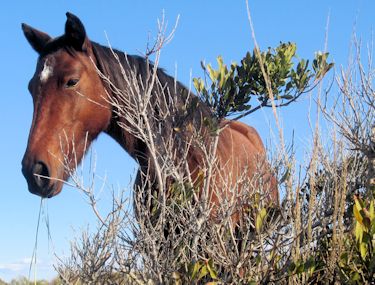 Called "Big Sexy" by one tour guide, this stallion leads a herd of several mares. Photo: Catherine Kozak
"Once the horses were restricted to that area there, it was a matter of seconds before people started asking 'How can we see the horses?'" Bender said.
Every year since, there have been more people taking more tours to see the iconic creatures.
Bender said that the number of vehicles operating next year will be about half of what it had been. Bus tours are already banned. When vehicles are within 300 feet of any of the wild horses, they can drive no faster than15 miles an hour, and people must stay at least 50 feet from a wild horse.
Operators who are cited for multiple violations within 30 days will be subject to license suspension or revocation. At an average fee of $35 to $50 per tour per adult, the hit to a violator's income could be considerable.
By and large, Bender said, the new ordinance has been effective.
"I was one of the proponents of it," he said. "Some of us who have been around a long time were in favor of it. I know it's a cliché – it's about sustainability. I want to be around in 50 years. The last thing I want to see is it getting too big and getting to be a carnival atmosphere. I think pretty much everybody realizes it's going to help the industry."
Bradford Downs, a 22-year-old graduate of The College of William and Mary, has been doing tours for Bender for two years, and he said that adults and children alike love to hear the stories about the history of the northern Outer Banks and to see the views of the sound and marshes that he shows them. But there's no doubt that the wild horses are the stars of the 25-mile tour.
In a recent tour, Downs, driving a truck with open-air seating in the back, entered the off-road area over the cattle gate at the end of the paved road in Corolla, and zipped along the beach past the black stumps of Wash Woods. In the summer, the center part of the beach would be wall-to-wall vehicles.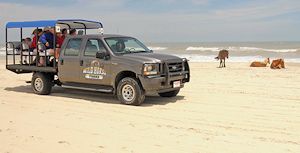 A tour truck takes tourists to see the horses. Photo: Corolla Guides
Turning left behind the dunes into the Swan Beach subdivision about two miles north of Corolla, he pointed out Lewarks Hill and Penny's Hill, two significant sand dunes.
As the truck rounded a bend, a magnificent bay stallion with a white blaze on his face, who Downs dubbed "Big Sexy," was grazing in the shrubs in front of a few houses. Nearby, several mares in his herd were also grazing. None of them even flicked their ears in acknowledgement of the human intruders.
After a moment, the stallion casually walked down the sand road, and one-by-one, each mare followed him.
As Downs wound through the sand roads, horses from other small herds could be seen munching on grasses in several yards of residents. "I always tell them 'You can get your lawn mowed AND fertilized," he joked.
In the summer, the horses can often be found on a large area of Bender's land called the "pasture." Sometimes in the summer, groups of them can be found cooling down near the ocean.
"It's very, very rare that you'll see a herd running down the beach," Downs said, dismissing the favorite movie image of horses.
Even though the wild horses don't react to the commotion, they are not oblivious, said Hoey, with the Wild Horse Fund.
"They've learned to tolerate it," she said. "They're very much aware of people. The horses used to gravitate to the beach to avoid the flies. Now we've noticed they're going to the marsh and staying there."